Tip #24: Customizing Deal stages for your business
Hello folks,

As part of our weekly Tips and Tricks series, we are back with a quick tip on customizing the Deal Stage pick-list values in your Zoho CRM account.

We have had many users ask us if they can edit the Deal Stage picklist values based on their exact requirement in Zoho CRM. The answer is yes, you can modify the stages based on your sales process.

We understand that every business is unique and involves a unique sales process. While the Deal stages that are listed by default in Zoho CRM broadly covers important stages in sales, you don't have to necessarily fit yours with what's already there.

For instance, if your process involves sending Contract and getting it approved to win the deal, you can edit your Deal stage picklist to include the same. And it doesn't end here. You can also edit the probability values for each stage based on which forecasting is done for your Deals.

Go to Setup>Customization>Modules and Fields. Choose the layout for which you want to modify the stages and in the Layout editor, click on Settings>Stage Probability Mapping.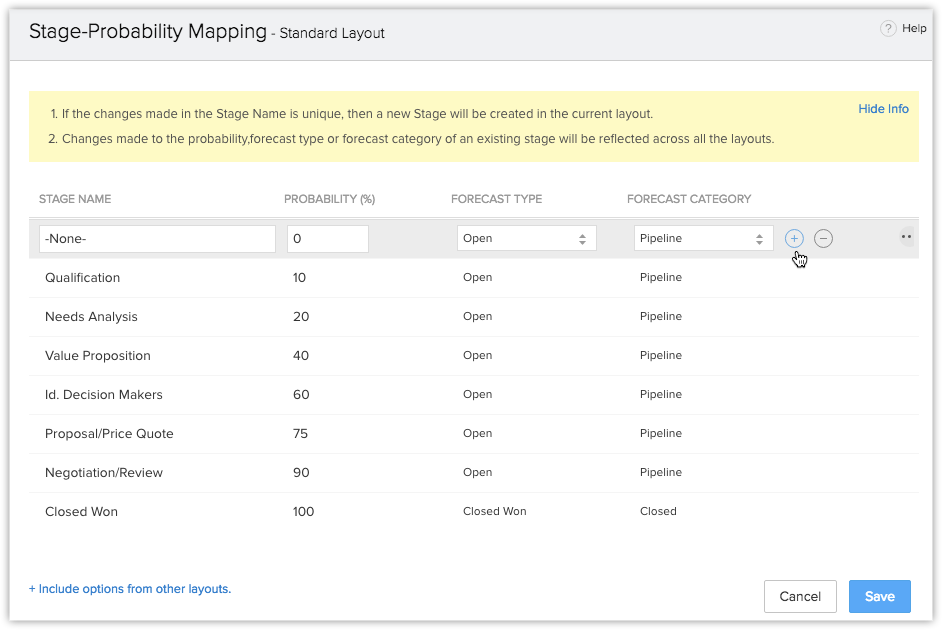 In the Stage Probability Mapping window, the default stages are listed with their respective probability, forecast type and category. You can simply add, modify or delete stages, and specify the probability accordingly. There you go!

We hope you found this tip useful.

Zoho SalesIQ Resources
Sticky Posts

Zoho User Group in-person meetups - learn and discuss Zoho at a meetup in a city near you!

A big HELLO to the everyone in the Zoho Community! Another great year, another set of new challenges and another set of vibrant goals are ahead of us. We're starting the year off with the ZUG meetups for 2023 spread out globally. We're back again with

Zoho User Group (ZUG) In-person Meetups - UK region

Hello everyone! 

We are delighted to inform you that registration is now open for the UK Meetups taking place in May. Join us for an engaging day of learning, networking, and sharing. During this meetup, we will be exploring the nuances of customizing

Tip #35 - On using Kanban View in Zoho CRM

Hi folks, It's that time of the week again, and I am back with a quick tip about using Kanban View in Zoho CRM. If you think you missed any of our previous weeks' tips, you can read them here. Tip #35 - On using Kanban View in Zoho CRM You deal with so many records in CRM every single day! When you click open each module in Zoho CRM, you have hundreds of records, each in various stages of your sales pipeline. Wouldn't it be cool if you had them all sorted automatically without having to filter

Focus Group Webinars - Q1 - 2023

Zoho CRM can be allied with other Zoho products to operate business processes and achieve several functionalities efficiently. Generally, all of these integrations can help scale business activities and also save a lot of time. For this Quarter (Q1: 2023

Tip #44: Organizing your Notes in Zoho CRM

Hello folks, It's time for this week's tip and today, let's look at how you can organize your notes for records in Zoho CRM based on your preferences. Notes form an integral part of records and play a vital role in your Zoho CRM usage. You can keep track of the status of your individual records using notes. One quick glance at the notes, and anyone who wants to collaborate and work on the record along with you or after you, can easily know the status. However, each person may prefer to read them
Zoho Pagesense Resources
Zoho TeamInbox Resources
Zoho DataPrep Resources
Zoho CRM Plus Resources
Zoho Books Resources
Zoho Subscriptions Resources
Zoho Desk Resources
Zoho Projects Resources
Zoho Sprints Resources
Qntrl Resources
Zoho Creator Resources
Zoho WorkDrive Resources
Zoho Campaigns Resources
Zoho CRM Resources
Zoho Show Resources
Writer
Get Started. Write Away!

Writer is a powerful online word processor, designed for collaborative work.