Tip #24: Customizing Deal stages for your business
Hello folks,

As part of our weekly Tips and Tricks series, we are back with a quick tip on customizing the Deal Stage pick-list values in your Zoho CRM account.

We have had many users ask us if they can edit the Deal Stage picklist values based on their exact requirement in Zoho CRM. The answer is yes, you can modify the stages based on your sales process.

We understand that every business is unique and involves a unique sales process. While the Deal stages that are listed by default in Zoho CRM broadly covers important stages in sales, you don't have to necessarily fit yours with what's already there.

For instance, if your process involves sending Contract and getting it approved to win the deal, you can edit your Deal stage picklist to include the same. And it doesn't end here. You can also edit the probability values for each stage based on which forecasting is done for your Deals.

Go to Setup>Customization>Modules and Fields. Choose the layout for which you want to modify the stages and in the Layout editor, click on Settings>Stage Probability Mapping.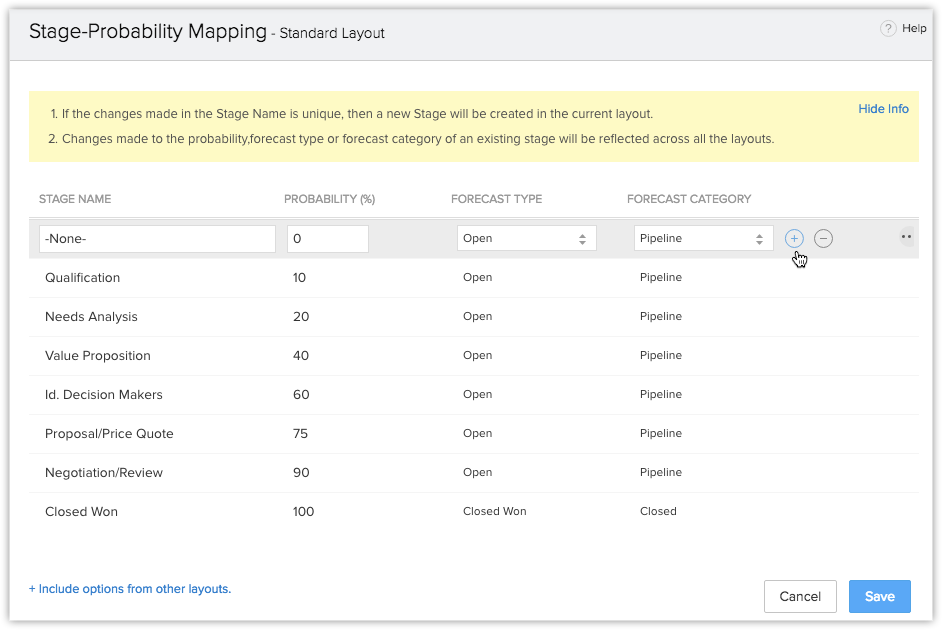 In the Stage Probability Mapping window, the default stages are listed with their respective probability, forecast type and category. You can simply add, modify or delete stages, and specify the probability accordingly. There you go!

We hope you found this tip useful.

Sticky Posts

Zoho User Group (ZUG) in-person Meetups

Hello Zoho Community, We're pleased to announce the next leg of Zoho User Group in-person meetups. We're thankful for your overwhelming response to the meetups last quarter. Our teams had a blast meeting you all in person and finally being able to catch

Focus Group webinar - Revamped reports in Zoho CRM

Any sales-based organization invests heavily in sales, which obviously translates to better revenue and overall growth. But how do we track how deals progress, or estimate how they will progress, or even how they performed? Blindly investing resources

Connect with Zoho users from your industry, virtually!

A couple of years ago, we started setting up industry-wise channels for users with similar businesses to chat and discuss Zoho contextually. We started with Real Estate and E-commerce sectors, creating a chatroom and hosting regular meetups on niche areas

Tip #49: Associating Emails with Deals

Hello folks, Do you have multiple deals associated to your contacts in Zoho CRM? Are you struggling to find deal specific emails, with all the emails associated with a contact listed together? If yes, then this tip is totally for you! You can associate emails with individual deals, rather than having them all listed under a contact. This helps you to access your deal based conversations more quickly and avoid looking through all your emails, searching for keywords and subject lines. In Zoho CRM,

The role of a CRM admin and beyond | Small Business Heroes E10

The tenth episode of Small Business Heroes, a CustomersSpeak series, features an interview with Troy Titus: a CRM administrator at Scale-Tec. Troy began his career by managing church activities and then moved on to gain real estate expertise by building
Zoho Pagesense Resources
Zoho SalesIQ Resources
Zoho TeamInbox Resources
Zoho DataPrep Resources
Zoho CRM Plus Resources
Zoho Books Resources
Zoho Subscriptions Resources
Zoho Desk Resources
Zoho Projects Resources
Zoho Sprints Resources
Qntrl Resources
Zoho Creator Resources
Zoho WorkDrive Resources
Zoho Campaigns Resources
Zoho CRM Resources
Zoho Show Resources
Writer
Get Started. Write Away!

Writer is a powerful online word processor, designed for collaborative work.