Re-engagement (winback) emails are sent to inactive or idle contacts to win their interests back. If you don't send reengagement emails, the inactive contacts will pile up in your mailing list and cause email deliverability issues for other contacts as well.

Mailing list is the pillar upon which email marketing is built. The more your list grows, the more chances there are for opens and clicks. When focusing on bringing new contacts into a mailing list, most marketers fail to notice the drop in the interest level of existing contacts. This results in a list with good quantity but poor quality.

People subscribe to a newsletter when they have a curiosity to try something new. Later, they may lose interest gradually and may not be as responsive as they were. By regularly engaging with them, you can keep them interested in your emails. If they're still unresponsive, the best solution is to send them winback campaigns and know if they want to exist in your mailing list.

The recipient may become inactive due to the following reasons:

Irrelevant email content


Failing to recognize the sender


Deceptive subject lines


Not mobile-friendly


Too frequent or too rare emails


Scheduling emails when the recipient may not be available (such as weekends and vacations)

Inactive contacts are not just affecting your open and click rates, but also the root cause for several email deliverability issues.

Mailbox providers check your recipients' responses for every email. When your emails get no response from many people in your list, the mailbox providers will feel suspicious, and classify further emails as spam for other (interested) contacts also.

Uninterested recipients may use the unsubscribe option, delete the email, ignore it, or may mark as spam. These negative responses reduce your domain reputation with anti-spam services.

There's a high chance for inactive email addresses to become bounces and spam traps.

If you send emails to contacts after a long gap, your email campaigns may get high unsubscribes, and spam complaints.

To avoid these consequences, we recommend you regularly observe your campaign reports for inactive contacts. Filter them separately and win them back with reengagement emails. Through re-engagement emails, you can remove uninterested people from an inactive list and maintain a hygienic list with active, interested contacts.
How a winback campaign should be

Segment your list

Segment your list based on the inactivity and source of contacts. Filter contacts who have been idle for more than 6 months. To learn how to segment a list,
click here
.
Personalized

People lose interest in your emails due to various reasons. What works for one contact may not work for another. So, avoid sending generic re-engagement emails.
Look for the reason they've become inactive. For example, people interested in a product may lose interest in the emails after buying that product.
You can provide a survey or poll and know why your contacts have lost interest and how you can improve your emails to get their positive response. To learn how to integrate your surveys with Zoho Campaigns, click here.

Target them with re-engagement emails specifically designed to address the reason they've become inactive.
Content
When you send winback campaigns, make sure the content stands out from other emails.
You can include marketing strategies such as offers, coupons, etc to increase the interest of your idle recipients.
Your email content should convey the fact that you will not send any additional emails if they don't respond.
Position your company logo clearly to help your recipients easily recognize and remember you.
Subject line and pre-header
Remember that you're sending winback campaigns to those contacts who have been idle for a long time. If you want to win them back, your email subject and message pre-header should be attractive, as they're the important things a recipient notices before opening emails from their inbox.

We have listed a few examples below for reengagement subject lines that have worked well in the past:
It's been a long time
Long time, no see\
We haven't heard from you lately
We miss you at Zylker
We hate goodbyes

You can also create your own creative subject lines and test them through
AB Testing
. Before sending your campaign, check if your subject line is mobile-friendly by previewing it in mobile gadgets.
A simple winback campaign would look like this: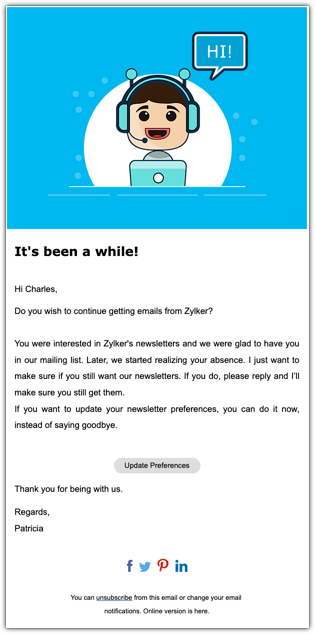 Ask them if they wish to continue receiving your emails.
Remind them how they came into your mailing list. For example, if you have your contacts from website sign-ups, you can refer to the link through which they signed up.
You can include update profile as a CTA or in your email footer and give an option to choose their preferences instead of opting out.
Ask them what went wrong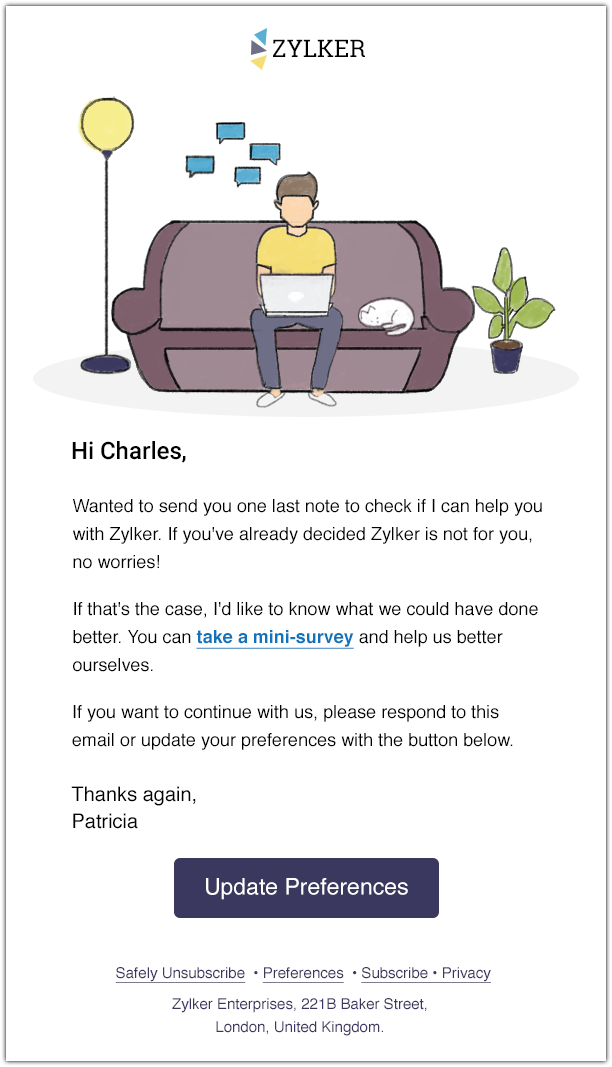 In the above email, the sender has shown interest in learning from mistakes by asking feedback from the contacts. It gives them a positive sign that the sender considers them important and wants to reengage.

Feedbacks may get back the interest they have in your emails or it'll be a great source of learning. You'll get to know how not to lose further contacts with the data from a feedback survey. Keep the feedback surveys short and useful to you.

Tell them what they're missing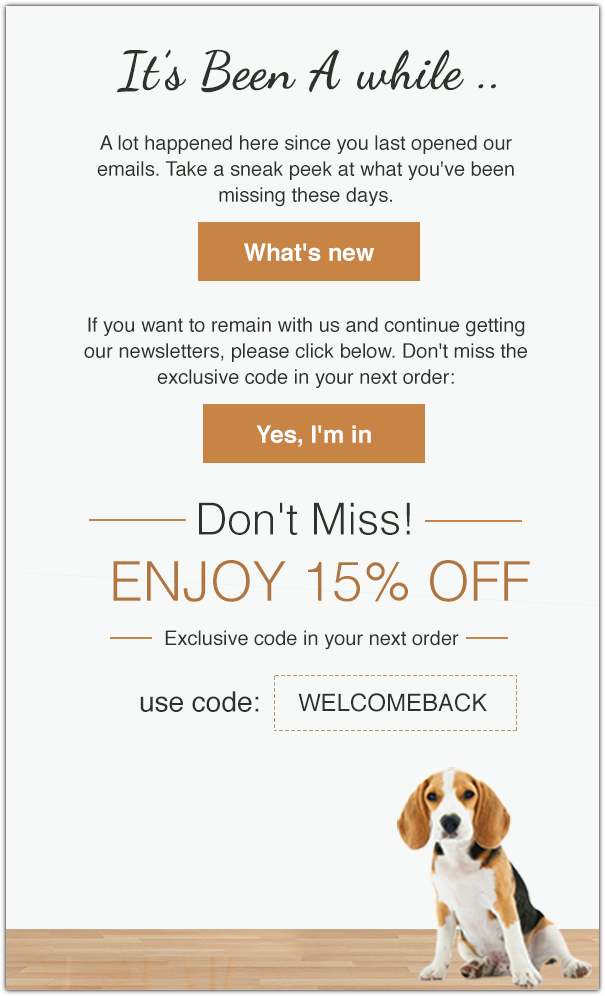 You may usually send offers, coupons, and other marketing strategies to engage your contacts. The contacts you're sending winback emails are the ones who didn't react to those previous emails. This means those offers or strategies have not worked well with them. Think of different strategies and pick the one your contacts would be more interested in. You can even send exclusive offers to idle contacts.


By showing them they're missing your interesting offers, you can break their idleness and engage easily. You can also tell them if you've come up with something new.\
Give them the reasons to be on your mailing list
Remind them what benefits they've gained by being on your mailing list. For example: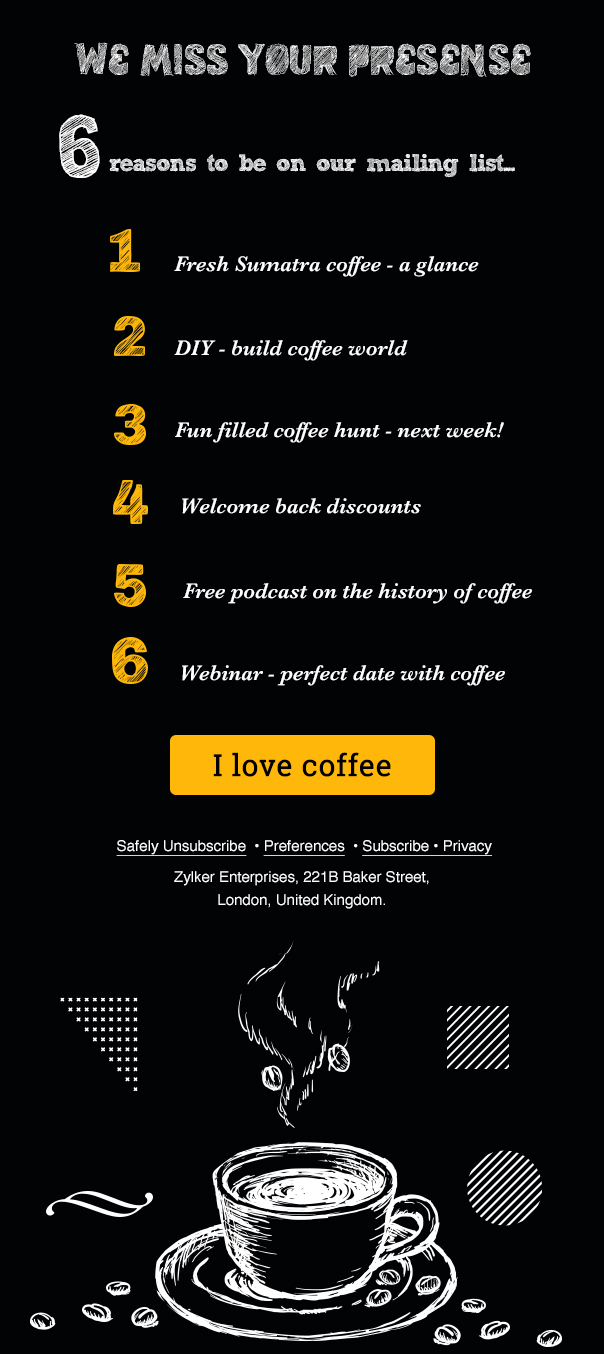 Memories often get people interested. They may remember your services and not want to miss out on them.

You can also ask them, if they want to engage with you on any other platforms, such as social media. People receive lots of emails and they may prefer social media campaigns to emails. For example, if they want to see your emails in social media, then you can target them through
social campaigns
.
In addition to these strategies, there are a few points to be considered in footer info while sending winback campaigns.
People may not remember that they subscribed to receive your emails. Remind them by including your signup form URL or the event from which you got their email address.
They may not recognize the sender. After a long gap, it's hard to remember the person to whom they subscribed. Keep consistent sender name, sender address, domain name, and footer information so that they can easily recognize you. To learn how to make your recipients easily recognize your emails, click here.
If it's due to your long engagement gap with the recipients, let them know the reason you didn't email them. This provides a clear understanding to the recipients.
Give them a confirmation link to know if they're interested.
Your content should be engaging and win back their interests. You can test your re-engagement emails before sending.