Understand AR Library
The AR library contains the AR sets of all the apps in your Creator account. You can add and manage AR sets from here. These AR sets may be either marker-based or markerless .
Marker-based AR set : This AR-type relies on the recognition of images or markers. Markers are distinct patterns that your device cameras can easily recognize and process. Marker-based AR works by scanning a marker, which triggers the content to be overlaid on camera, upon visuals matching the marker image. Markers can be scan codes or physical objects that exist in the real world. For example, students can scan QR codes in their textbooks and view animated concepts on their devices.
Markerless AR set : This AR-type offers more control to users, as it allows them to choose where they would like to place the virtual object (including real-life placement of virtual augmented objects). For example, furniture companies can enable customers to virtually place their furniture in their homes to check if it would fit well.
What is an AR set?
An AR set consists of 3D models and their markers grouped together as a set. You can add multiple 3D models within a set and can have multiple AR sets in your AR library. For example, an AR set of vehicles can contain 3D models of different vehicles and their markers (if the AR set is marker-based).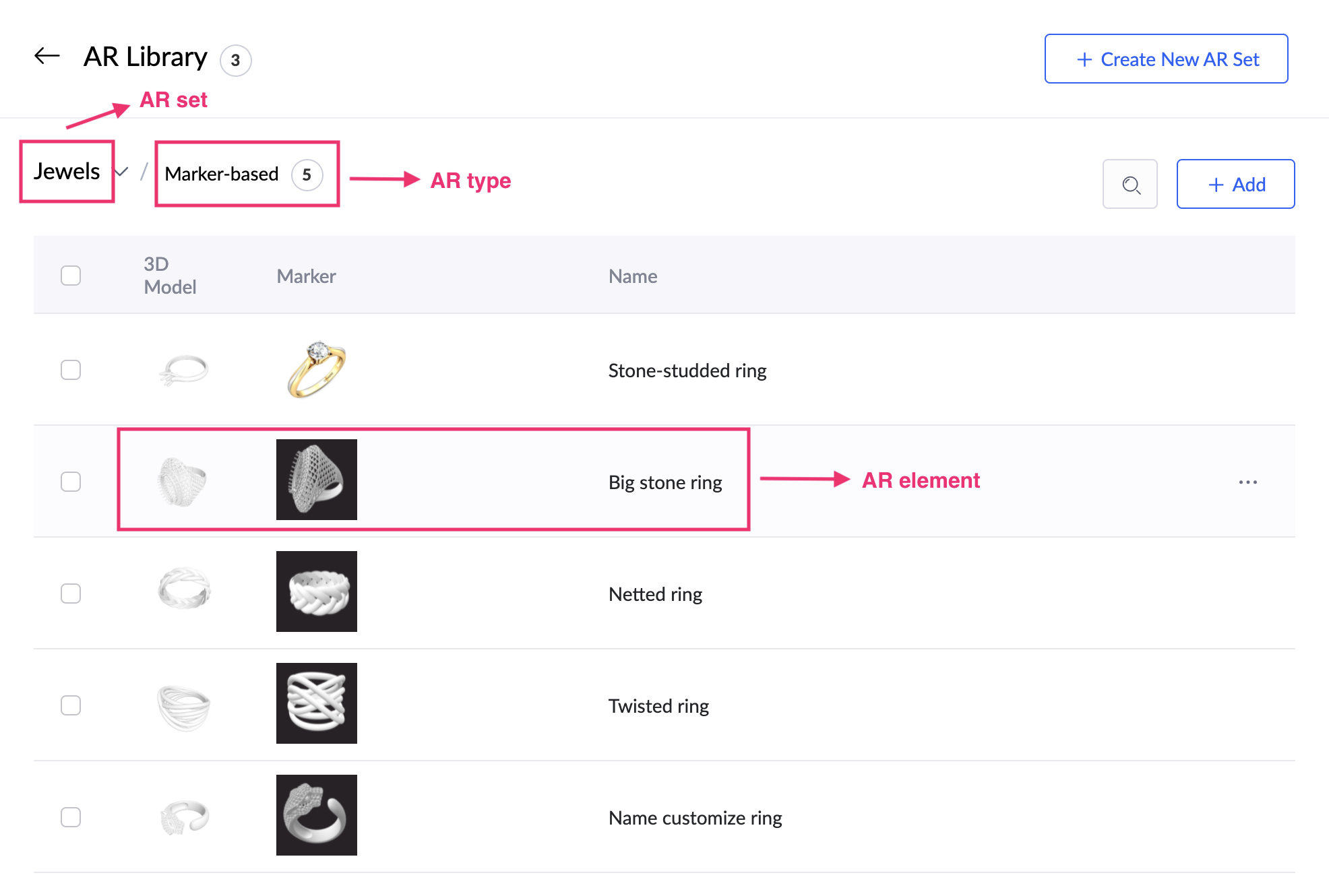 Elements in AR
3D model : Models that are uploaded and optimized for use with AR technology, utilizing the right tools and assets in supported formats. For example, brands who might want to provide a contactless way for customers to interact with their products and visualize the way they look in a real environment, create digital twins of their products, such that life-like textures and movements will be prioritized.
Marker : Markers are distinct patterns that your device cameras can easily recognize and process.
Things to know
You can add up to 50 AR sets and 50 models per set in your Creator account.
An AR model can be up to 30 MB in size
Supported file types for 3D models include .gltf , .dae , .obj , .fbx , . stl
Supported file types for the markers of 3D models include .jpg , .jpeg , and .png
When you click on an AR set card , the 3D models, markers and their names under the chosen set will be listed
You can add, edit, export, and delete AR sets in the AR library. Learn how
You can edit, export, and delete the 3D models in an AR set. You can also move models from one set to another. Learn how
Related topics