Email Management module in Zoho Creator requires three account level configurations: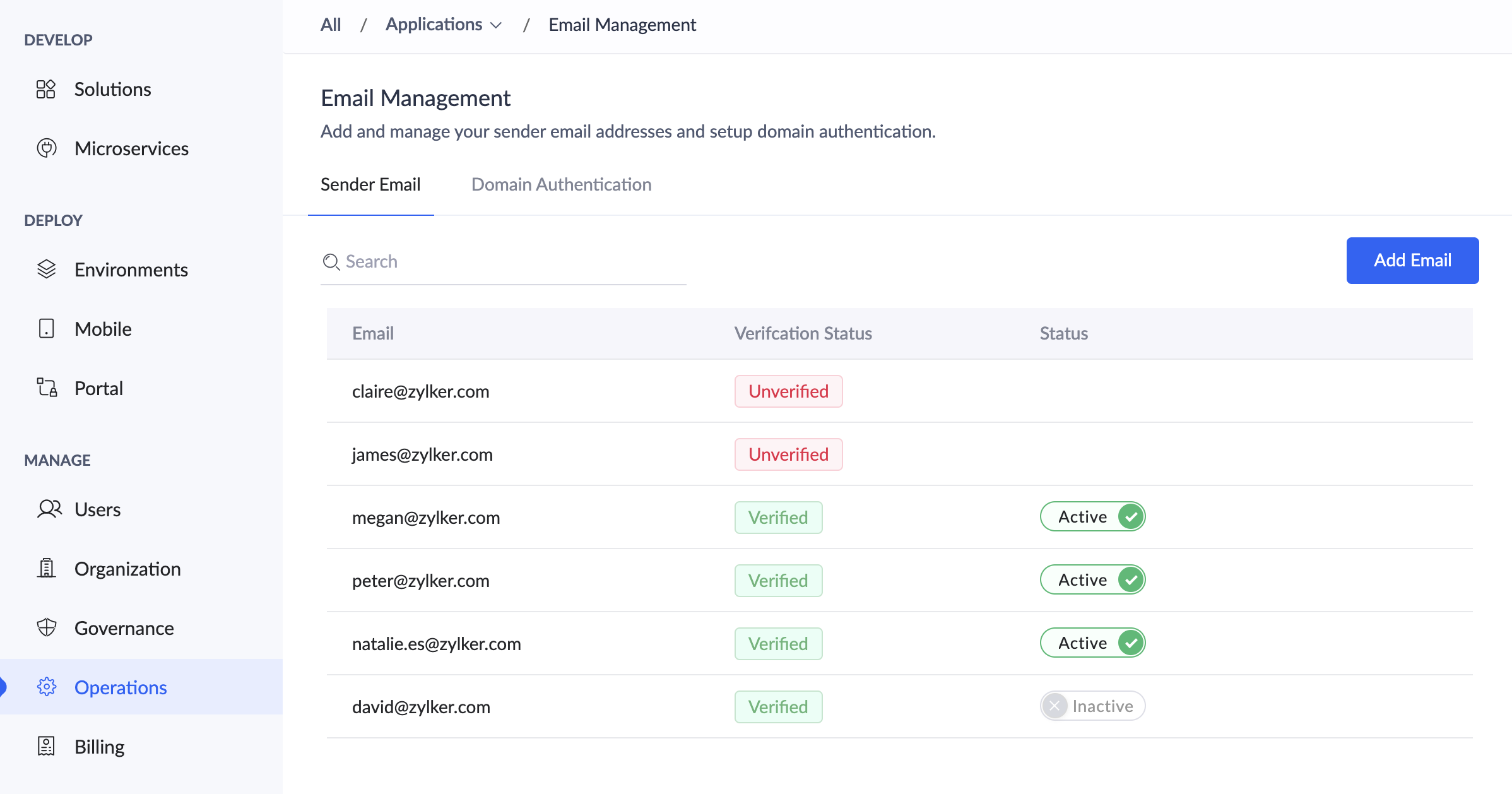 What's a Sender Email?

Sender Email in Zoho Creator refers to the 'From' address used in the automated email notifications sent from your Zoho Creator application. Other than the app admin's email address or the logged-in user's email address, you can have a different personalized email address to send mail from your Zoho Creator app. You can add these custom email addresses from your Zoho Creator account's setup page. Following a small verification procedure, your custom email addresses will be made available for sending emails from your app.
Let's assume you have a retail store app built on Zoho Creator. You signed up for Zoho Creator using your personal email address, but you want to send emails from your app using a different email address, namely mymail@zylker.com . For this, you need to add mymail@zylker.com to your Zoho Creator account's Sender Email list and get it verified. Upon successful verification, you can use this email address as a From address to send emails from your app.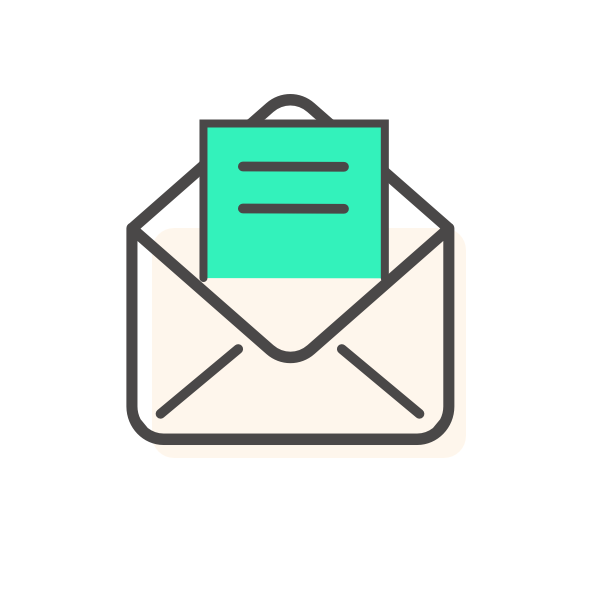 Email received
Add Email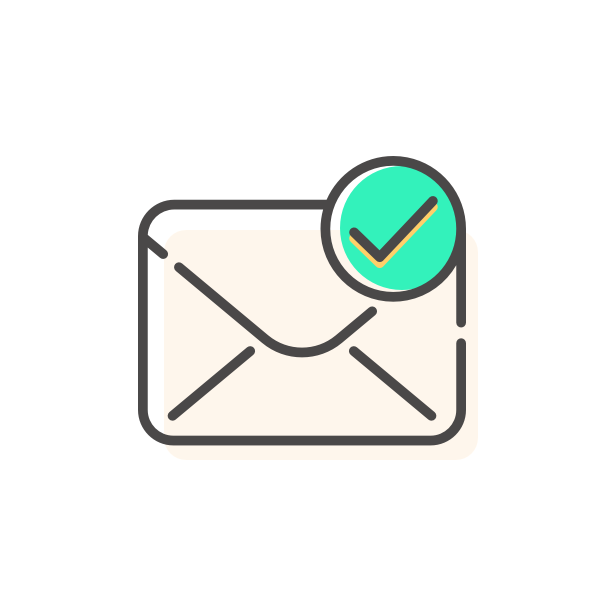 Verify Email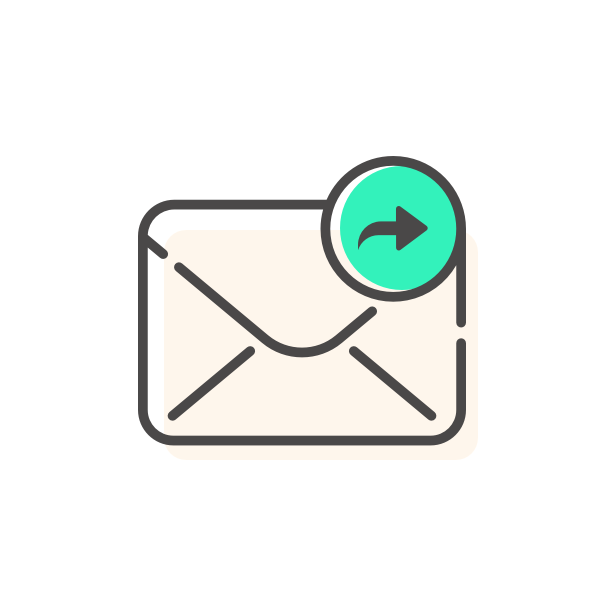 What's Domain Authentication?

Authentication is a sender identification system that protects email senders (your Zoho Creator application) and their recipients from spam, forgery, and phishing. It provides a trackable identifier that shows your recipient's internet service provider that you're a legitimate sender and helps your emails arrive in their inbox. Any unauthenticated email, no matter how legitimate the content and sender are, runs the risk of ending up in the recipient's spam folder.
Domain authentication is a mechanism where a mail recipient's email service provider verifies that an email has come from a legitimate source.
For example, say you are adding a Sender Email address ' example@zylker.com '. However, the email is sent by 'zohocreator.com' on behalf of 'zylker.com'. This means that the receiver is receiving an email from two domains, zylker.com and creator.com . There is a chance for this email to be identified as a potential threat, sending an alarm to the recipient's email service provider that creator.com is being misused. In such circumstances, the email could be labeled as spam or could be blocked from reaching the recipient. This mishap can be avoided if the sender's domain is authenticated.
An authenticated domain provides an affirmation that the email does not pose any threat.




What happens in a Domain Authentication process?

Every time you add a new Sender Email Address to your Zoho Creator account, its domain is automatically listed in the Domain Authentication section with a 'Pending Authentication' status. This newly added domain needs to be authenticated using the Sender Policy Framework (SPF) and Domain Keys Identified Mail (DKIM) records.
SPF : The receiver's email server verifies that the email has come from a trusted email server and that the email sender's details have not been modified.
DKIM : The receiver's email server validates whether the emails are generated from authorized servers that are configured by the administrators of the sender's domain.
Copy and paste Creator's SPF and DKIM records in the DNS settings of your domain, then click Validate to get it authenticated. When this process is complete, the domain authentication status will automatically be changed to ' Completed '. When you send an email, your recipient will verify the records and grant permission for Creator to be able to send on your behalf.

What's Email Analytics?
Email Analytics is a powerful tool under Operations that provides actionable information with a wide range of statistics to help you make better business decisions. It offers comprehensive email tracking, log and report tracking, and recipient activity tracking and more. Users can easily view logs and track their emails' status, enabling them to see their delivery progress in real-time. Additionally, users can configure webhooks to receive notifications on email openings and link clicks to gain a better understanding of their recipients' engagement and overall email performance. Furthermore, users can set up their own custom bounce addresses to better understand and address their delivery issues. Email Analytics provides users with a comprehensive view of their email strategies, bounce categories, and recipient activity, as well as the ability to generate custom reports over a six-month period. These features enable users to make more informed decisions and improve their overall email performance.