It so happens that sometimes you are not ready to deploy your final Blueprint into CRM yet, and you need to put some more thought into the process flow. When you publish a Blueprint, you will begin having records entering it - so it's not a good idea to deploy it before it's ready. In this case, you can save a Blueprint as a DRAFT.

You can play around with your States and Transitions in the DRAFT version, and once you are satisfied with the final process flow, you can PUBLISH your draft. Note that the draft version is not a testing environment, rather a canvas of sorts, for you to test your process flow. You cannot test the execution of a Blueprint with the draft version - for now, it's only meant for you to play around with the process flow.

At a given point in time, you can have one "Published" version and one "Draft" version of a Blueprint.

Published version: If a Blueprint is published, it means that it is live in your CRM setup. Records meeting the Blueprint criteria will begin following this version of the process flow.

Draft version: If a Blueprint is saved as a draft, it means that it is not yet deployed in the live CRM setup, but available for you to experiment, without affecting any existing records.

The moment you edit a Blueprint, you can either publish the changes directly or save the latest version as a draft. You can toggle between the Draft and Published versions in the Blueprint Editor.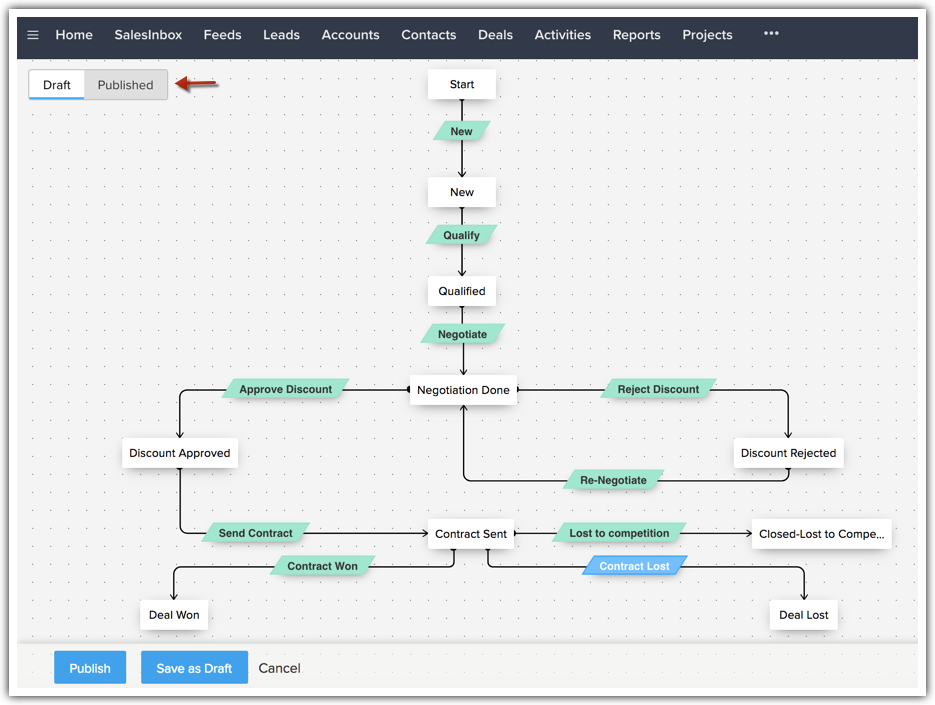 Points to note

When you publish your latest changes from the Draft version, if there are existing records already associated with the previous version of the Blueprint, you will be prompted to decide how you want to deal with those records. You can choose between the following options:


Exit Blueprint, that is, take those records out of the process in their last known State.

Move all the existing records to the latest version you are about to publish.
This will ensure that all records in a particular module follow a uniform process flow at a given point in time.


On editing a Blueprint flow, if you have deleted one or more States, when you republish it, you will again be prompted to either move any existing records to the latest version of the Blueprint or move them out of the process. If you choose to move them to the current version, you will be prompted to re-map the deleted States with the ones available in the modified Blueprint flow.

If you have deleted a Blueprint and you have had active records in it, you will be prompted to move the records out of the process.

In the Blueprints list view page, an asterisk (*) denotes a published Blueprint that also has a draft version associated with it.

A Blueprint that hasn't been published at all, & only in drafts, can be identified from its Empty Status (--).
(The Status of a Blueprint conveys whether the process is activated or deactivated.)
In the following screenshot, "Deals follow-up*" is a published Blueprint, that also has a draft version.
"Leads Qualification" is a Blueprint only in the Drafts mode.

If you wish to discard changes made in the Draft version, simply switch to the Published version and click Save as Draft. Now the published version will overwrite your changes in the Draft version and you can start editing again.

The Draft version of a Blueprint is available to all users with access to the Blueprint, i.e, users with the Manage Automation permission in their profiles.

Now that the process flow has been created using States and Transitions, the final step is to define further Transition settings.