Workflows form a part of business processes and day-to-day activities. An effective business workflow requires a good deal of planning and a set of practices that ensure that they continue to work as intended. Similarly, automated workflows can also benefit from a bit of planning and use of best practices.
Here are ten such practices that you can follow while using Zoho Flow.

1. Matching data types

While mapping data fields with variables, pay close attention to the data type of each variable that you insert. For example, inserting a variable that is of the datatype string in a field that accepts only integers can cause errors that could stop your flow.
2. Prioritizing actions
Sometimes you will have flows that need multiple actions, but some or all of them are independent of the preceding actions. In such cases, it's highly recommended that you place the critical actions first. This ensures that important actions have lower chances of getting affected if an error occurs in the previous step.
3. Replacing deprecated steps on priority

Deprecation is a process by which we remove outdated versions of apps, their triggers, or their actions, and replace them with new versions. We always alert you in advance about this so you will have sufficient time to reconfigure the deprecated steps.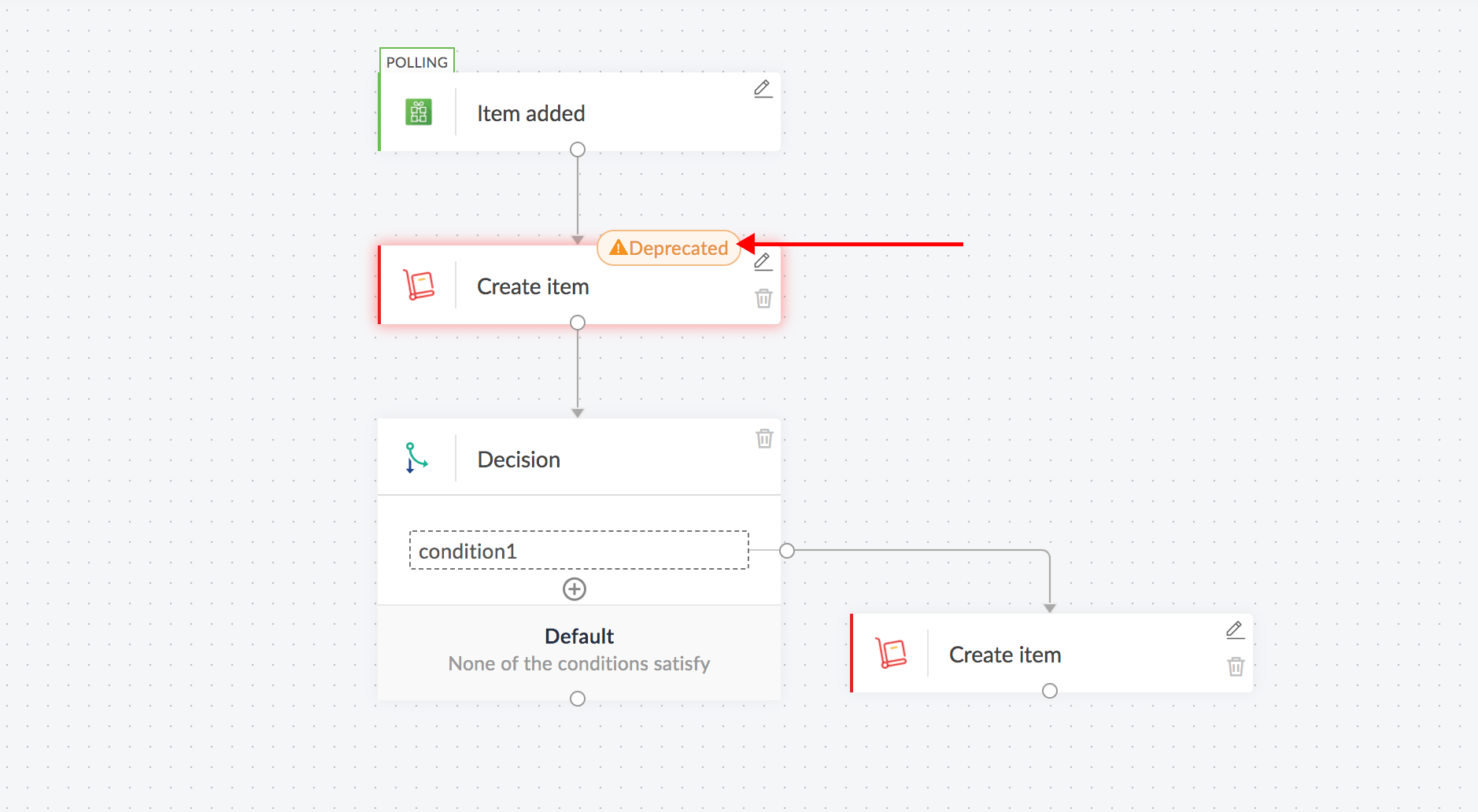 To do so:
Identify the flows that use the deprecated triggers and actions
Reconfigure the deprecated triggers or actions
Ensure that all the fields have the right variables mapped to them
4. Date-time format conversion

Different apps communicate date and time values in different ways. For example, if an app receives an input value as 04-03-2020, it may understand it as 4 March 2020, or 3 April 2020, depending on its configuration. When you build flows, you need to ensure that date-time values are converted accurately. This minimizes errors in your flow and ensures that the right values are conveyed to other apps. Learn more
5. Using Test & Debug

The Test & Debug tool lets you troubleshoot errors in your flow before you turn it on. Use Test & Debug while creating new flows or while making changes to an existing flow to spot errors and correct them immediately.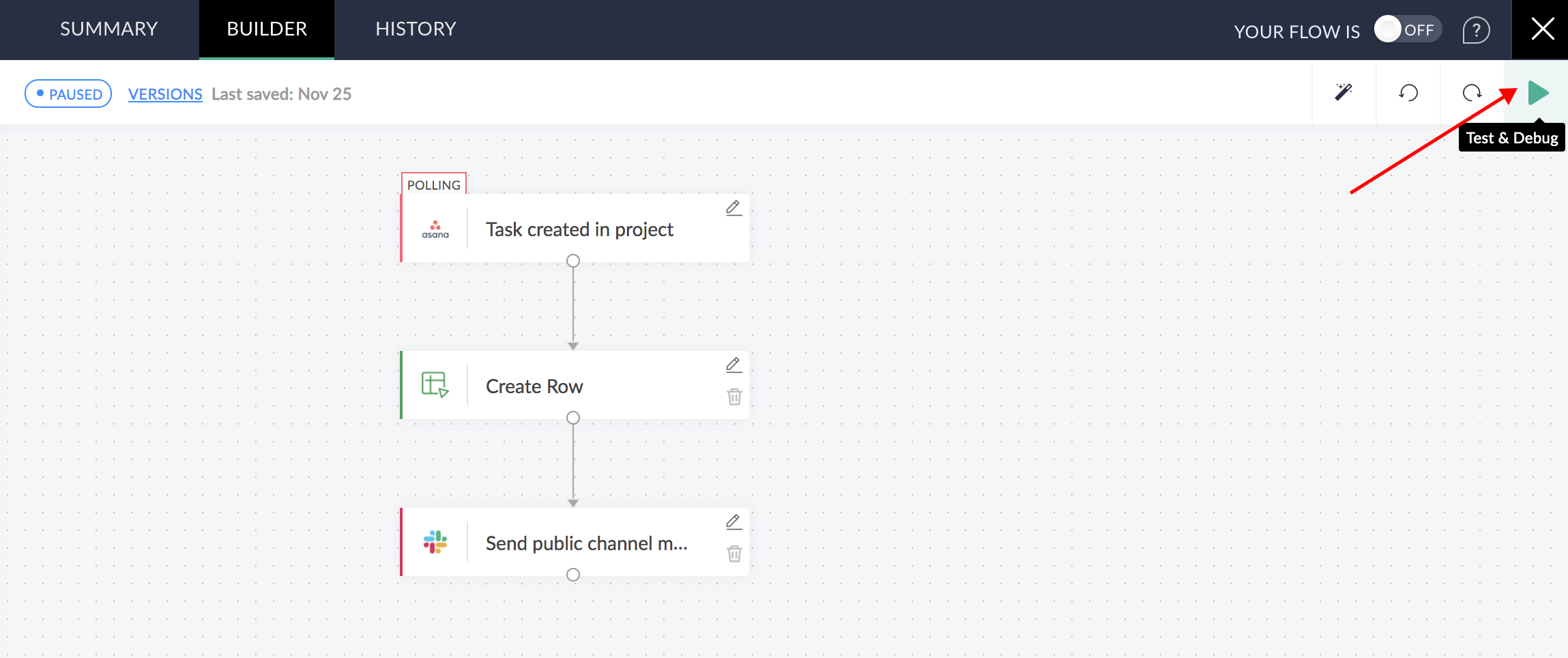 6. Avoiding flow loops

Looping is a scenario in which a set of connected tasks execute repeatedly. When such loops are not regulated, they execute endlessly, creating infinite loops. Try to avoid steps in your flows that might take data from an app and return the data to the same app (duplication of records). Learn more
7. Testing and reconnecting app connections

Some of your app connections may stop working over time. This can either be due to a change in the authentication method, or a changed password. Test the connections of the apps that are critical for your flows regularly, say every month or when you have made changes to the authentication scheme. Navigate to Settings > Connections for a list of all the connections created in Zoho Flow. If you are the owner of the connection, you will also get the Reconnect option.

8. Using Audit Trail and Versions to track changes

If you are the owner or an admin of your organization, you can use the Audit Trail to track what is happening in your Flow organization. The audit trail is an organization-wide log of activities.
To track changes in a particular flow, Versions help you review the changes that were made throughout its lifecycle.
9. Using Fetch actions

If there is a possibility of an action not returning data, use a Fetch action (if available). A fetch action takes a search input and provides the details of the record associated with that input from an app's database. You can use the extracted data in the following steps. Learn more
10. Naming flows and actions, using descriptions

Naming flows: When the count of drafts, live flows, and paused flows increases in your organization, it becomes difficult for members to identify which is which. A simple solution to this is to name the flows based on the use case and the team or function it serves.
Flow descriptions: Providing a good description while creating a flow serves two purposes:
It lets you write down what you want to achieve with the flows, so that adding steps and logic becomes easy
You can also refer to it at a later point in time if you want to identify what it was meant to do.
Naming actions: Action names are usually generalized by default. For example, an action named Update module entry does not tell you in which module an entry is getting updated. To make it easier for you or the members in your organization to understand the working of your flow, provide labels that best describe the specific action.


Tip:
If you are facing an issue, please feel free to write to us at
support@zohoflow.com
, and be sure to enable
Support Access
in advance so we can resolve your issue faster.