Zoho Flow allows for executions to be rerun based on the type of error that caused failure.
There are two types of reruns:
Auto rerun - For executions failed due to Zoho Flow's internal errors or API errors from the apps that you have used in your flows.
Manual rerun - For executions failed due to flow configuration, data mapping, or other similar errors.
Auto rerun provides automatic attempts to run failed executions that are caused due to Zoho Flow's internal errors or API errors from the apps that you have used in your flows. The attempts will continue in defined intervals after the initial task failure for a period of 24 hours.
Errors can occur due to numerous reasons, such as service failure or timeout issues. To identify and get details about the error, go to Settings > History. Navigate to the failed execution, and click the error tab.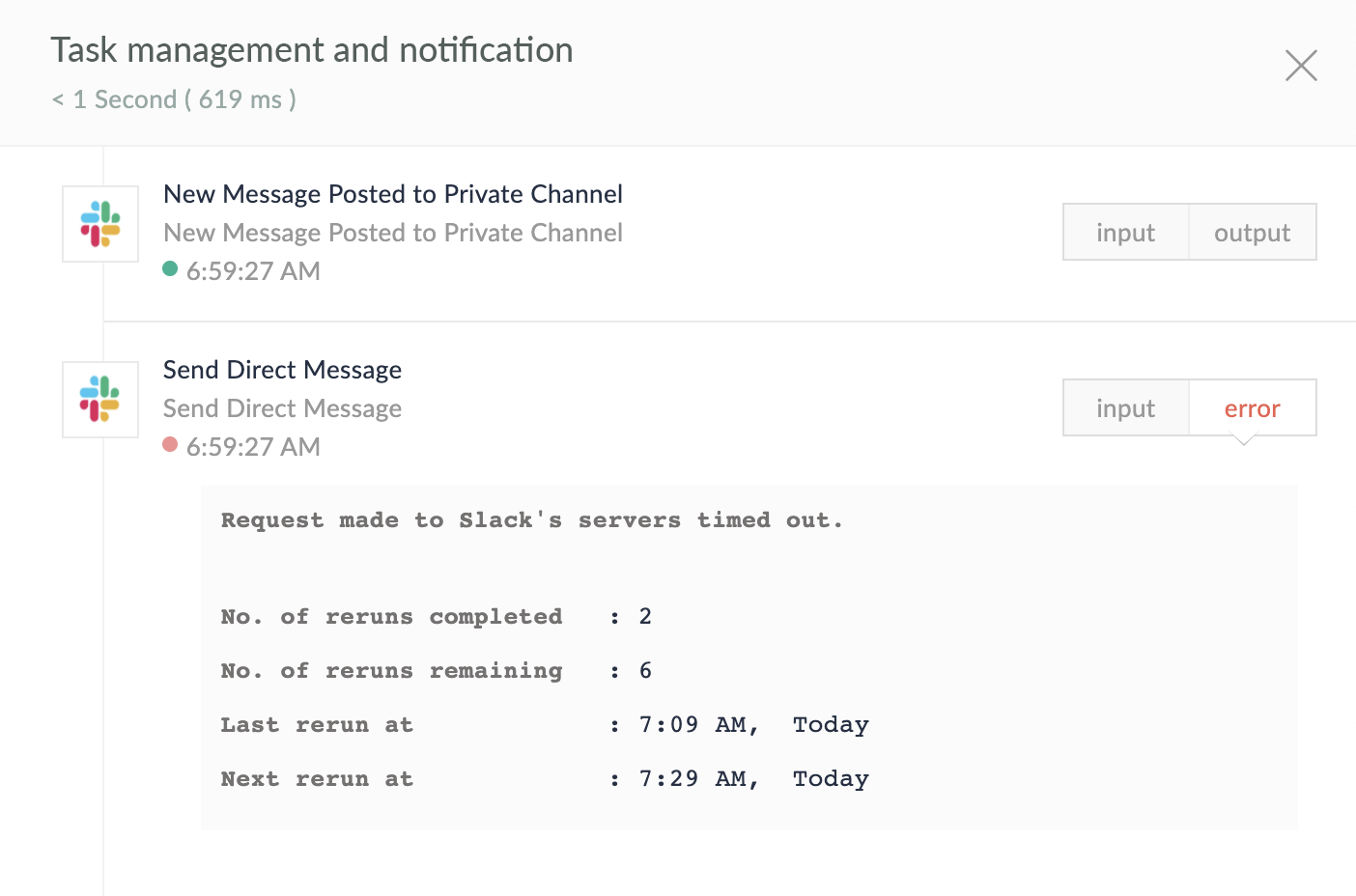 Auto rerun is performed for the following errors:
Zoho Flow's internal errors:
Internal exception errors (Not related to user configuration.)
Connection to dependent services failed (Kafka, DB, deluge etc.)
API errors from the apps you have connected:
Request timed out. (Status Code: 408)
Conflict due to multiple simultaneous updates. (Status code: 409)
Rate limiting from too many requests (Status code: 429)
Internal server error (Status Code: 500)
Third-party server not reachable (Status code: 503)
Gateway timeout (Status code: 504)
When a task fails to execute, Zoho Flow will wait for five minutes before it automatically attempts a rerun. The flow will try to resume from the point (action) of the previous failure. The reruns will continue at frequent intervals if the executions keep failing.
Failed tasks will be rerun for a maximum of eight times before marking the execution as failed. The retry intervals are given below:
| | |
| --- | --- |
| Rerun count | Minutes/Hours after initial failure |
| 1 | 5 minutes |
| 2 | 10 minutes |
| 3 | 30 minutes |
| 4 | 1 hour |
| 5 | 3 hours |
| 6 | 6 hours |
| 7 | 12 hours |
| 8 | 24 hours |
If the execution is successful in one of these runs, the tasks will be marked with a success message. The available task count for your account will only be deducted upon successful executions of tasks.
During the Auto rerun window of 24 hours, you cannot manually rerun a failed task.
If you have edited your flow before an upcoming rerun, the future reruns will take place as per the edited configuration of the flow.
If you have switched off the flow in between reruns, the rerun will not take place. However, if you switched off a flow in between, and switched it back on before the next rerun, the rerun process will continue.
Triggers are not included in Auto rerun, as they are executed using a method called "Polling", which watches for new entries in regular intervals.
If an action failed for a certain number of reruns, and succeeded in the next attempt, but another action in the same flow failed during this rerun, the rerun count will be reset, and the most recently failed action will be retried eight times.
Until all eight reruns are over, the record will be shown to the user as Failed: Rerunning automatically.
Auto rerun will not work in the following situations:
Triggers (including Webhook triggers and Realtime app triggers)
When a flow is switched off
When a flow is deleted
When the task has already run successfully
Manual rerun lets you retry the executions that would have failed due errors arising from the following:
Incomplete or improper flow configuration
Invalid data mapping
Tasks that failed 20 consecutive Auto reruns
You can attempt to run these tasks again instantly by using the Manual rerun option.
Note: Manual rerun will not work if the flow has undergone major changes (leading to a version change).
To retry a failed execution manually:
Log in to your Zoho Flow account.
Navigate to Settings > History.
Select the failed executions by clicking on the checkbox, then click Run.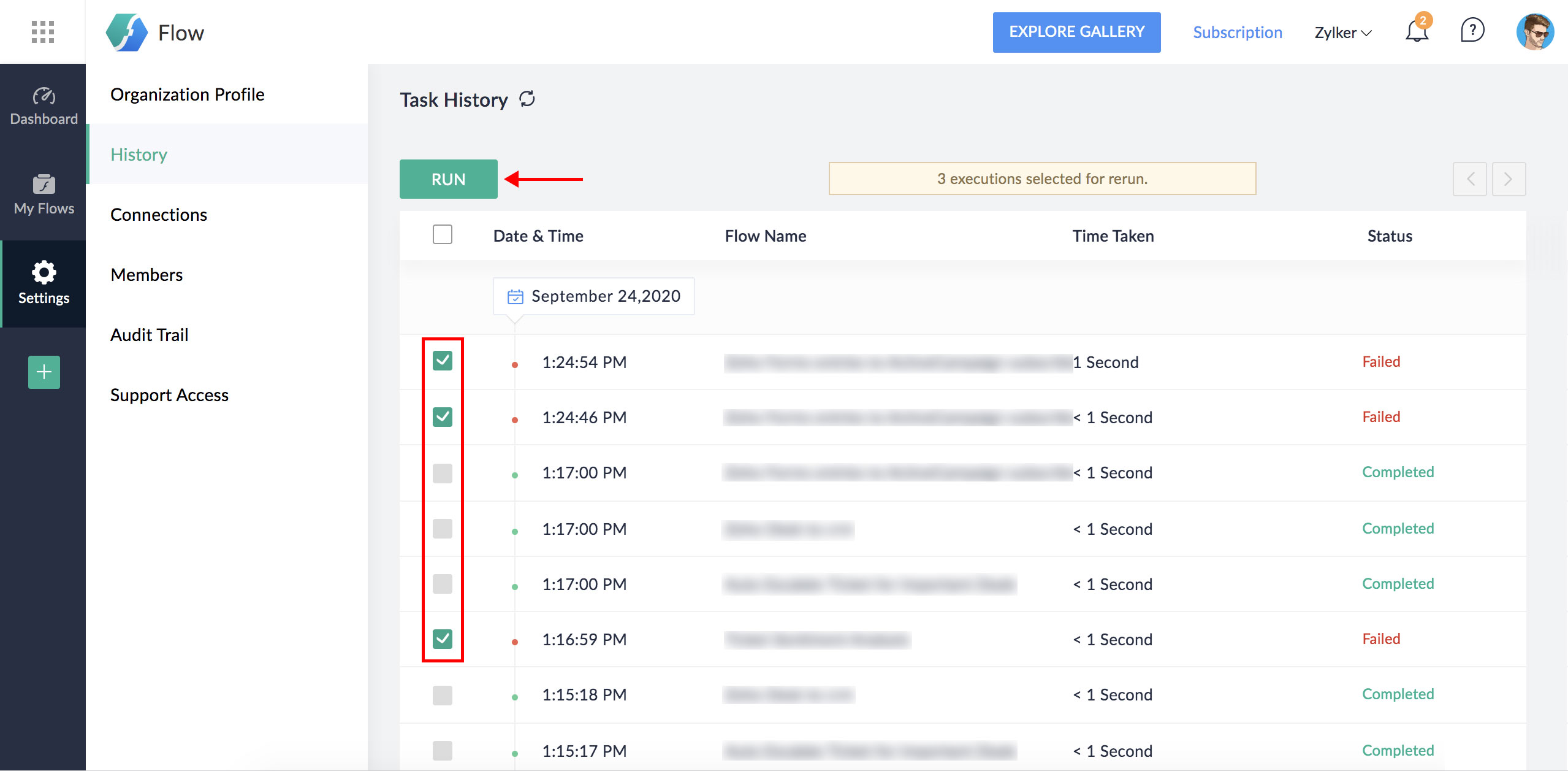 Will the available task count in my account get reduced for every rerun?
No. Task count will be deducted only on successful execution of tasks.
When selecting multiple executions for rerun, will it all run simultaneously?
Yes, All executions will be rerun independently.
What is the maximum number of tasks that I can retry manually at a time?
You can select up to 100 tasks for rerun simultaneously.
Can I resume auto rerun if I have switched off a flow before a rerun?
Yes. Auto rerun will resume when you switch the flow on.