Audit - Organization Level
Audit - Organization Level displays the activities performed by the users within your Zoho Forms organization in a chronological sequence. The Super Admin and the Admin can view all the audit data.
The Audit Log records the following activities:
Adding / Deleting a User in the organization
Changing User role / User Status
Creating / Duplicating / Deleting forms
Changing the Portal name
Adding a Custom Domain
Activating / Deactivating HIPAA - Organization Control
Adding / Deleting DKIM domain
Deleting the third-party access tokens
Adding / Deleting / Renaming / Updating SMS Gateway connections
To view your organization level Audit data,
Click your profile picture in the top-right corner to access the Control Panel .
Click Audit - Organization Level under Data Administration .



The activities performed in your Zoho Forms organization will be listed.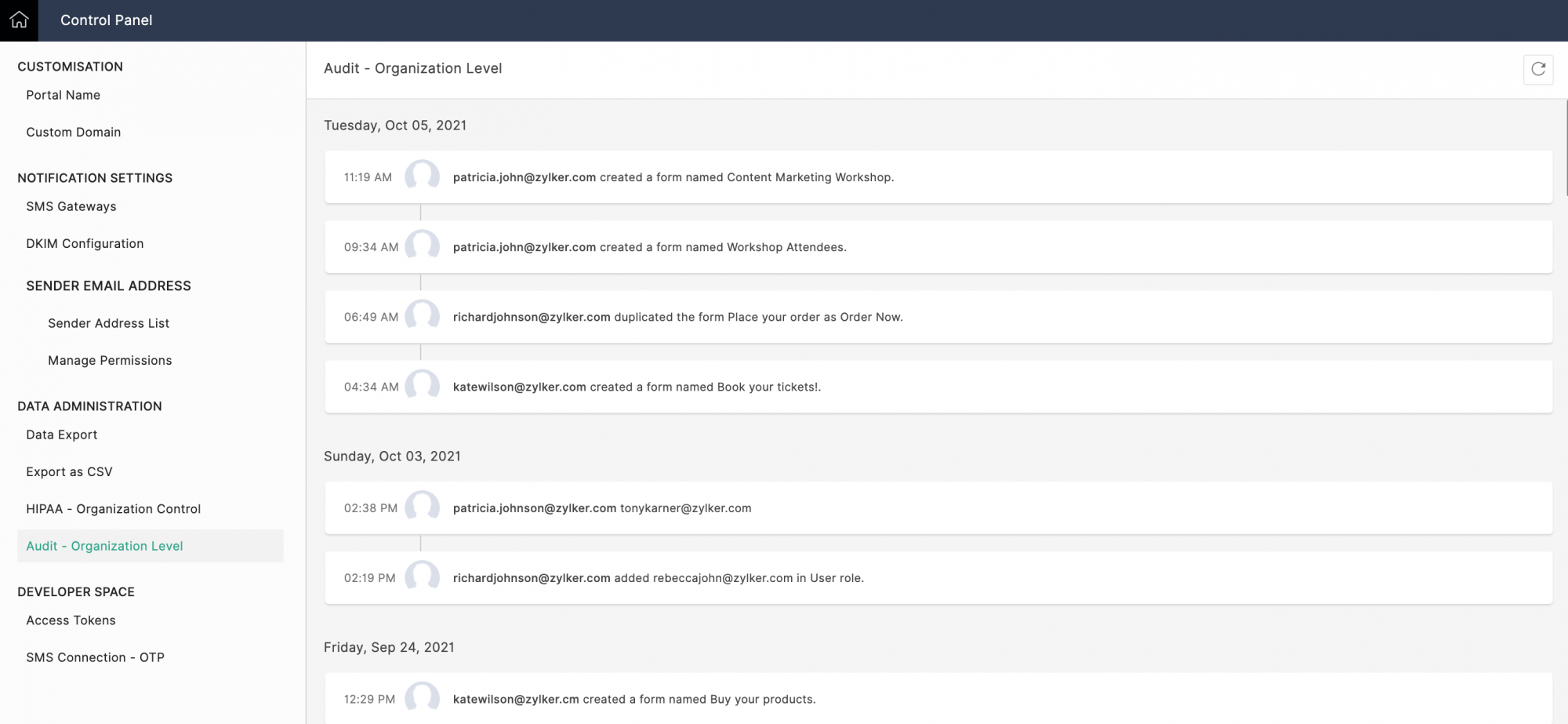 Note : Zoho Forms will only keep track of the actions performed in the organization in the last 90 days.
Zoho DataPrep Personalized Demo

If you'd like a personalized walk-through of our data preparation tool, please request a demo and we'll be happy to show you how to get the best out of Zoho DataPrep.

Zoho CRM Training Programs

Learn how to use the best tools for sales force automation and better customer engagement from Zoho's implementation specialists.

Zoho SalesIQ Resources
Zoho TeamInbox Resources
Zoho DataPrep Resources
Related Articles

Audit

In Zoho Forms, Audit keeps track of the changes made to a form. In an organization where more than one user works on a form, it is essential to keep track of the changes made to a form's structure and the entries. The Audit log keeps track of the ...

Record Audit

This option allows you to track the changes made to form entries in chronological order.​ Record Audit helps in identifying who made the changes, when the changes were made, and also how the data was modified. Zoho Forms will track and store the ...

Export Record Audit Data

You can export record audit data of your forms and download them as password-protected files. To do so, Click your profile picture in the top-right corner to access the Control Panel . Click Export Record Audit Data under Data Administration . ...

Sharing a form within your organization

Zoho Forms allows you to share your forms within a closed group of people from your organization. To share a form privately within a closed group, you must add users to your Zoho Forms account. Sharing a form with specific users This option allows ...

Overview

Having an approval process within your organization becomes essential to approve certain documents, applications, invoices, budgets, purchase orders, discounts, vacation time, etc. To streamline the manual approval processes that you already have and ...