Using Conditional Formula
The conditional formula set up in Zoho Forms allows you to configure your form to perform certain calculations based on your respondents' answers. These predefined conditions are simple to set up and they will tailor your form to your user's needs.
Overview

A condition refers to a setup which will include the following 3 things:

The field(s) to be checked.
The condition to be satisfied (is, is not, is empty, etc).

The mathematical calculation to be performed.


This is similar to the If and Else conditions that you use in Excel. When the condition is found to be true, it executes a certain mathematical calculation and when found to be false, it moves on to the next condition. You can even set multiple conditions , where the fields can be checked for multiple answers to perform a distinct calculations.

To understand this better, here are a few scenarios:
Waive off a 50% discount on the total purchases on more than five shirts.
Calculate taxes based on the annual income range.
Offer a discount of 20$ upon the coupon code of DISCOUNT20SPRING.

Offer a bulk discount of 100$ if the total purchase amount is above a threshold value.





Check out how to configure a few of these examples.


Setup

To set up conditional formula,

Add a Formula field to your form from the Advanced Fields .

In the pop-up, click

.



In the Conditional Formula pop-up, set up the necessary logic.

Choose ALL or ANY , from the dropdown.

To add more conditions, click the icon.

Under Perform when none of the conditions is met , set up the formula that will be performed when none of the conditions is found to be true. This is also referred to as a d efault expression.
To delete a condition, click the icon.




Adding multiple conditions

You can add more than one condition to perform calculations. This will be useful when you want to check the field for multiple answers and perform distinct mathematical calculations based on it. For example, in a scenario where you are expecting numerous coupon codes to waive off appropriate discounts during your spring sale, you can process the coupon codes in simpler steps. The payment will differ for each customer based on the type of coupon they own.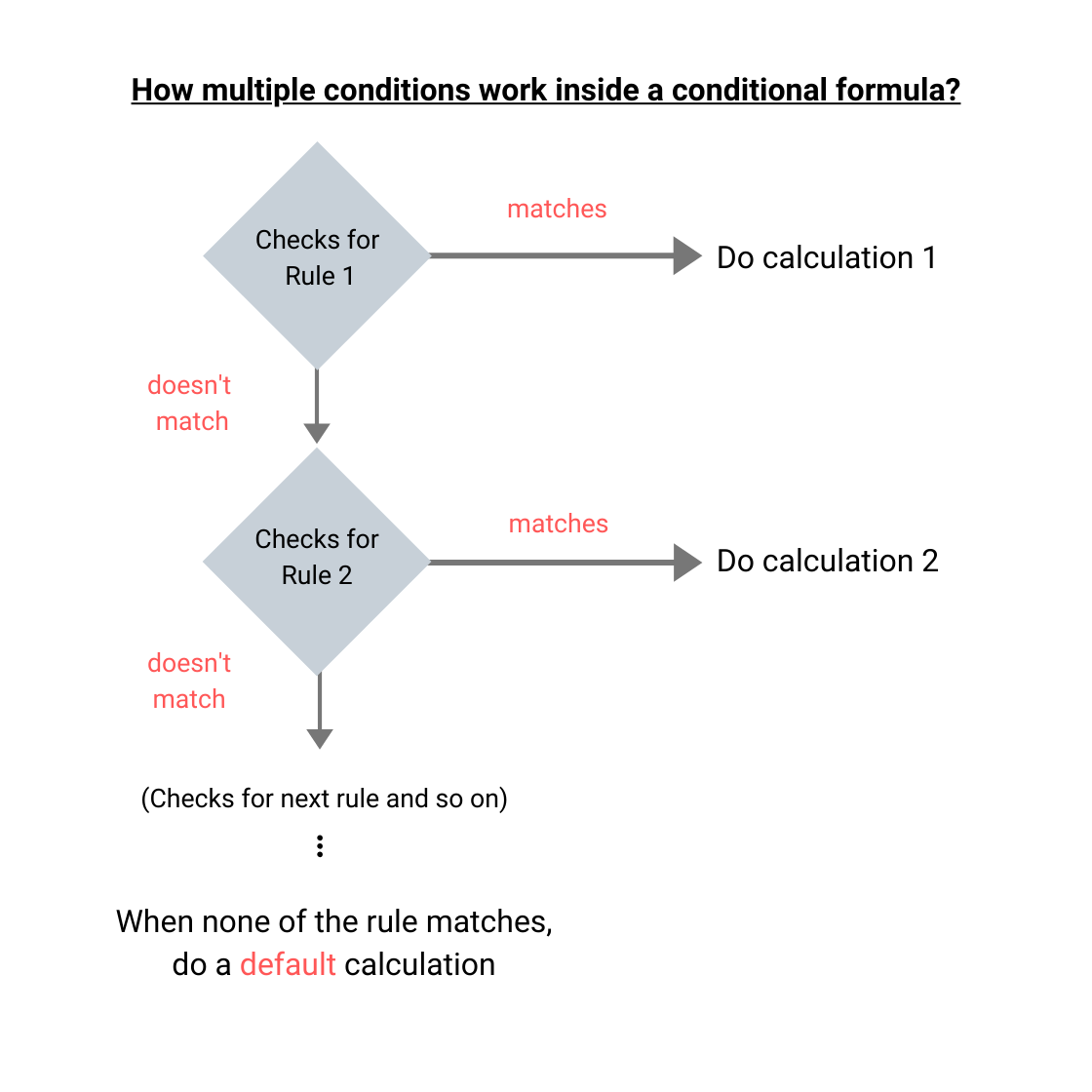 Examples

Scenario 1 : Processing the coupon code DISCOUNT20 to waive off 20% on the total price of the purchase.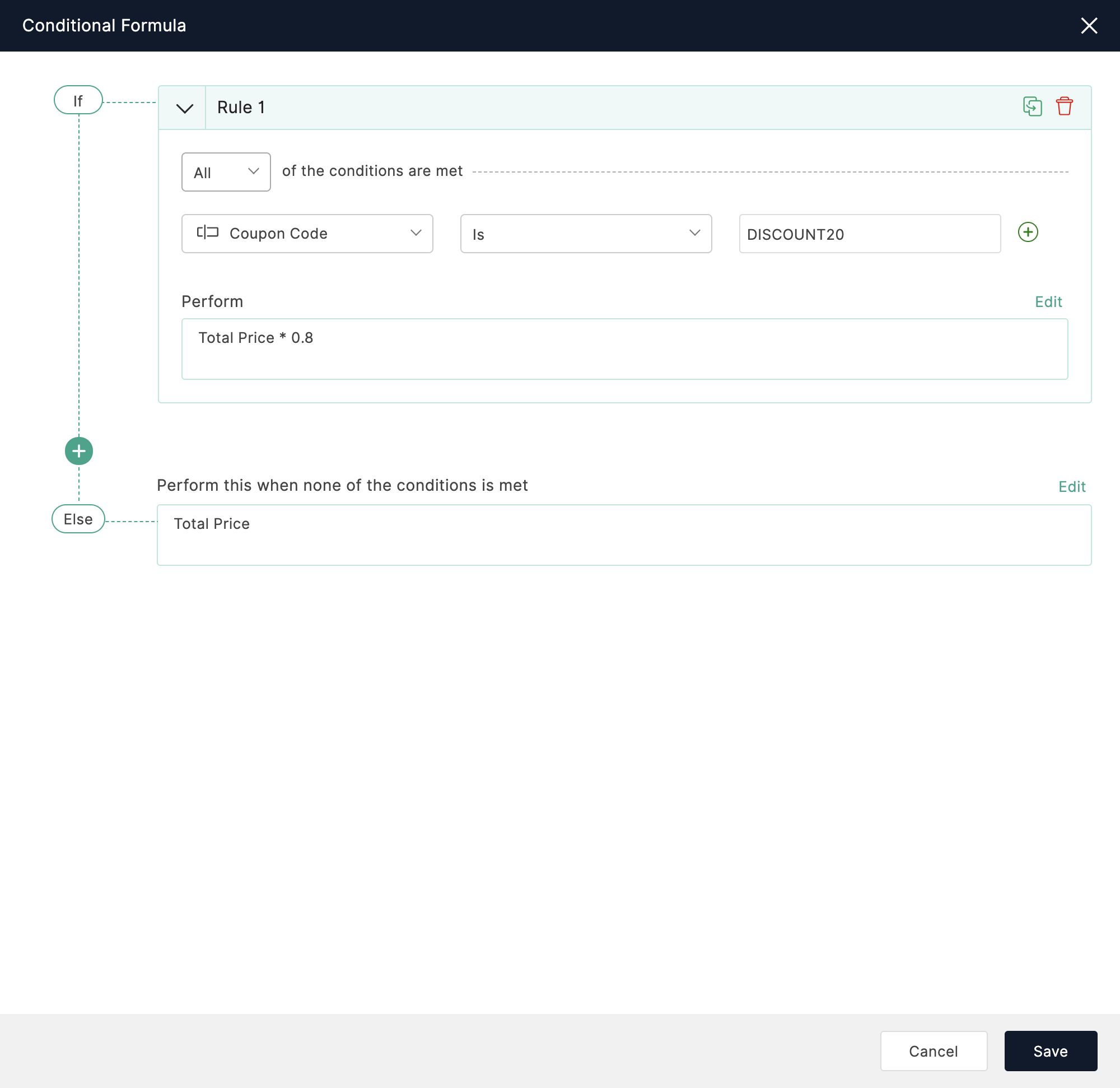 Scenario 2
:
Waiving off 100$ on the total price of the shirts upon the orders of 5 or more.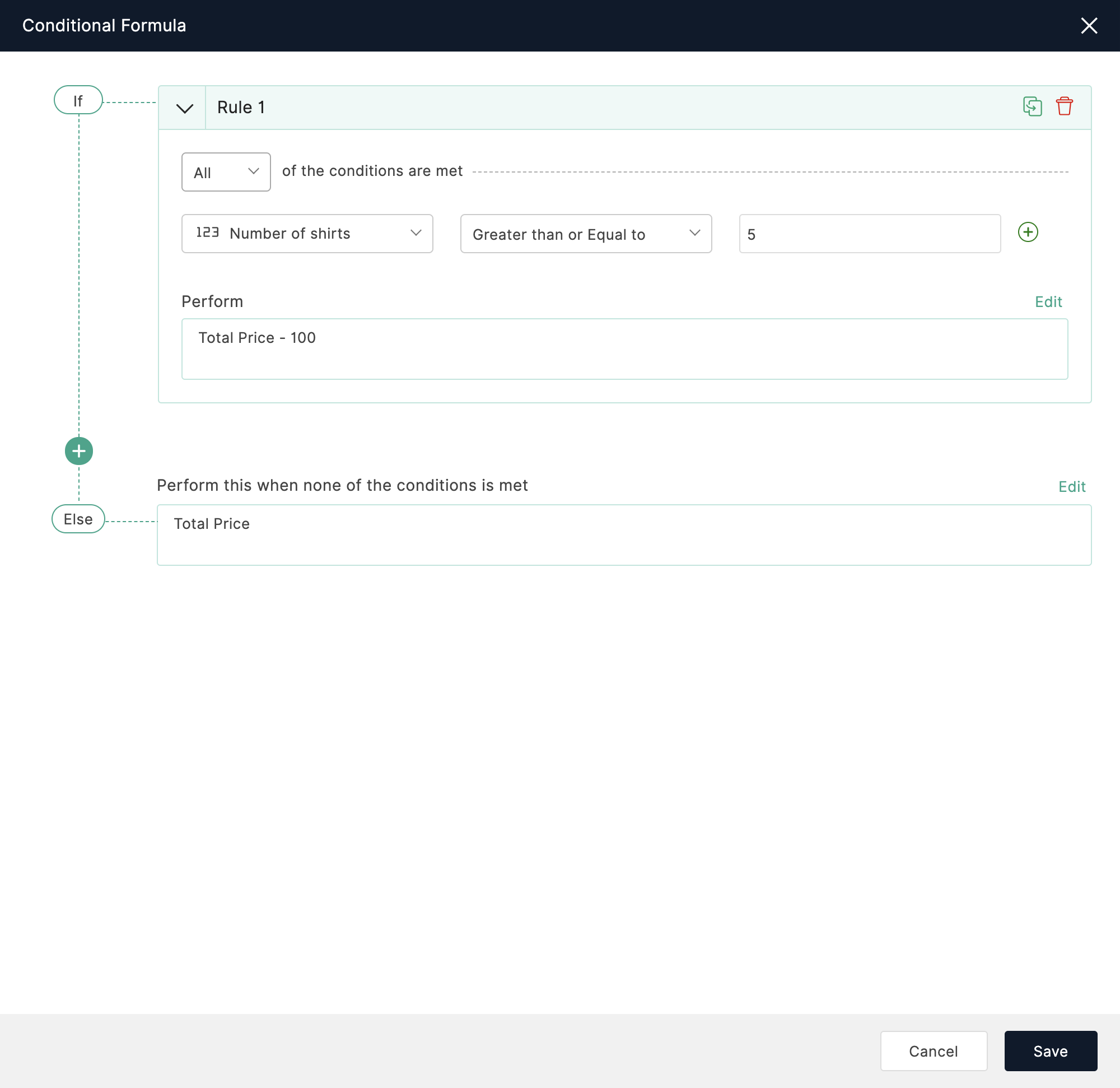 Scenario 3
:
Deciding the tax based on the annual income range of the employee.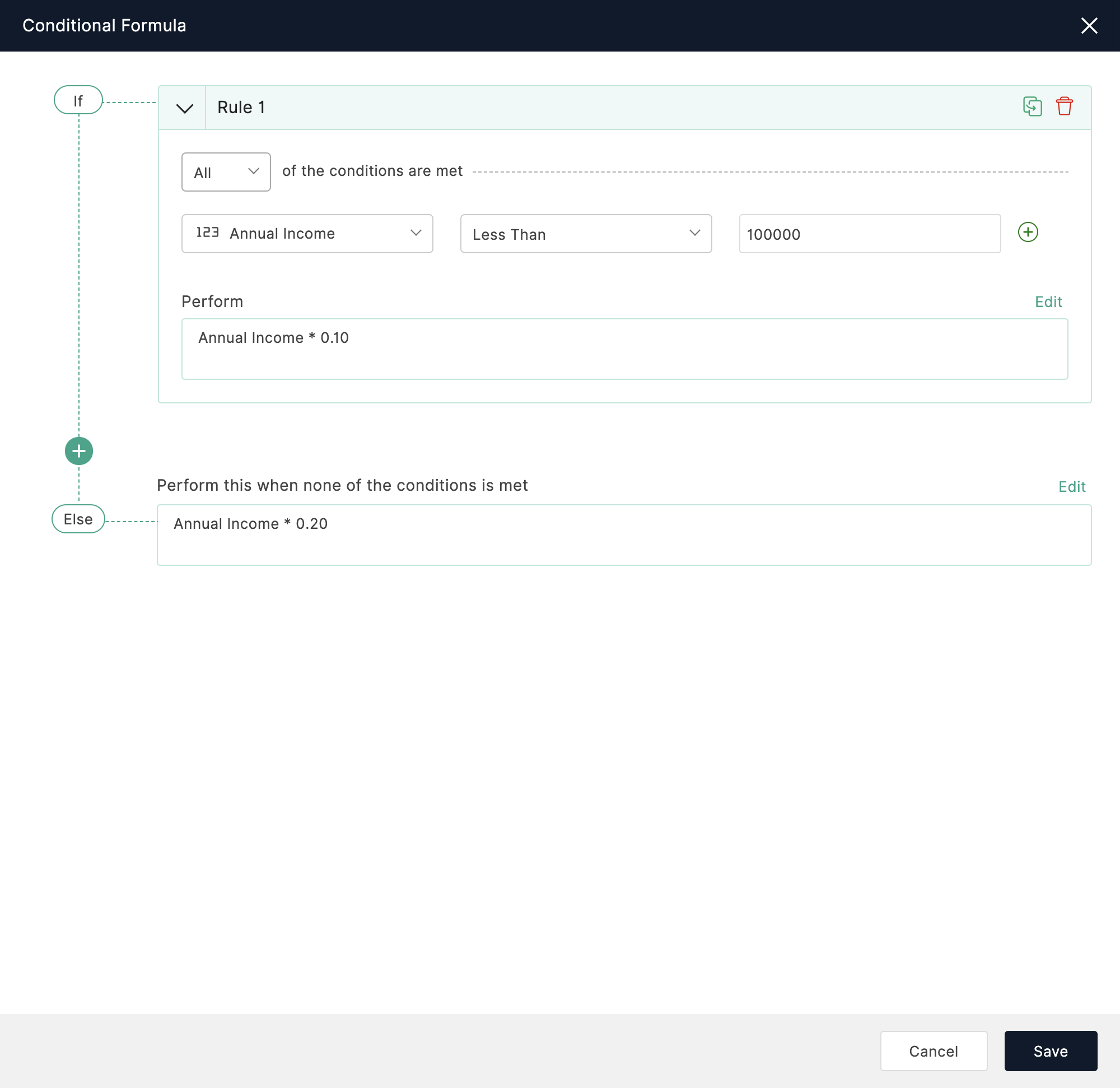 Refer to the
FAQs
on performing calculations using conditional formula.
Zoho DataPrep Personalized Demo

If you'd like a personalized walk-through of our data preparation tool, please request a demo and we'll be happy to show you how to get the best out of Zoho DataPrep.

Zoho CRM Training Programs

Learn how to use the best tools for sales force automation and better customer engagement from Zoho's implementation specialists.

Zoho SalesIQ Resources
Zoho TeamInbox Resources
Zoho DataPrep Resources
Related Articles

Using the Formula Field

Overview Make your form a math wiz by allowing it to perform calculations. You can total up costs, process grade quizzes, apply discounts, and more! Use the Formula field to set up any form calculation. When your respondents fill in the form, ...

Performing Calculations using Formula Field

Why do I get a 'Repositioning the field here will break the existing logic' error while I am designing the form? You will encounter this error when you try to position the conditional formula field above any of the fields involved in its ...

Document Merge using Zoho Writer

Auto-populate Zoho Writer documents with form responses using Document Merge. You can create and send personalized PDFs, word documents, and more. The merged documents can be attached in an email and sent to all respondents, either through an ...

Embed a form using HTML/CSS codes

To further modify and customize the forms which you wish to embed in your website, you can download your form as a plain HTML file or a HTML with CSS file. ​ To do so, In your form builder, go to Share > Embed > HTML & CSS. Click Generate Code to ...

Setting up conditional SMS workflows

Depending on your business use case, you can set conditional workflows to trigger SMS notifications. To set SMS workflows, Click Rules in your form builder and navigate to Form Rules . Click Configure and start defining your conditions to execute ...