This walkthrough is to help you get started with creating a form using Zoho Forms. Follow the simple step-by-step instructions given below to build forms
that perfectly match your requirements
.
Creating a new account
To build a form using Zoho Forms, you must first create an account in Zoho Forms. To create an account in Zoho Forms,
Enter your details, and click SIGN UP FOR FREE if you agree to the Terms of Service and Privacy Policy.


Alternatively, you can sign in using your Google, Facebook, LinkedIn, or Office 365 account.


Form Builder Language
The form builder supports nine languages in the web version- English, Chinese(Simplified), Dutch, German, Spanish, French, Portuguese, Japanese, and Italian.

Our mobile app supports eleven languages- English, Chinese(Simplified), Dutch, German, Spanish, French, Portuguese, Indonesian, Russian, Japanese, and Hindi.

To change your default language,
In the form builder, click your profile picture in the top right and click My Account .

Under Personal Information , change the Language and Country according to your preference and save your settings.

The form builder will now be available in your preferred language.

Note: The default phone language will also be the app language in the Zoho Forms Mobile App.
Building a new form
Creating a form from scratch
If you are creating your first form in Zoho Forms, click Let's Get Started under the

Forms

tab.





Under

BLANK FORM

,

enter an appropriate name for your form in Form Name .

You can also add an optional description for your form which will be displayed under the form title.

Click Create

.

You can start building your form in the form builder.





































Creating a form using templates
Numerous pre-built form templates across various categories are available in Zoho Forms to make your job easier. You can use these templates directly or customize them to meet your requirements and share your forms instantly.

To use a form template,

Click New Form in the top-right corner of your screen.


Under FORM TEMPLATES , you can view the list of pre-built form templates on the left.




You can search for your required template and select it.


Click Use this template in the top-right corner.

The template will open in your form builder, where you can modify, add, or delete fields, as well as change the theme as per your requirements.

Modifying form properties



You can change your form's title and description, and set the position of the field labels in your form. To do so, navigate to the top of the form in the builder screen and click the title of your form. The
Form Properties
pane will appear on the right. This panel will be displayed by default if you haven't added any field in your form yet.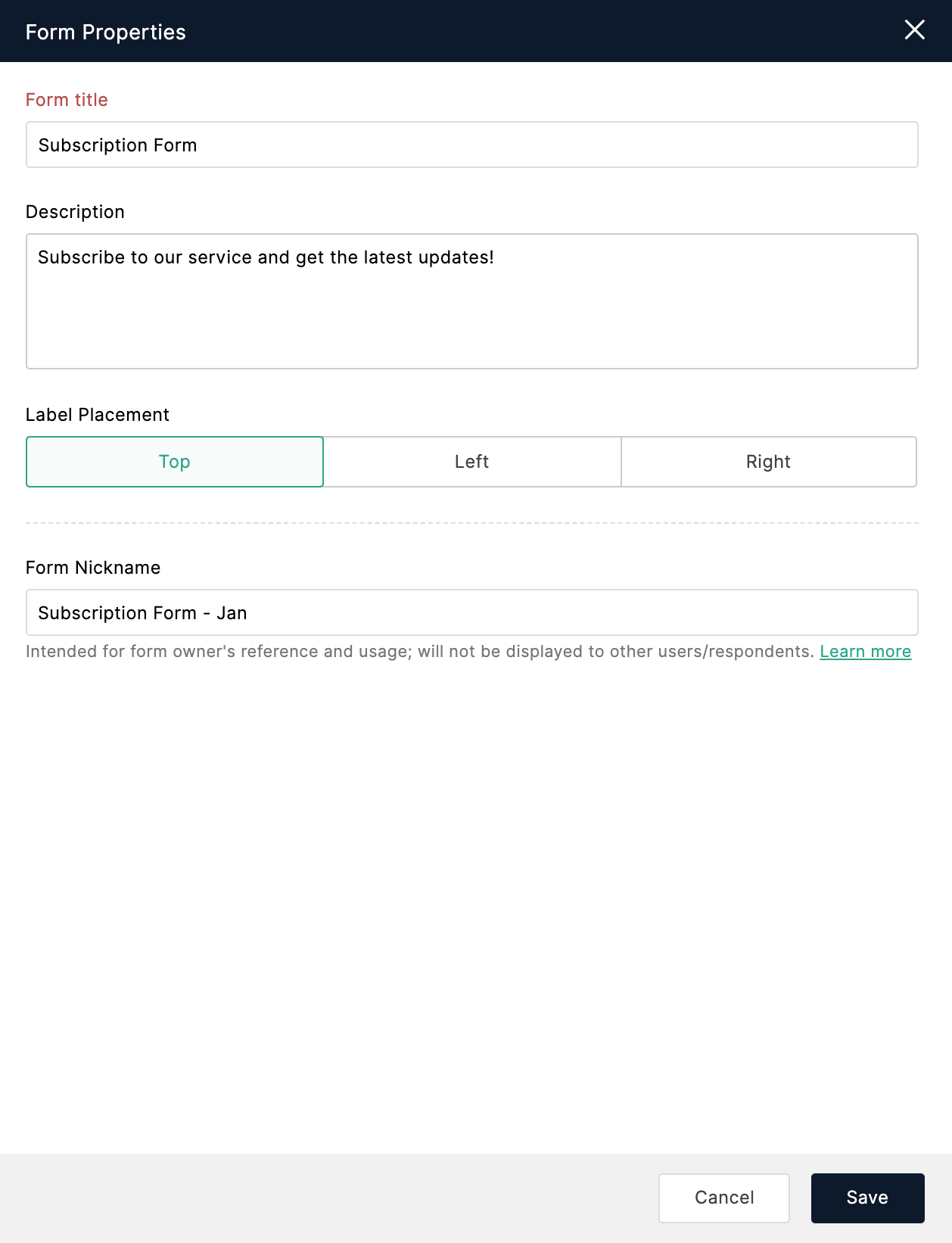 In the Form Properties , you can modify the following:

Form title : You can modify the title of your form here. By default, the Form title will be displayed in the live form. If you wish to hide the title, navigate

to

Settings

>

General

>

Basic Settings

>

Form Header

and select the

Hide

option.



Description : You can add or modify the description of your form that will be displayed under the form title. You can include information such as instructions, and special notes in the description.

Label Placement

:

Label

denotes the name of a field. For example:

Single Line

,

Multi Line, Number,

etc

. You can adjust the position of the label to be in the Top, Left or Right of the fields in your form. The selected label position will be applied to all the fields added to your form.
Form Nickname
Under Form Nickname , you can provide an alternate name to a form for your reference and usage. This name will appear in your form builder as well as in the My Forms listing. It will be visible only to the form owner and to the users with Modify Form permission. Other users and respondents will see only the Form Title.
For example, if you have multiple forms with the same name, you can give a nickname to each form for easier identification.
Adding fields to your form
Different types of fields available in Zoho Forms will be listed under the Basic Fields and Advanced Fields on the left side of your form builder.

To add a field to your form,

You can either click a field from the Basic Fields / Advanced Fields or drag and drop the field on your form. Learn more about the field types in Zoho Forms.


You can re-arrange the fields in your form by clicking and dragging them up or down. You can also duplicate a field along with its properties.


You can modify the properties of the fields added under Properties of the respective fields and click Save .



By default, a Submit button will be added at the bottom of your live form.


You can customize the appearance of your form as required or use suitable pre-designed themes available in Zoho Forms.


Limit on the number of fields in a form

You can add a maximum of 1200 fields to a form. Form fields with multiple elements will be counted based on the number of field elements.

For example, the field count is taken as follows:

An Email field counts as 1.
Phone field with Country Code counts as 2.
Dropdown field with grouped choices counts as 2.
Each element in the Name and Address fields counts as a distinct field element.
Each question in the Matrix Choice field counts as a distinct field element.

Note
: Please do not collect passwords or CVV using Zoho Forms, as it is against our Privacy Policy.
Learn more
Previewing your form
After building your form, you can see a preview of how your live form will appear. To do so, click Access Form at the top-right corner of your form builder. A preview of your form will open in a new tab.

You can also access your live form by clicking your form's name under the Forms tab, as shown below: