Trigger Actions while pushing form entries
While pushing a form entry to a Salesforce object, you can choose to perform certain actions:

Add Attachments
When you select this option, file attachments from Zoho Forms will be pushed to the mapped Salesforce object. The following attachments can be pushed from Forms to Salesforce:
Signatures
File upload/ Image Upload field attachments
PDF of form submissions


Upsert a record
When you choose the Upsert Record option, if a record with identical upsert value exists in Salesforce, then it will be updated with the new values. If not, a new record will be created in Salesforce.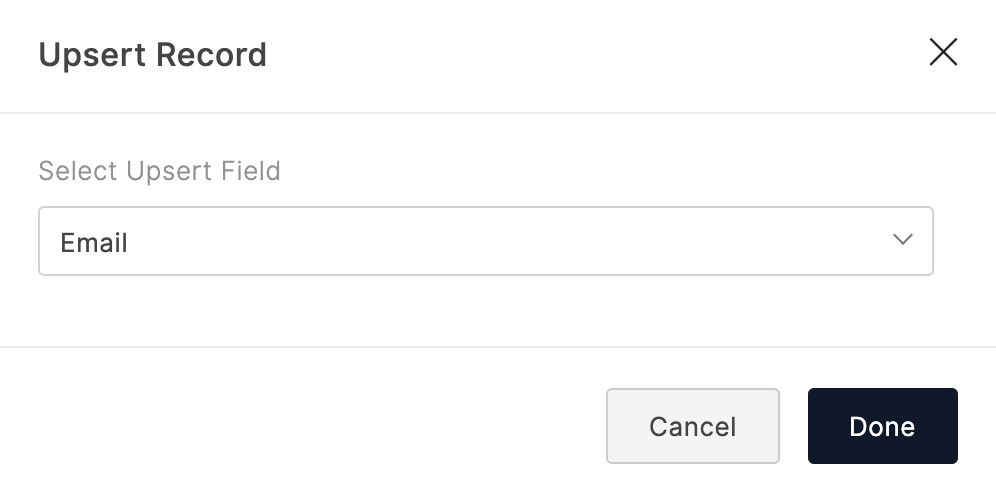 Note : Only the fields with External ID property enabled in Salesforce can be used to upsert a record.
Assignment Rules
When you choose this option, Assignment Rules defined in Salesforce can be triggered when form entries are added to a Salesforce object. To do this, you must configure assignment rules in Salesforce under Feature Settings > Marketing > Lead Assignment Rules . All the rules configured for the selected Salesforce object will be displayed in the drop-down. You can select one rule to trigger upon every new form entry.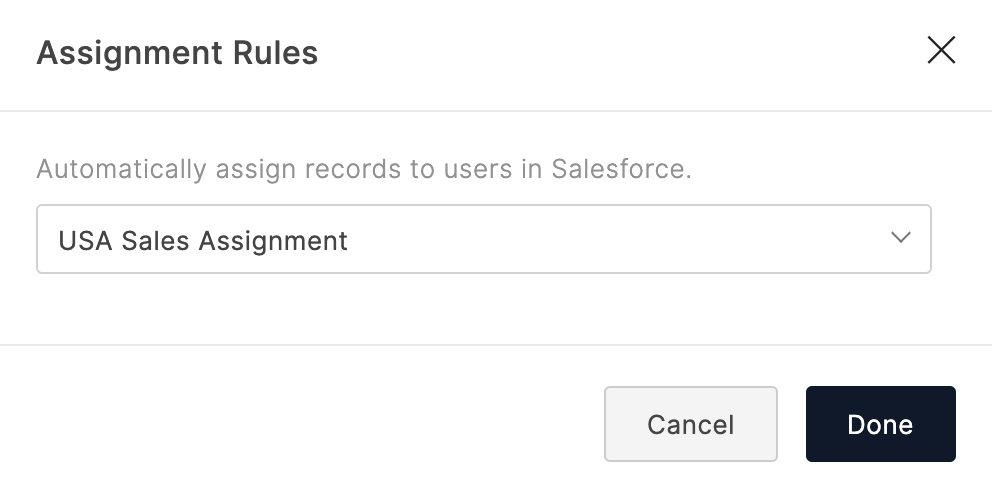 Approvals
When you choose this option, form entries pushed to a Salesforce object will be sent for approval in Salesforce. To configure the approval process in Salesforce, go to Process Automation > Approval Processes.
Zoho DataPrep Personalized Demo

If you'd like a personalized walk-through of our data preparation tool, please request a demo and we'll be happy to show you how to get the best out of Zoho DataPrep.

Zoho CRM Training Programs

Learn how to use the best tools for sales force automation and better customer engagement from Zoho's implementation specialists.

Zoho SalesIQ Resources
Zoho TeamInbox Resources
Zoho DataPrep Resources
Related Articles

Trigger Actions in Zoho Recruit

You can choose to trigger certain actions in Zoho Recruit each time a form entry is pushed to Zoho Recruit. Workflow: This option triggers the workflows defined in Zoho Recruit while adding entries via Zoho Forms. Approval: This option pushes the ...

Adding entries to a related list

Overview Related Lists are records that are associated with a parent record. For example, a Lead has Notes, Tasks, Events, and calls associated with it. These associated records are called Related Lists. When you push form entries to a Zoho CRM ...

Deleting Form Entries

You can move the form entries to Trash, restore them from the trashed entries, or permanently delete the entries. Trash Entries To move the form entries to Trash, Go to the All Entries section of the form. Select the entries that you wish to trash ...

Printing Form Entries

You can print form entries either as a list or a summary. To print the form entries, In the All Entries section of your form, click the Print icon. Select Print as List if you wish to print the entries as a table, and select Print as Summary ...

Viewing Form Entries

Once you have successfully created and shared a form, the form responses will be listed under All Entries . Here, you can view all entries as a summary, and group them based on certain criteria. You can also edit the entries, assign entries as ...