Zoho SalesInbox lets you compose and send an email to your leads, contacts and others easily. Following are some useful features in SalesInbox with respect to composing an email.

When you compose your email, SalesInbox suggests contacts and leads from your CRM.

Once you have sent an email, you can Add a ResponseWatch.

That is, when you configure ResponseWatch , SalesInbox will notify you if there is no response from a customer for a said number of days for an email that you have sent. This will help you easily follow up a second time with customers.

You can add signature and attach documents to your email.

Compose an email
To compose an email in SalesInbox

Click the Compose button on the left pane.



In the New Message popup window, compose your email content. As you type the email in the To field, SalesInbox will autosuggest email addresses from Zoho CRM. You can either choose from the suggested emails or type a new one.


You could Send the email immediately to the desired recipient or Save draft to be sent later.

Click Add Template if you wish to send an existing email template from Zoho CRM.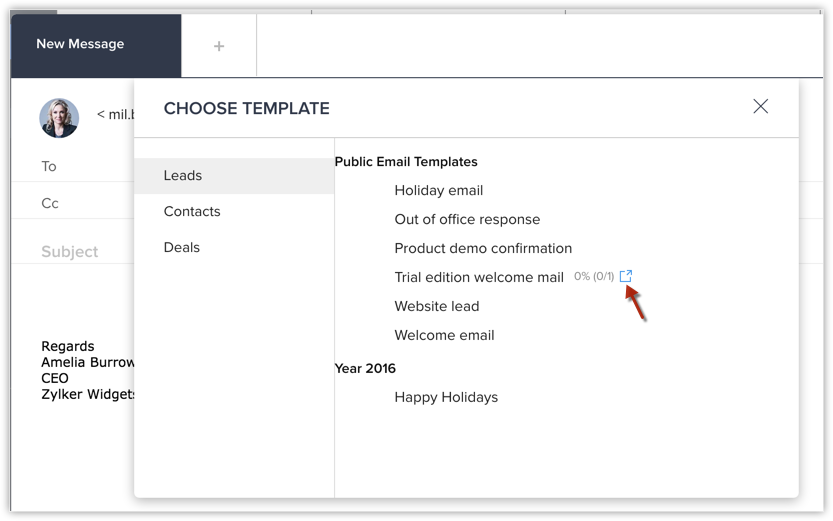 When you choose templates while composing an email, you will also be able to see template statistics for each template. You can check statistics to see which template has performed well in terms of number of opens and clicks and then make an informed choice.

If you wish to send a plain text email, click the <Plain text link on the bottom right corner of the New Message popup window. Note that the plain-text emails will not contain any HTML content and so cannot be tracked.

Note :

Template statistics will be available only if you have enabled
Email Insights
in Zoho CRM.
Add ResponseWatch
Add ResponseWatch is a feature in SalesInbox by which you will be notified if a customer has not replied to your emails within a specified period of time. This will help you immediately do a second follow up if required.
You can add this ResponseWatch either upon sending an email or on already sent emails.
To Add ResponseWatch upon sending an email

Compose and send your email to the required contact.

On the band that says "Email sent successfully" click Add ResponseWatch.

Enter the time period and reminder message as required and click Create .

For example, if you say 30 min, SalesInbox will notify you if there is no response from a customer 30 minutes after sending the email.

To Add ResponseWatch on sent emails
Go to the Sent folder.

Click the desired email.

In the Email details page, click the drop-down arrow next to Reply .

Click Add Reminder .

In the popup that appears, enter the time and reminder message and click Create .
To check reminders
You will be notified in the form of popup reminders if there is no response from the customer within the specified time
You can also check the notifications from the Reminders section.

You can toggle between Notified and Completed views.
The Notified column shows you a list of reminders the you received, but not yet closed - which means you have not done the action the reminder was meant for. You can come back to this section to see items that you were reminded about.

The Completed column displays a list of reminders for which you have completed the said action.

You can mark a reminder as Complete from the Notified column. Clicking on a reminder will display details associated to the reminder.

Add signature
The signature you add in Zoho CRM will be reflected in the emails you send via Zoho SalesInbox. So to add a signature, you must set it in your CRM account.

Attach
Documents
To attach documents to an email

Click the Attachment icon in the Compose window .

You can attach from your computer, Zoho Docs, Google Drive or the Documents tab in Zoho CRM.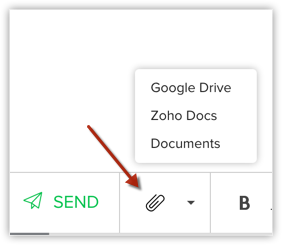 Archive Email
In the business world emails are an integral mode of communication. It is the most effective, inexpensive, reliable and accessible way of spreading one's message across the globe. Most of the time, the inbox is loaded with old conversation which are retained just for the sake of future reference. In such cases, its best to archive those emails instead of having them in the inbox. For instance, you want to revisit a month old conversation with a lead on some event, you can track down the previous conversation from the archived emails. SalesInbox allows you to archive emails for future reference.
Begin Archiving

Archive Emails

Unarchive Emails

Begin archiving

This feature is available only to the SalesInbox users who have a Gmail account mapped in IMAP. For email syncing the All-mail visibility in your google account must be turned on. The archived emails in Gmail will not be visible in SalesInbox until the visibility is toggled on.

To switch on the visibility in Gmail do the following:

Go to Settings ( )at the right corner > Click Settings .

Click Labels > All Mail > Check Show in IMAP.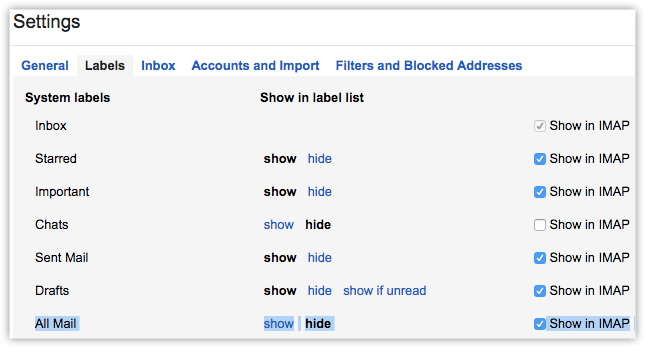 Archive Emails
Too many emails in the inbox often lead to confusion. Hence, archiving old emails for future reference is the best way for inbox management.

To archive emails in SalesInbox you can one of the following:

Go to any email > click the drop-down list > click Archive .

Or Select the email > right click on the email icon > click Archive from the drop-down.

To mass select emails, click Select-all icon > select Archive from Actions drop-down list.


To archive emails in Gmail do the following:

Select an email.

Click Archive from the top panel.

Note :

If an email with custom label associated is archived in Gmail, the archiving will happen as mentioned below:

In Gmail - Only the inbox label will be removed and the email will be archived.

In SalesInbox - The email will be retained in the inbox until the custom labels are removed from the gmail email.
Unarchive Emails
If the archived emails are required back in the inbox or other folder you can unarchive them.
To unarchive emails in SalesInbox do the following:
Go to the archive folder.

Select an Email > click drop-down list > select Unarchive and Move.

To mass select emails, click Select-all icon, select Unarchiveand Move from Actions drop-down list.
To unarchive emails in Gmail do the following:

Go to All mail folder.

Click on any email.

Right click and select Unarchive .

Note :

If an email has any custom label associated with it, unarchiving will happen as mentioned below:

In Gmail - The inbox label will be added and the email will be unarchived.

In SalesInbox - The email will be unarchived and moved to the selected folder.
Schedule Emails
There can be instances when you would want to send an email at a time that is the best time of contact for the recepient. In such cases, you can schedule your emails to be sent at the best time of contact of the recipient.


To schedule emails

In SalesInbox, click Compose .

Enter the recepients email address.

In the notification, click the checkbox for Best time to Contact.


To edit emails

Go to Scheduled folder > select an email .

Choose Edit from the drop-down list.

Click Save .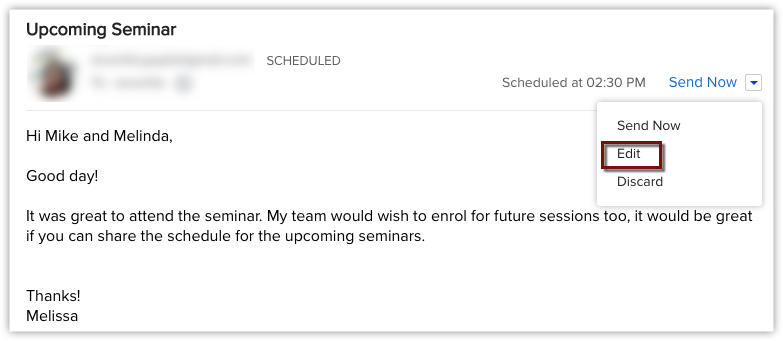 Note :

If your email has more than one recepient, the best time to contact will be displayed only for the first recepient.

If you edit an email in the Scheduled folder and do not Save it, the email will not be sent. You will recieve a failure notice.


SalesInbox Shortcuts
There are several shortcuts to achieving an action in SalesInbox. They are all listed below.
Select emails in bulk: When you hover over the email categories in the CRM view, you will notice the Select icon. When clicked, this icon enables you to mass select emails, and either delete them or mark as unread.

Mark mail as read/unread or delete mail: A shortcut to mark individual emails as read/unread is to hover over the particular email and choose the Mail icon. To delete the mail, click the Trash .

Find unread emails quickly: To access unread mail quickly, simply click on top of the category you wish to view the email from. From the drop-down, click Unread to view only the unread emails in that particular category.

Move emails quickly to a new category - To convert an Not in CRM as a lead or a contact or a colleague, drag that email from Not in CRM and drop it in the Contacts & Leads or Colleagues column. A pop-up will appear, from which you can take the necessary actions.

Email Settings
While Zoho SalesInbox comes with an array of useful features, it is important that you set them up in a way that will ensure effective email management.

This guide on Email Settings will help you with configuring filters, associating folders and tasks to the filters, configuring email workflow rules among many other functions. Read through this guide to learn how to make the most out of Zoho SalesInbox.

Compose Settings
In the compose settings, you can choose to customize the font size and font type of an email. Also, you can choose to either send an email immediately to a recipient or delay it for a pre-defined period of time. When delay settings is enabled, emails are stored in the Scheduled folder until the specified time, during this time you can choose to edit the email.

​
To set email compose setting
In SalesInbox, go to Settings > Email Settings > Compose .

Type the subject of the email.

Under Send Emails > enter a value in With a Delay of "n" Minutes .

Click Save .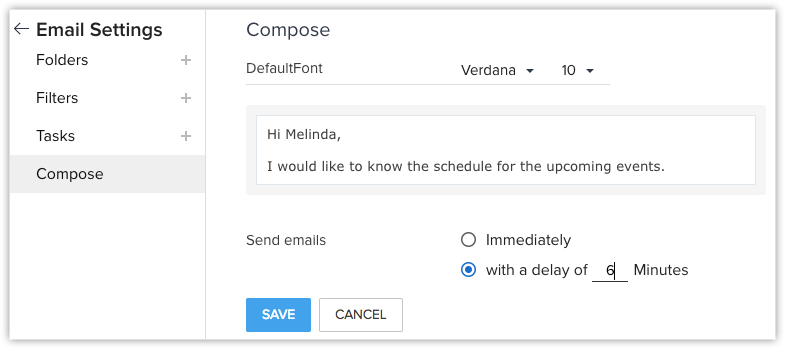 See also: