Access Email Views in Zoho SalesInbox
Zoho SalesInbox offers you a handful of Email Views in order to further help you manage your email communication efficiently.

In order be able to access Email Views, you must have enabled Email Insights in Zoho CRM. Email insights will give you complete statistics about the performance of your emails - the number of opens, clicks, responses, unopened emails, bounces and so on.

With the help of email insights in Zoho CRM, SalesInbox displays emails based on parameters such as email opens and responses. So in a single glance, you can see all the emails that have not been read by you, not opened by your customer, not replied by your customer and so on. Read on to find out what the various email views are.

Unread

Emails that you have recieved in your Inbox but not yet opened and read are displayed here.

Unopened

Emails that you have sent to customers but not yet opened by them are displayed here.

Not Responded

Emails sent, which have been opened by your customers but not yet responded to by them are displayed here.

Not Replied

Emails that you have received and read, but not yet sent a reply are displayed here.

All messages

All messages, regardless of whether they have been opened, clicked, replied to etc are displayed in this view.


Note:

These views are default views offered in Zoho SalesInbox and cannot be deleted or customized.

These views (except for Unread and All emails) will become unavailable if you disable Email Insights in CRM.

View Email Sentiment in Incoming Emails
In business we all receive innumerable emails every day but the ones that have a negative tone usually require an immediate attention over the others. Zoho CRM's AI-driven sales assistant Zia, analyzes the tone of your incoming emails and shows if it has a positive or a negative sentiment and helps you to take a prompt action. Email Sentiment is available for all the users who have configured IMAP integration.

You can view the Email Sentiment of the incoming emails inside SalesInbox and your Zoho CRM account.

In SalesInbox, you can view the email sentiment for the incoming emails in the inbox.


Inside Zoho CRM, you can view the email sentiment for a record under a record's related list.



Note:

Users with IMAP integration enabled in their profile can view the Email Sentiment.
Change the Sentiment of an Email
There can be instances when an email is marked as having negative sentiment but when you read the email it could sound positive. In such case you can change the sentiment of the email based on your opinion.

To change the email sentiment,

In Salesinbox, click on the Email for which you want to change the sentiment.

Click the drop-down list icon on top of the Email.

Click Change the Sentiment option > select either Positive or Neutral.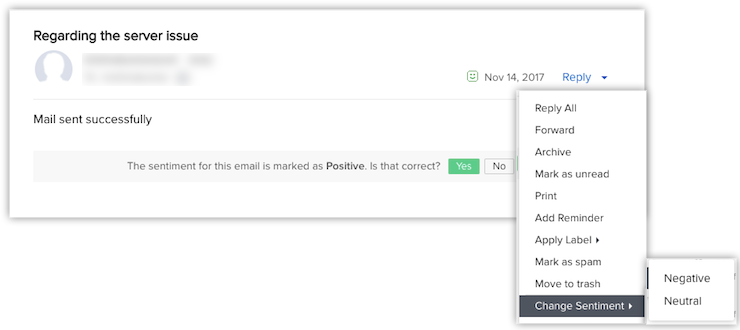 Note:

You can also change the sentiment of an email by responding to the pop-up inside the email that asks if you agree with the predicted sentiment. If you are not satisfied, you can click No and change the sentiment accordingly. This will help Zia improve the future predictions.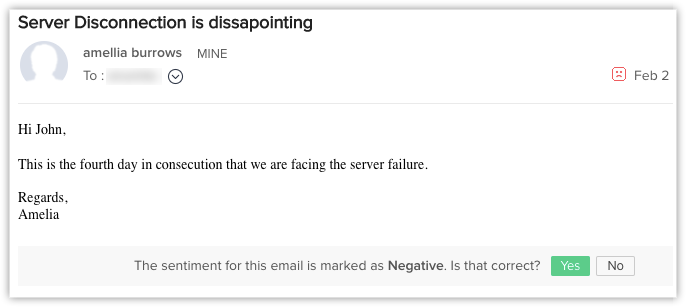 Filter Records Using Email Sentiment

Zoho CRM gives you an option to filter the records based on the sentiment of an Email. The following are the two examples to explain the same.

Negative Email Sentiment

You can use the email sentiment filter to retrieve the list of deals that are closing this week and have shown a negative sentiment in their emails and take immediate action by scheduling a follow up task or call. You can also filter the records using the last email's sentiment, number of emails or the percentage of emails with negative sentiment.

Positive Email Sentiment

You can use the Email Sentiment smart filter to get the list of contacts who have responded positively in the past few weeks and either convert them to deal or follow up for a further discussion.

To filter the records,

Select a Module.

Under Filter [Records] By, select the Email Sentiment checkbox.

Select Positive or Negative from the drop-down list.

Choose the Time Period from the drop-down list.

To filter using Count, Percentage or For the Last Email, click the respective checkbox.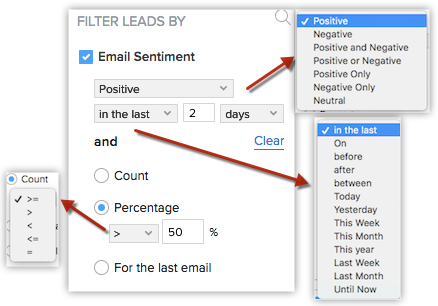 View the Sentiment in SalesSignal and MailMagnet
You will be able to view the email sentiment under SalesSignal and MailMagnet email notifications. You can take instant action on the emails from right within your Zoho CRM account.