Post code snippet in chats
Share code in the chat preserving its format by entering the code inside the snippet.
Click on the attachment icon in the textbox and select Code Snippet.
Give a title and paste the code. The snippet will auto-detect your code language. You can also select the language or format from the dropdown.
If needed, enter a comment in the comments field and hit the Share button. The code snippet will be shared in that chat.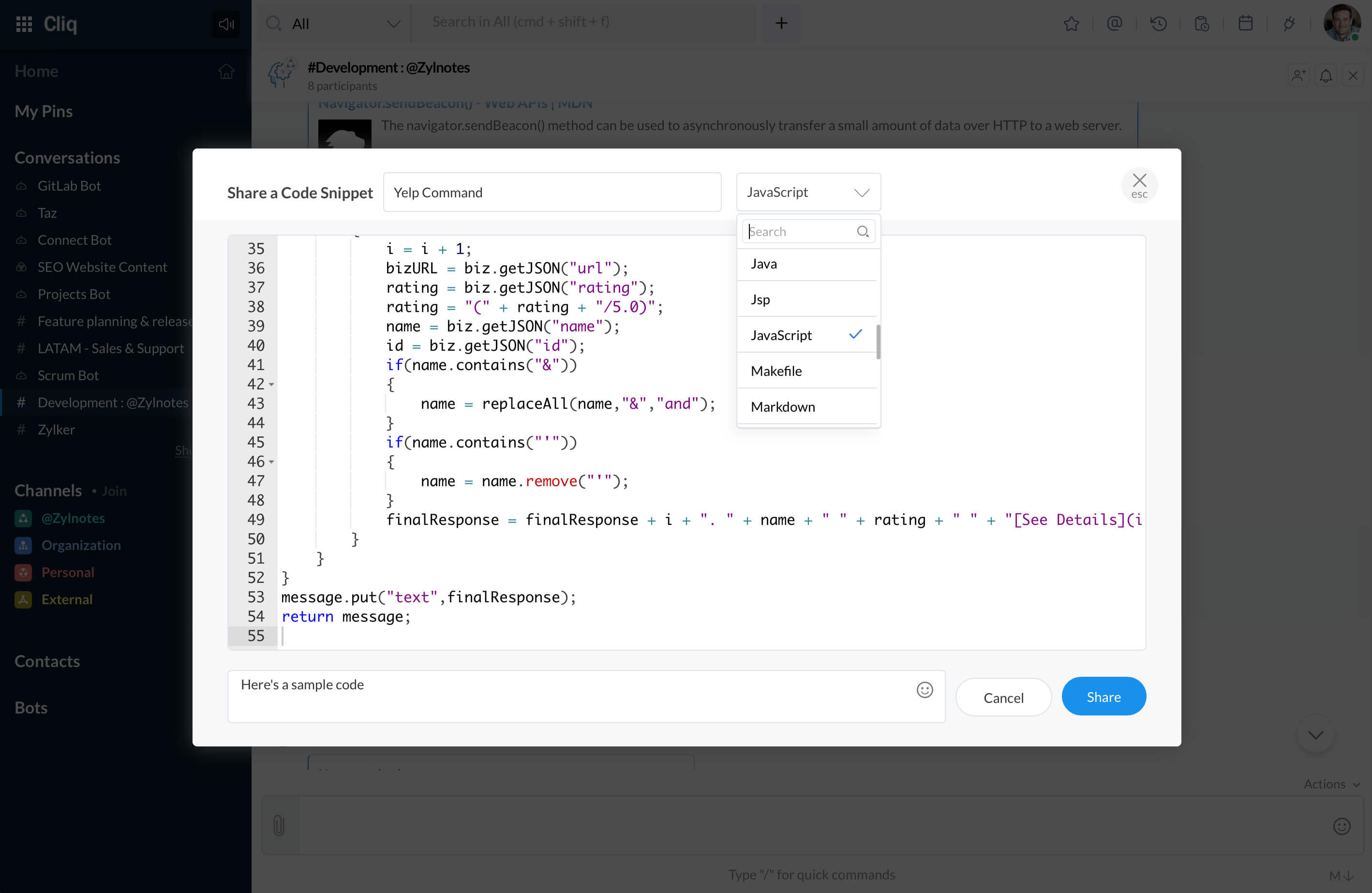 Zoho CRM Training Programs

Learn how to use the best tools for sales force automation and better customer engagement from Zoho's implementation specialists.

Zoho DataPrep Personalized Demo

If you'd like a personalized walk-through of our data preparation tool, please request a demo and we'll be happy to show you how to get the best out of Zoho DataPrep.

---
Zoho Sheet Resources
Zoho Forms Resources
Zoho Sign Resources
Zoho TeamInbox Resources
Zoho DataPrep Resources
Related Articles

Difference between Group Chats and Channels on Cliq

If you consider how you communicate in your workplace, there are two modes of communication you can categorize them into. Planned organized topic centric discussions, meetings and impromptu, casual discussions about various short term topics. Though ...

How to post notification messages in Cliq using IFTTT?

IFTTT (If This Then That) is an integration that allows you to connect your favourite applications with Zoho Cliq. This integration is done through applets available in IFTTT which connect with Zoho Cliq. After connecting an applet, when an event ...

Can group chats be deleted?

No, group chats cannot be deleted in Cliq. However, you can delete the conversation from your end, but the entire conversation will still be available for the other group members. To delete the conversation, Click on History from the navigation ...

How to search for chats of specific users in Cliq?

You can use the search options from: @user and to: @user under All or Messages in the search bar to find chats of specific users. Once a @username is entered, you can select the suggestions or type the keyword to search. Search using from: The chat ...

How to send voice messages in Cliq chats and channels?

To communicate better, users can send voice messages instead of text messages. Sending a quick voice message saves time and effectively delivers the message. To send a voice message in Cliq chats and channels, follow these steps: At the bottom of the ...