How can I use Taz to create an Event from within my Chat Window?
Quick read: A chat window is the window where you see messages and send replies.
You can use Taz to create an event from your chat window (i.e. 1-1, Group Chat, Channel). You just have to call upon Taz and enter the details in text bar. The event will be created and posted as a Message Card with Accept & Decline buttons in that chat. By default, all the members in that chat will be added in the event.

Note: If time is not specified, then Taz will set the time for next hour.
Input: @Taz(space)create(space)an(space)event(space)<event_title>(space)<time_am/pm>
Examples:
@Taz create an event Quick meet 5pm
@Taz create an event Surprise party plan 6pm tomorrow
@Taz create an event Meet with analysts 4pm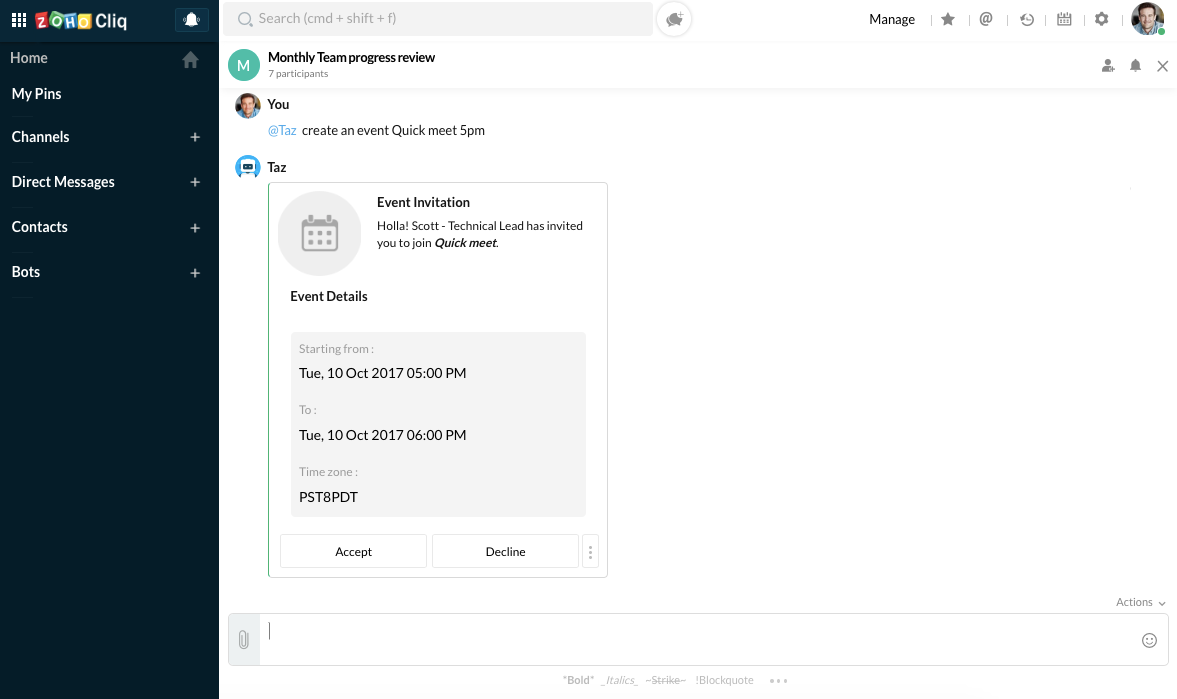 Zoho DataPrep Personalized Demo

If you'd like a personalized walk-through of our data preparation tool, please request a demo and we'll be happy to show you how to get the best out of Zoho DataPrep.

Zoho CRM Training Programs

Learn how to use the best tools for sales force automation and better customer engagement from Zoho's implementation specialists.

Zoho SalesIQ Resources
Zoho TeamInbox Resources
Zoho DataPrep Resources
Related Articles

How to create an Event from Taz?

Open Taz and you can create an event from here! Just type 'Create(space)an(space)event(space)<event_title>(space)<time_am/pm>(space)<@user1>(space)<@user2>...' Taz will create the event for you, and notify the mentioned users.

Can I add specific members when creating an Event through Taz?

Yes, you can add. You should use @mention to add specific users. On doing so, only those users will be invited for the event instead of all the users in the chat/channel. ​ Quick fact: If no user is mentioned, then by default Taz will add all the ...

Chat Window

The chat window has many options. Let's look into each option: Info: The other person's registered Name, Photo and Status are displayed in the top left corner of the chat window. Call: To audio/video call a person. Mute: The chat can be muted for a ...

Role-based chat restriction for direct messaging

Role-based chat restriction provides the admin with the privilege to restrict one-to-one conversations between selected departments and external users. These role-based restrictions can be applied to direct messages and file sharing. Admins can apply ...

What is a guest chat?

Want to strike a conversation with a user outside Cliq? Do it with guest chat. Guest chat provides a platform to communicate with users who are not a part of Cliq by giving them the facility to interact without having to sign up in Cliq. Let's say ...