How to know about the members participation?
Click on the event name and in the screen that follows there will be a display of participants invited under Attendees. Each participant's profile will have a small circle. The circles will either be empty or have a green tick/red cross.
The empty circle indicates that the participant may or may not attend the event.
The Green tick indicates that the participant has accepted the invite.
The Red cross indicates that the participant has declined the invite.
The question mark indicates that the participant is yet to view the invite.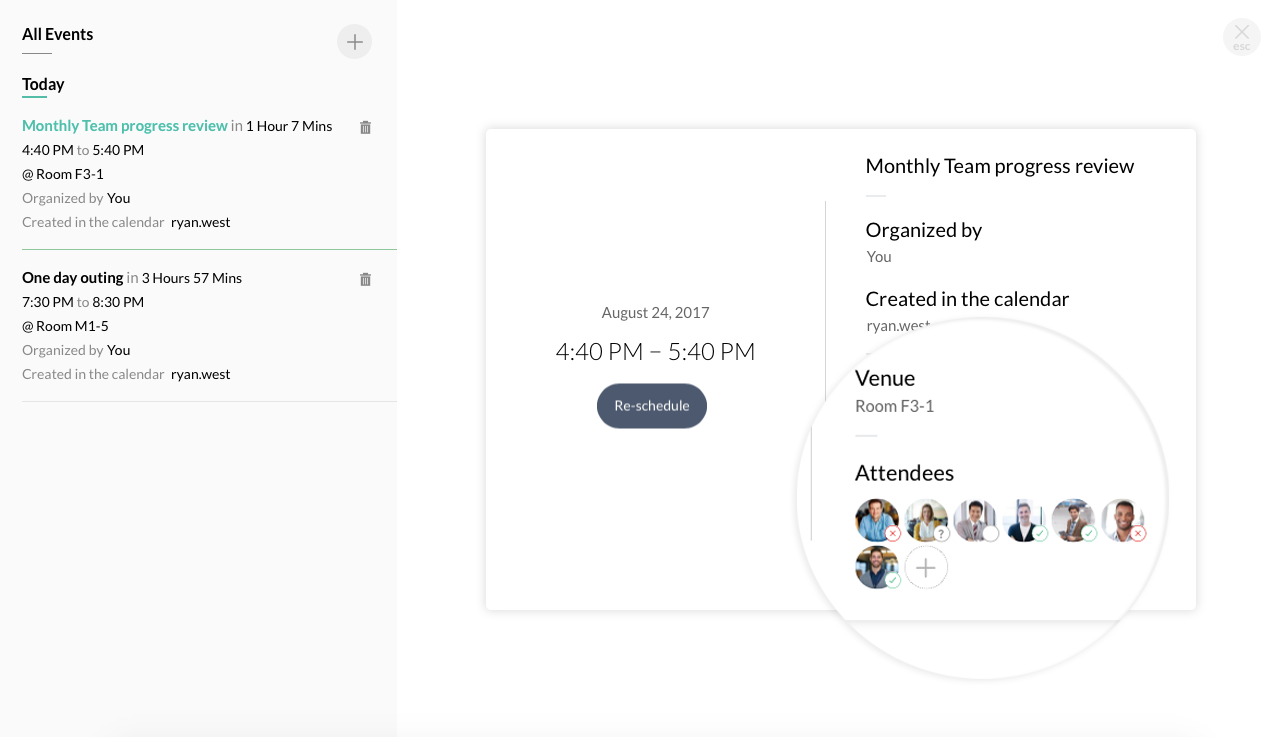 Zoho DataPrep Personalized Demo

If you'd like a personalized walk-through of our data preparation tool, please request a demo and we'll be happy to show you how to get the best out of Zoho DataPrep.

Zoho CRM Training Programs

Learn how to use the best tools for sales force automation and better customer engagement from Zoho's implementation specialists.

Zoho SalesIQ Resources
Zoho TeamInbox Resources
Zoho DataPrep Resources
Related Articles

How to view the moderators and members of a team?

An admin can anytime view the basic team info like who the moderators and members of any specific team are by following the below steps: In the Admin Panel, under Users & Profiles, select Teams. Clicking on any specific team will open the teams info ...

How do I add to or remove members from teams in Cliq?

To add new members to an existing team in Cliq, kindly follow the below steps: In the Admin Panel, under the Users & Profiles module, click on Teams. All the existing teams in your organization will be listed. Tap on a specific team, and under ...

How can I know what an Extension does in my organization?

Click on Integrations icon in top bar and select Extensions. Under Extensions, click on the installed extension that you want to know info about. The right side of the page will display all the information about the extension from its Description to ...

How do I remove members from a chat?

Click on the participant count below the chat title. In the users list displayed, hover over the user whom you want to remove and click the minus sign that appears in place of the profile picture. ​The user will now be removed from the group chat ...

How do I add members to a group chat in Cliq?

Click on the Add participants icon in the chat header. A plus (+) will appear in the chat's text area followed by user suggestions. Search for the user you'd like to add, select from the list and hit Enter. Shortcuts: You can also directly ...