What more can the Event Organizer do?
The Event Organizer can delete, invite more participants, reschedule and include/remove Zia in the event.
Click on the event name and in the screen that appears, the Organizer can delete events by clicking on the delete icon in the left sidebar.The event will be deleted from all the participants timeline.
Click on the (+) icon under Attendees to add more participants.
Click on Re-schedule to reschedule the event. Here, you can make all the changes right from Name to including/excluding Zia.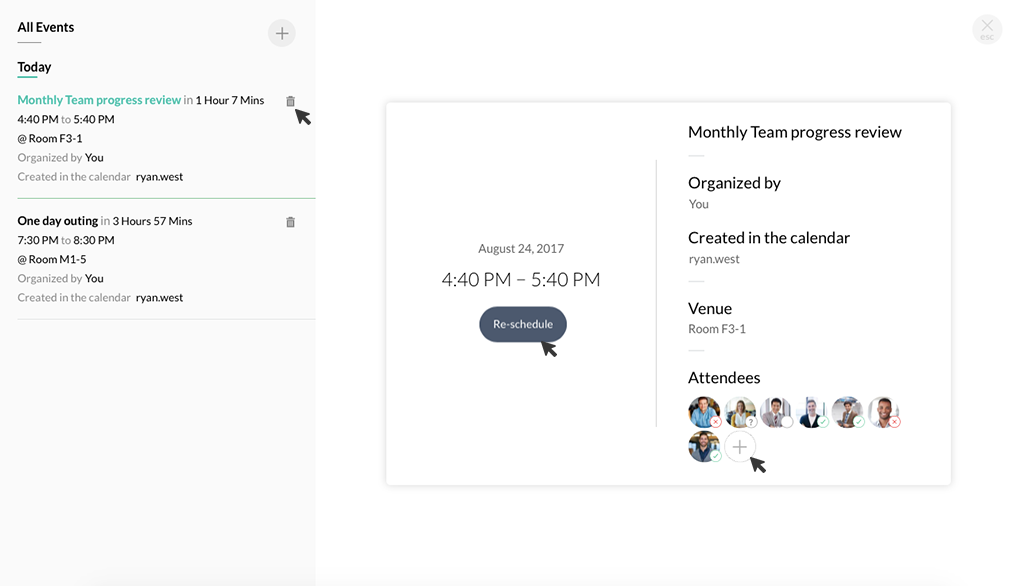 Zoho DataPrep Personalized Demo

If you'd like a personalized walk-through of our data preparation tool, please request a demo and we'll be happy to show you how to get the best out of Zoho DataPrep.

Zoho CRM Training Programs

Learn how to use the best tools for sales force automation and better customer engagement from Zoho's implementation specialists.

Zoho SalesIQ Resources
Zoho TeamInbox Resources
Zoho DataPrep Resources
Related Articles

Who is Zia and how will she be part of my Event?

Zia is Zoho's Intelligent Assistant whom you can include in your events. Let's see what can Zia do: When you include Zia in your event, she immediately creates a Group Chat with all the event participants and becomes the unofficial participant of the ...

How to create an Event?

Click on the event notifier icon in the top right corner and select Create Event. In the following screen the left side displays the current events, and the right side lets you create a new event. Name your event, assign venue and set the date and ...

How to create an Event from Taz?

Open Taz and you can create an event from here! Just type 'Create(space)an(space)event(space)<event_title>(space)<time_am/pm>(space)<@user1>(space)<@user2>...' Taz will create the event for you, and notify the mentioned users.

How to accept/decline an event?

Click on the Event icon in the top header and select the Event by clicking on it's name. In the screen that follows select any one of the option from Accept, Maybe, Decline. In mail select any one of the options directly. In the group chat by ...

What will happen once the Event is created?

After you fill in the details and click on Create, the event will be created and it will be added to your timeline as well as the timelines of all the participants. The participants will receive notification in mail and Zia will post a Message Card ...