How to schedule a group call in Remote Work?
Scheduled meeting in remote work is designed for hosting online meetings. The meetings you schedule here are listed under the group call section in the department view.
You can schedule a group call on Remote Work by following the below steps.
Navigate to Remote Work.
Click the dropdown next to Meet Now in the department view and select schedule meeting.
Enter the name of the meeting.
Select a date and time to schedule a meeting.
Select a mode of conversation for your meeting.
Invite attendees by entering their email id or pick a chat form select a chat tab.
Enter the agenda of your meeting.
Click on create.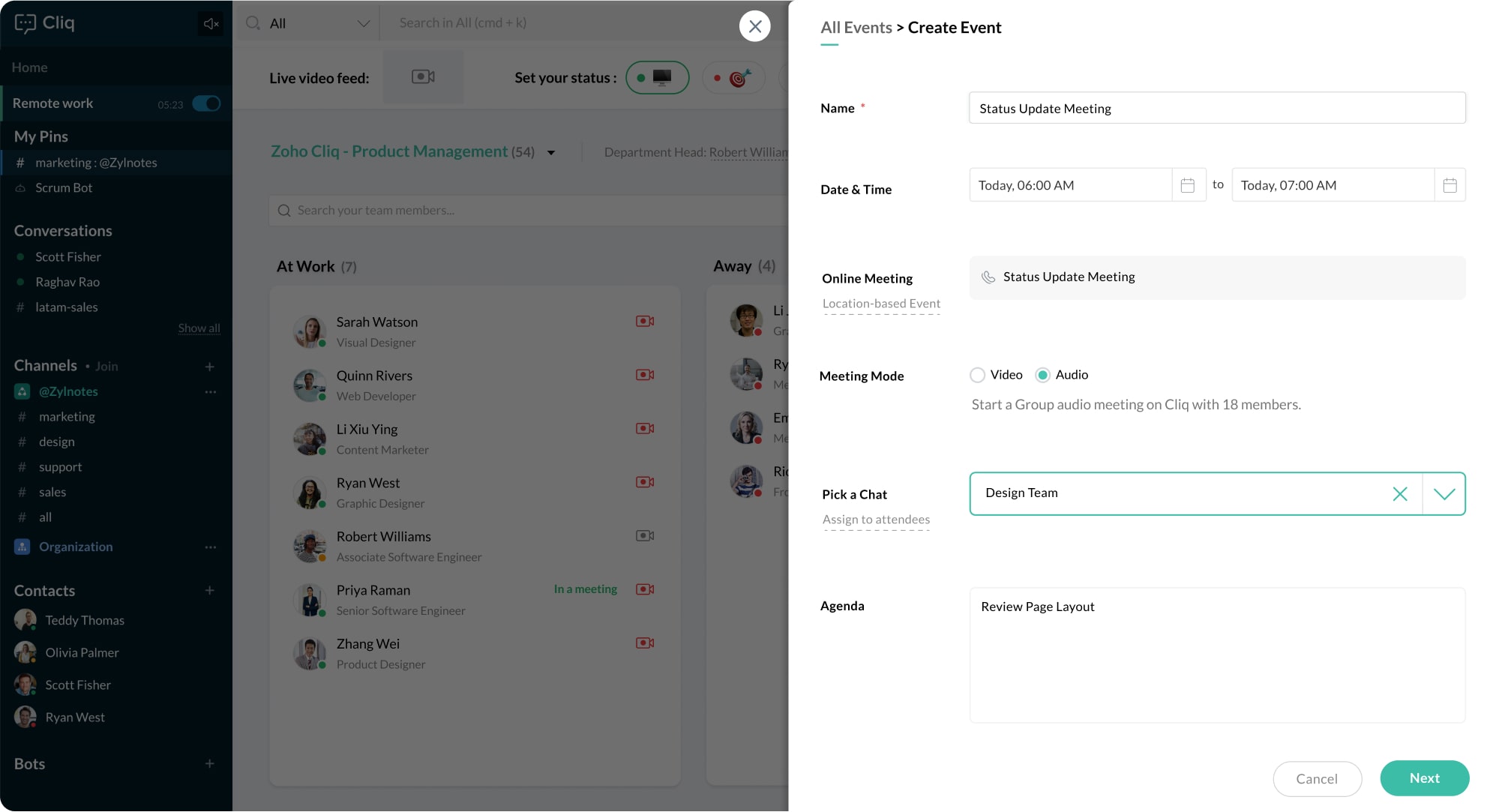 Zoho CRM Training Programs

Learn how to use the best tools for sales force automation and better customer engagement from Zoho's implementation specialists.

Zoho DataPrep Personalized Demo

If you'd like a personalized walk-through of our data preparation tool, please request a demo and we'll be happy to show you how to get the best out of Zoho DataPrep.

---
Zoho Sheet Resources
Zoho Forms Resources
Zoho Sign Resources
Zoho TeamInbox Resources
Zoho DataPrep Resources
Related Articles

What is Remote Work?

Remote Work in Cliq mimics your everyday office routine remotely. In a nutshell, remote work establishes a connect to your office ambience by mimicking your office setup with options to check-in and out, search and find who's available or in a ...

How to use Department view in Remote Work?

Department View Department view is an easy and efficient way to search for the members of a department or an individual across an organization. This view provides you with comprehensive details about your team. For example, when you search for a team ...

How to set status on Remote Work

Setting status on Remote Navigate to Remote Work tab present on the top right corner in Cliq home page. At the very top, you can see "set your status" bar. Select your status from the available option on the status bar to update your status. How is ...

What are the different statuses available in Remote Work?

You can also change your status in the header of the home page. You will have five options to choose from. Web & Desktop To view the remote work statuses, click on the Remote Work tab from the navigation sidebar and select a status. Mobile To view ...

How to initiate a meeting from Remote Work?

To initiate a meeting from Remote Work, do the following: Select Remote Work tab from the left side-bar. Click on the Meet Now button and select the type of meeting you want to start. A Cliq meeting will be initiated and you will have a list of ...