Meetup is a friendly and popular website where one can find meetups of their interest happening around the city and also take part in them. Anything you love can be found on Meetup ranging from pets to technology. Integrating Meetup with Cliq, lets you look for the next happening meetup right from within your chat window! You can look up for meetups, choose to attend it and also share the details with your colleagues.
Meetup Integration in Cliq

This Meetup Integration has a bot Meetup Bot and a command /mymeetups.

Meetup BotAfter installation, the Meetup bot will be automatically subscribed to the user who installs it, and other users should subscribe to the bot manually. To subscribe, click on the <+> of Bots in left sidebar, look for Meetup Bot and Subscribe. When using the bot first time, a prompt will be displayed requesting permission to access your Meetup account.

The Meetup Bot is an engaging bot and it will start conversing when you say a Hi or Hello, and as per your choice, the bot will pull up meetups and list it out. (Categories for viewing meetups — all meetups closeby (based on location in your meetup account), meetups of your groups, meetups in any city of your choice.)

You can view more details by clicking on More info, and proceed to RSVP to the meetup from within Cliq window.

On the day of the meetup, you will be reminded by the Bot at 8.30 AM, so that you do not miss out on attending the meetup.

Help—just a click away. Click on Help action below the texbox to get help tips from the bot.

Note: If the meetup is of a closed group that you are not a member of then you cannot RSVP to it from within Cliq.
1. View of Meetups happening in a city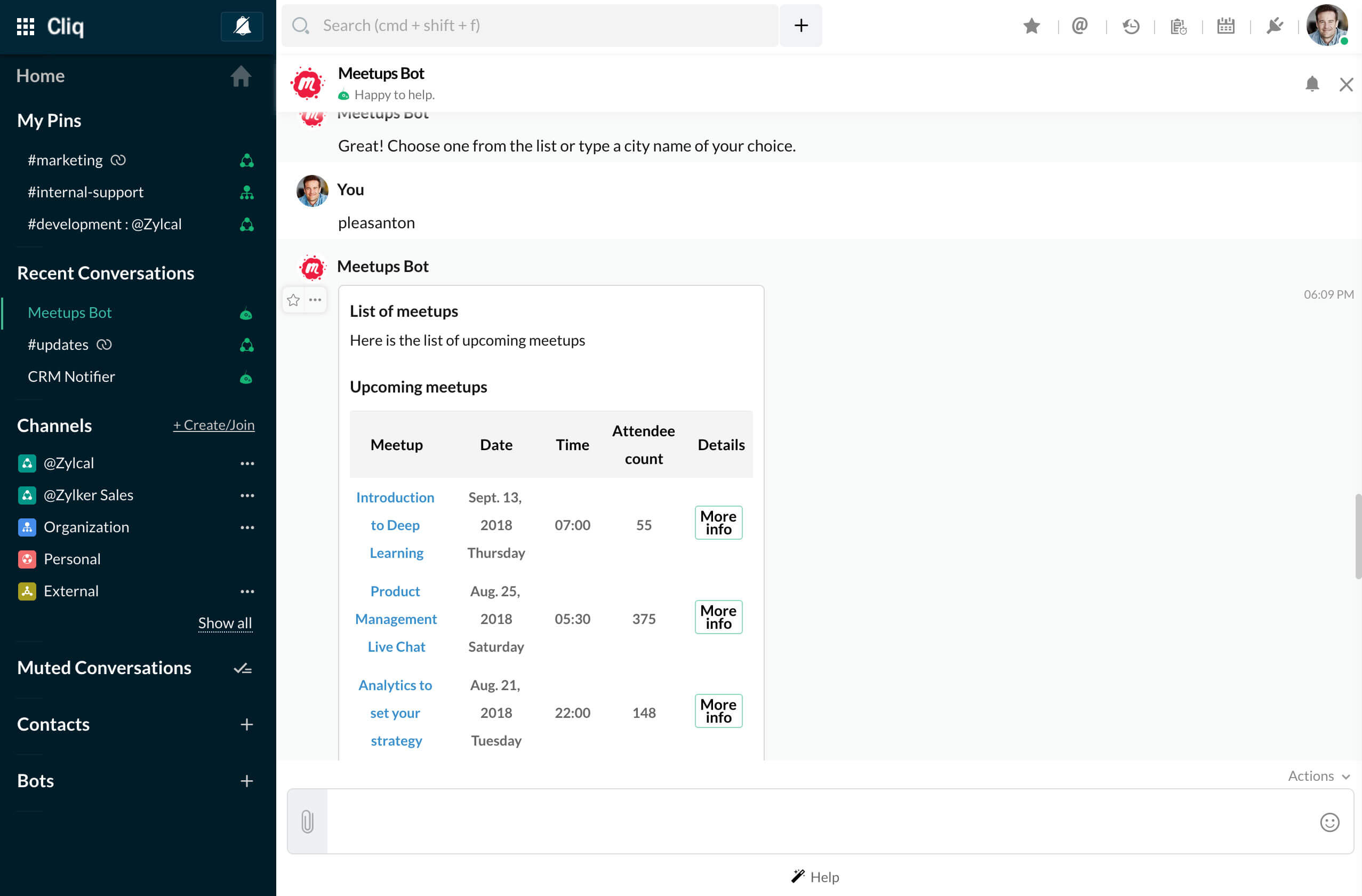 3. Bot reminding of meetups for the day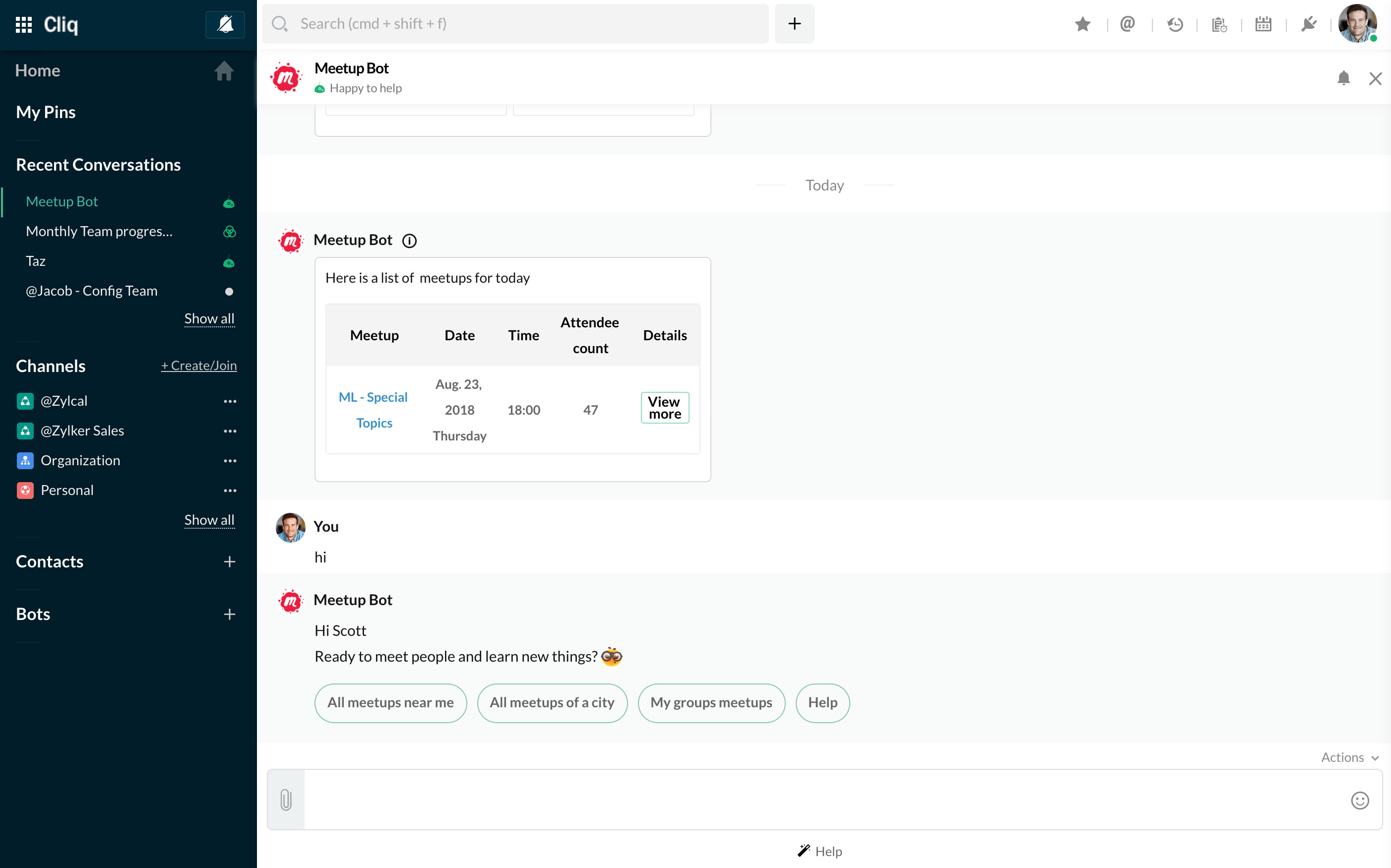 /mymeetups command Executing this command in any chat will instantly pull up the Meetups that you have planned to attend.

4. Executing the command in a chat to view the list of attending Meetups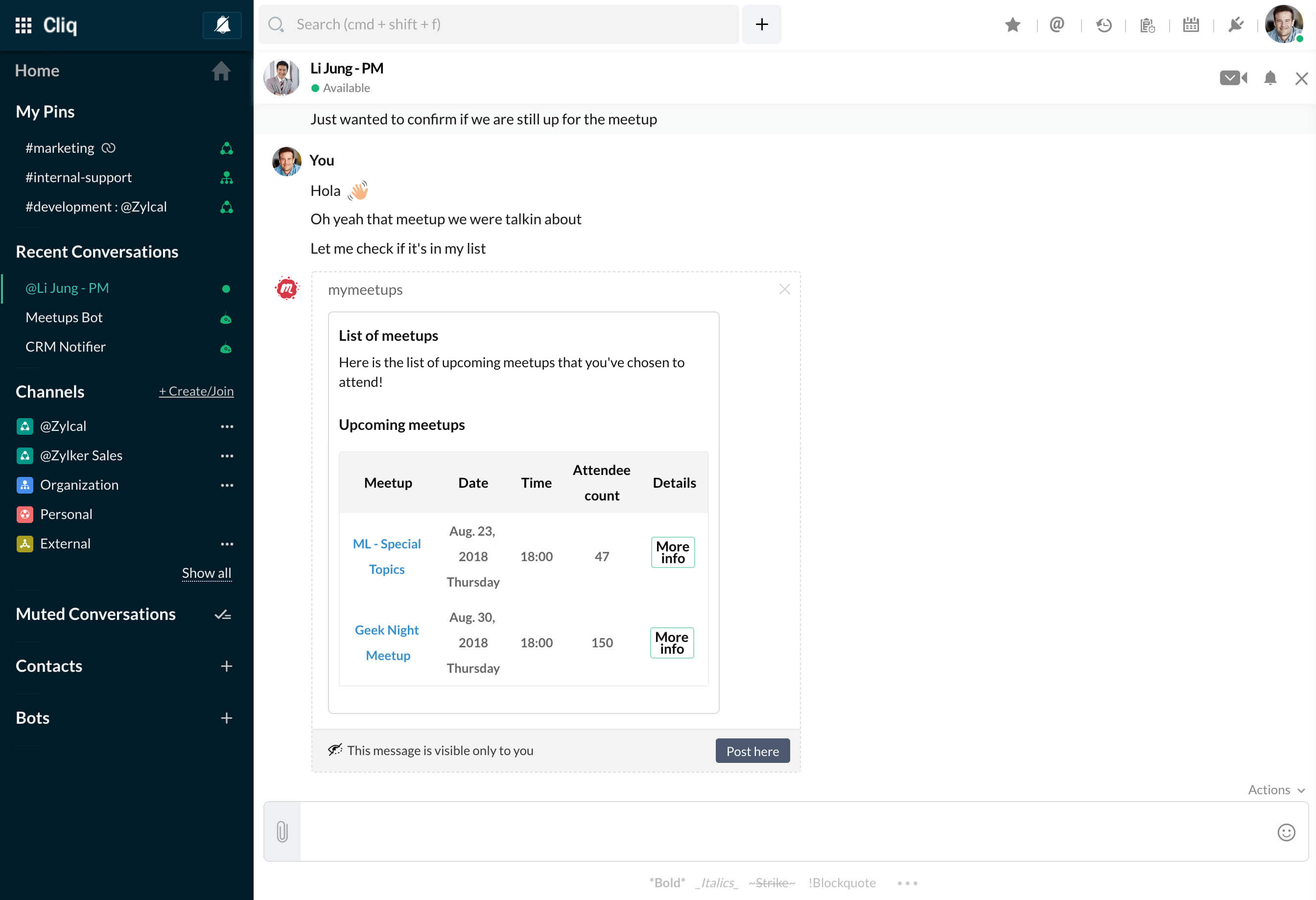 Installation

Only org admins can install an integration for the entire organization, whereas users can install only for their team. Install Meetup for your organization, and explore and find meetups right from within Cliq!