View, edit and keep track of your support tickets right from Cliq!
Zendesk is a cloud based support ticketing system offering the best customer care solutions to organizations of all sizes. Cliq your team communications app, streamlines workflow and simplifies collaboration, boosting your team to work easier and smarter. On integrating Zendesk with Cliq, you can ensure that your team stays updated on all their tickets with dedicated bot notifications and reminders, collaborate on tickets by viewing and adding comments to it, create tickets right from message conversations and also receive ticket summaries for each day.

Zendesk in Cliq

On using any component of Zendesk integration the very first time (subscribing to bot, trying a command, ...), you will get a consents box requesting permission to access your data. This consents box is to ensure privacy by letting you know how your data will be handled. To know more, check out the related link at bottom of this page.


When you perform any of the actions first time (executing /command or message action), you will get an authentication dialog requesting permission to connect with your Zendesk account. After authenticating your account, the connection will be established between your Zendesk account and Cliq.

Zendesk Bot

The Zendesk bot is a dedicated Zendesk assistant that will keep you updated of all your tasks without missing a beat! Follow the below steps to subscribe to the bot:

Click on the + of Bots in LHS.

In the dialog that opens, look for Zendesk bot, hover on it and hit Subscribe button.

After subscribing, the Zendesk bot is ready to be of service to you. The bot will notify you for 3 events:

When new tickets are assigned to you

1 hour before your tickets gets due

As soon as your tickets gets due

Thus you can always have an eye out on all your tickets, without missing any of them.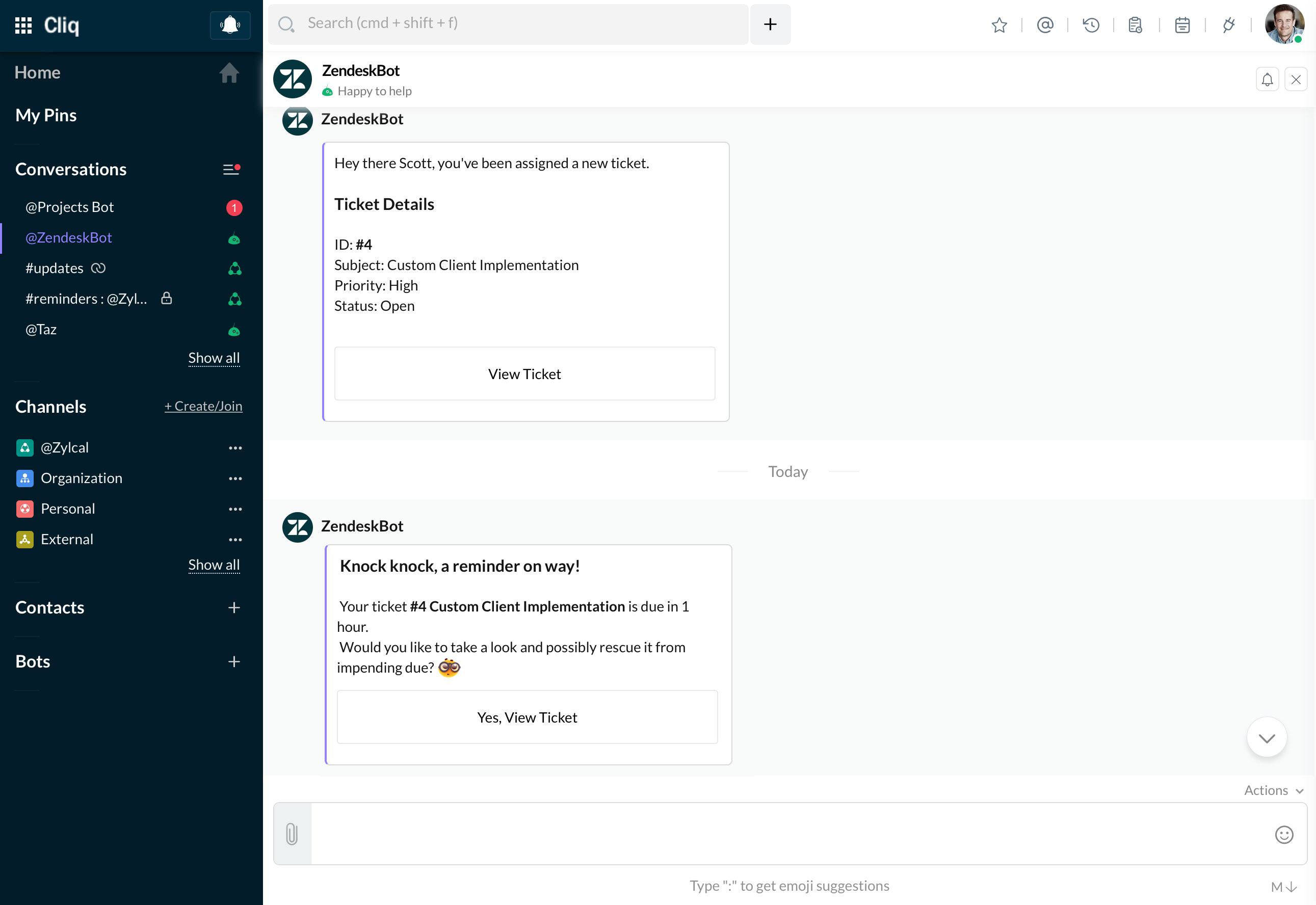 #zendesk-updates channel

This channel will be created as an organization channel on installation of the extension. Every morning and evening the stats of the tickets handled that particular day by your team will be posted in the channel. This info will help all members be upto date on the team's progress and the admin can keep tabs on the team's performance with help of these updates.

Morning update at 9am - Number of open and pending tickets, followed by open tickets under each category—Urgent, High, Normal, Low.
Evening update at 7 pm - Tickets resolution for the day, i..e number of tickets received for the day and number of tickets closed in that day.
/commands

Slash commands are shortcuts to get things done effectively. The Zendesk integration comes with two slash commands /tickets and /ticketdetails to get ticket info instantly in any chat window. Just type the command and hit Enter to execute it.

1. /tickets - Open, Pending and Assigned to me

Open - Lists the open tickets

Pending - Lists the pending tickets

Assigned to me - Lists the most recent tickets assigned to you

In the below image, Scott quickly checks his current tickets by executing the command /ticktes Assigned to me, and then informs Olivia that we will take up the new customer query.

2. /ticketdetails
Execute this command along with the ticket number to view all details of that ticket, i.e. /ticketdetails 45 will list the details of ticket 45 in that chat only for you, and you can share it by clicking on 'Post here'.
Message Action

As you converse in a chat with your colleagues and if any customer concern or query comes up, you can directly add it as a ticket in Zendesk from within Cliq! Just hover on the message, click on Actions (3 dots) -> More -> Create as ticket. In the form that appears, the message you wanted to create as ticket will be auto-filled in the description box—you just have to fill in the other details and hit Create ticket button.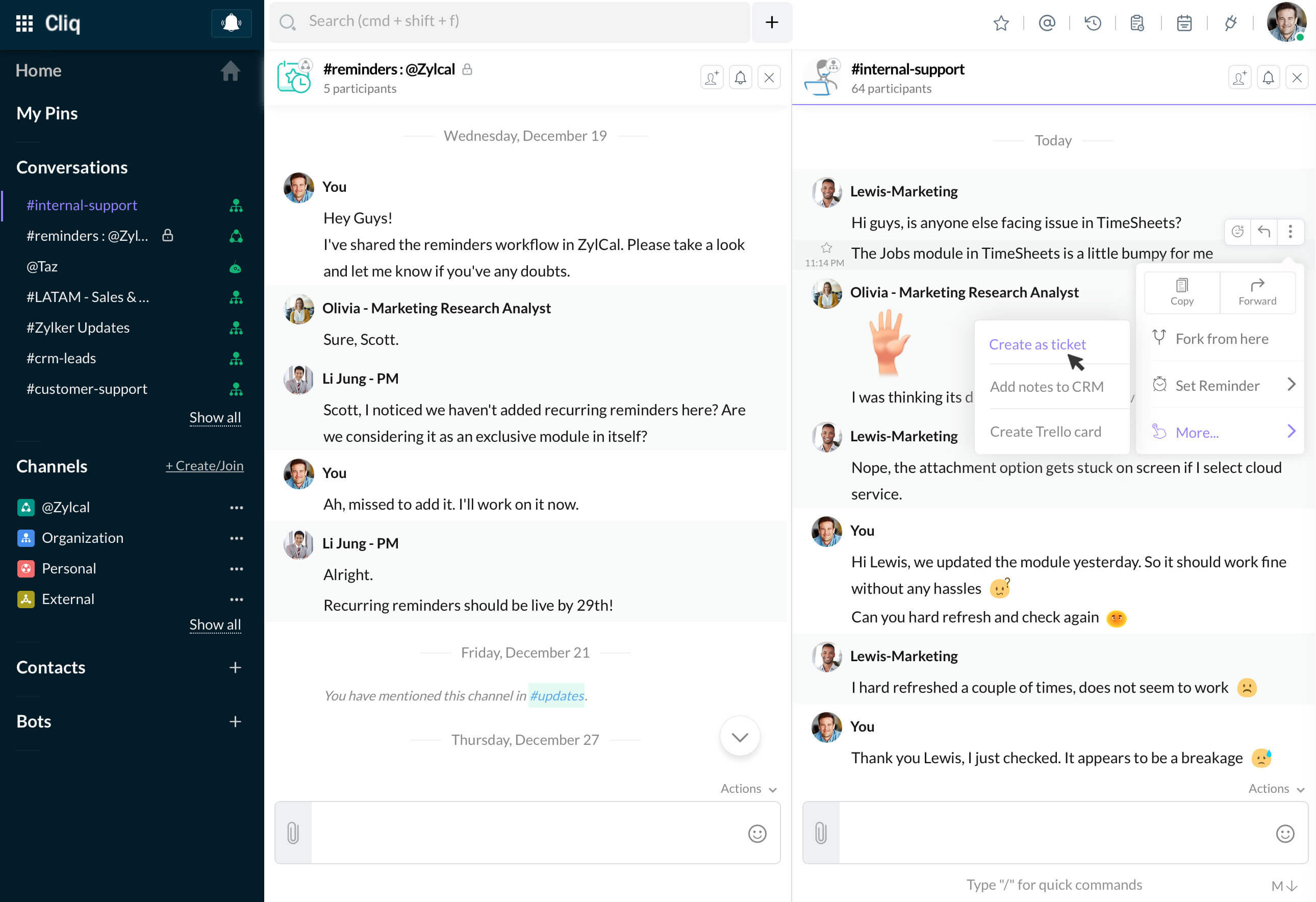 Installation

Now that you know how Zendesk integration works in Cliq, install it to manage tickets, collaborate on it and also keep track of your team's support performance—all right from within Cliq.
Note: Only org admins can install an integration for the entire organization, whereas users can install only for their team. Click on the button below to install Zendesk for your team now!