The context aware Helpdesk, now in Cliq
Zoho Desk is a web based help desk software that gives you the ability to manage your customer support activities efficiently. You can assign, track and set up alerts for your customer tickets. You can also create departments and assign Agents (your organization users) for specific departments.
Cliq is a team communication software and it aims to establish a one stop place wherein you can collaborate all your work. In line with this, Cliq offers Zoho Desk Extension through which you can get notified of all tickets from Zoho Desk right within your chat window.
Zoho Desk in Cliq
Zoho Desk Integration consists of /ticket (Command), Deskbot (Bot) and #desk (Channel).
/ticket Command:
Type /ticket and give Enter in any chat to get the list of tickets that have been assigned to you.

You can further narrow down your query by entering #ticketid or customer email.
Example: /ticket #109, /ticket paul@example.com
The result will be displayed only to you, and you can post it in the chat by clicking on 'Post here'.
Clicking on ticket id will take you to the particular ticket in Desk page.
Thus you can now access your latest ticket details in any chat at any time by using /ticket command.
Deskbot:
You should subscribe to Deskbot to receive notifications.
To subscribe, click on (+) of Bots in LHS, under all Bots go to Deskbot and subscribe to it.

Now stay in sync with all your tickets from within Cliq by subscribing to Deskbot!
#desk - Organization Channel:
You should join desk channel to get notifications.
To join, click on (+) of Channels in LHS, then in the search bar type desk and click Join.

Be up-to-date of all ticket statuses everyday by joining #desk channel!
#1. In LHS click on the + of Channels to join desk channel and click on the + of Bots to subscribe to Deskbot.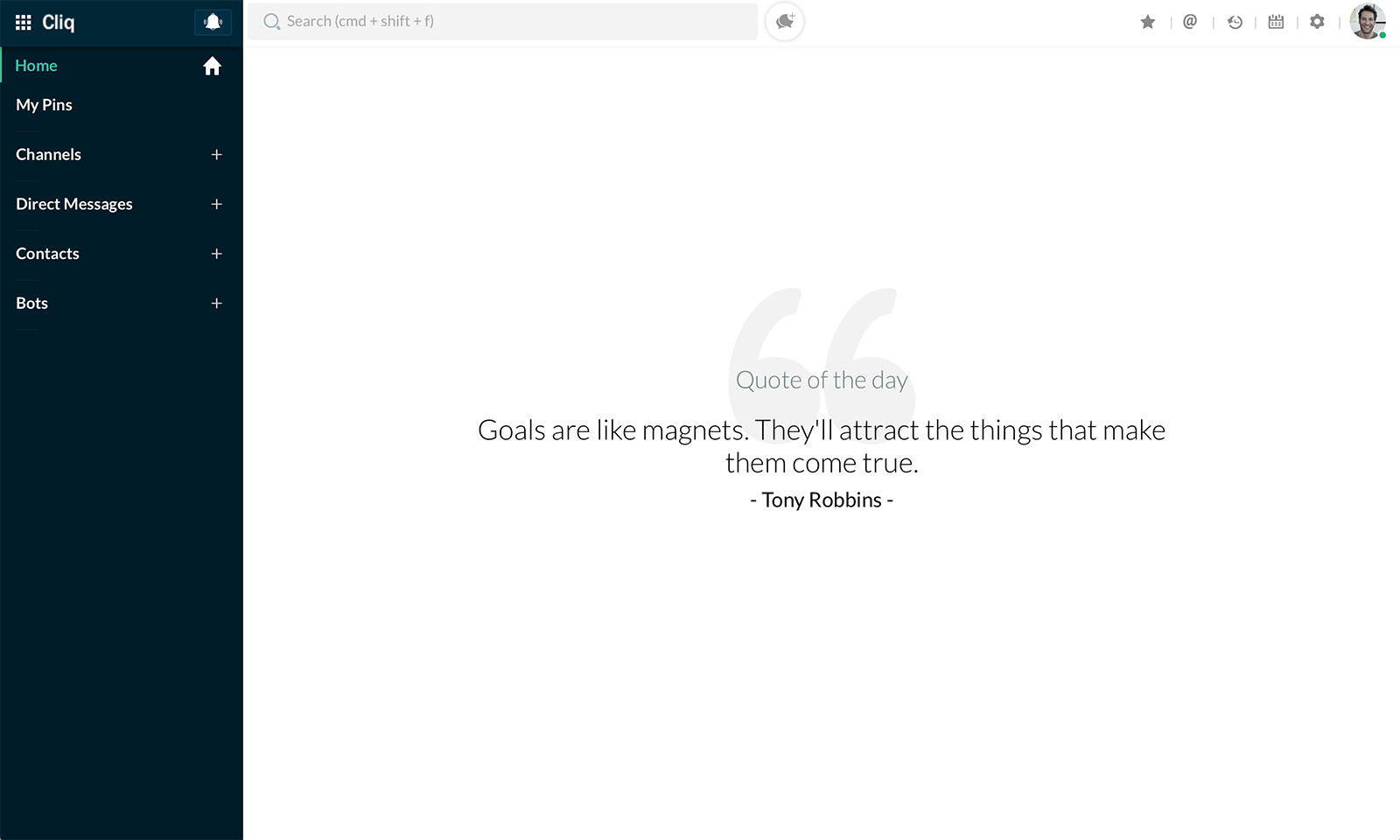 #2. Under All Bots, look for Deskbot and click Subscribe.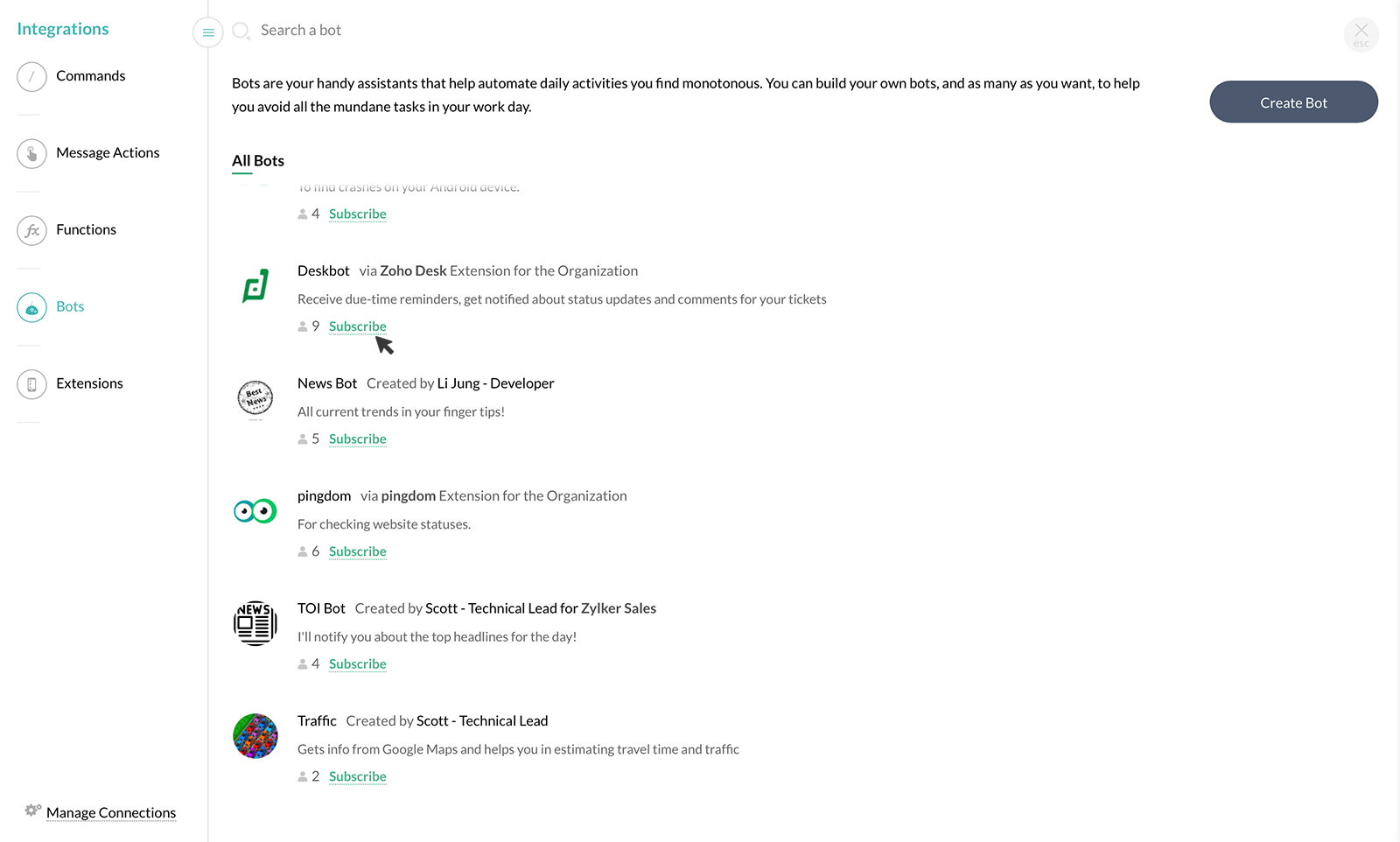 #3. Under Channels you can join tab, look for #desk channel or just type in search bar and then click Join.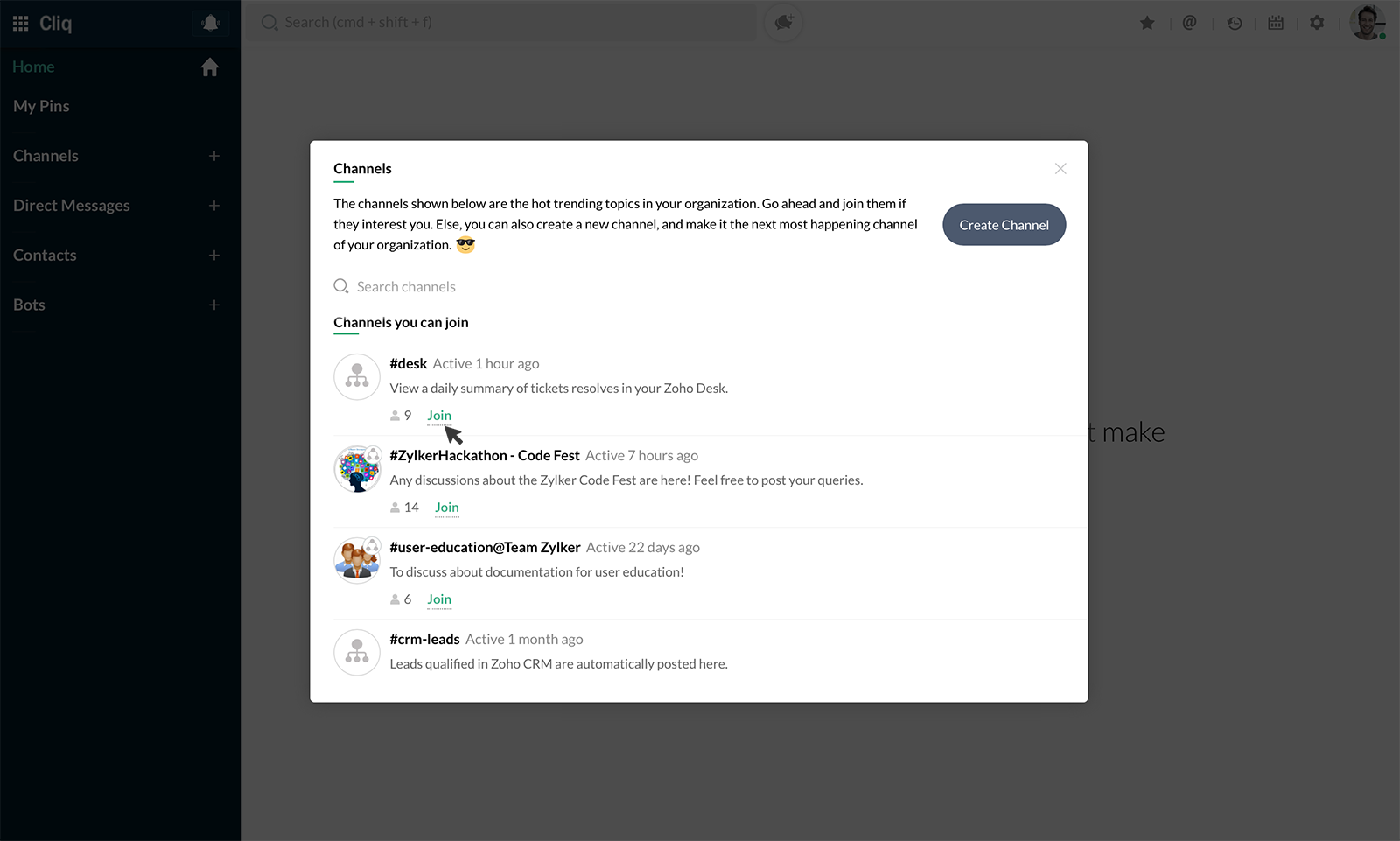 #4. /ticket command displays the list of tickets assigned and Deskbot notifies of new comments added in the assigned tickets.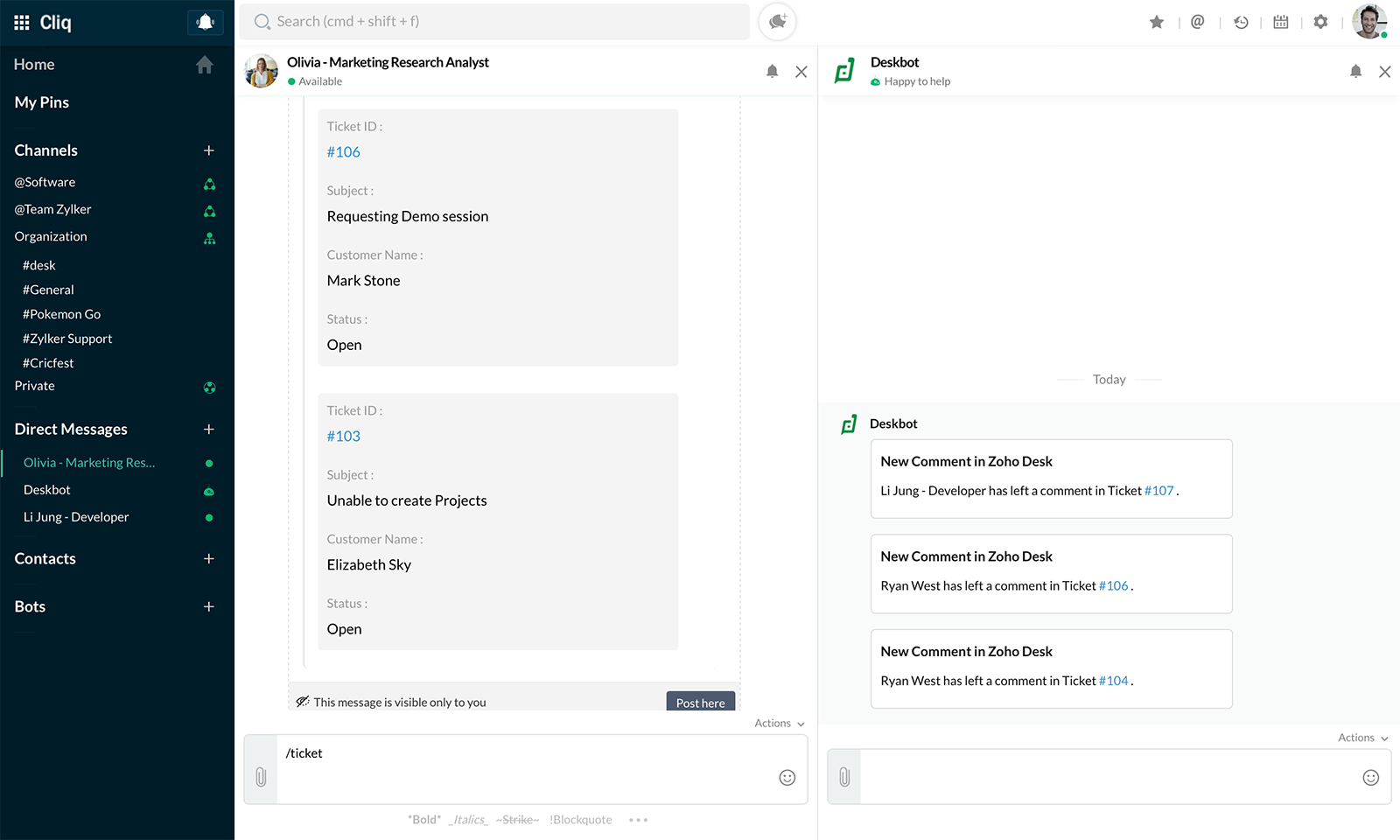 #5. #desk Channel posts Ticket Resolutions (pending & summary).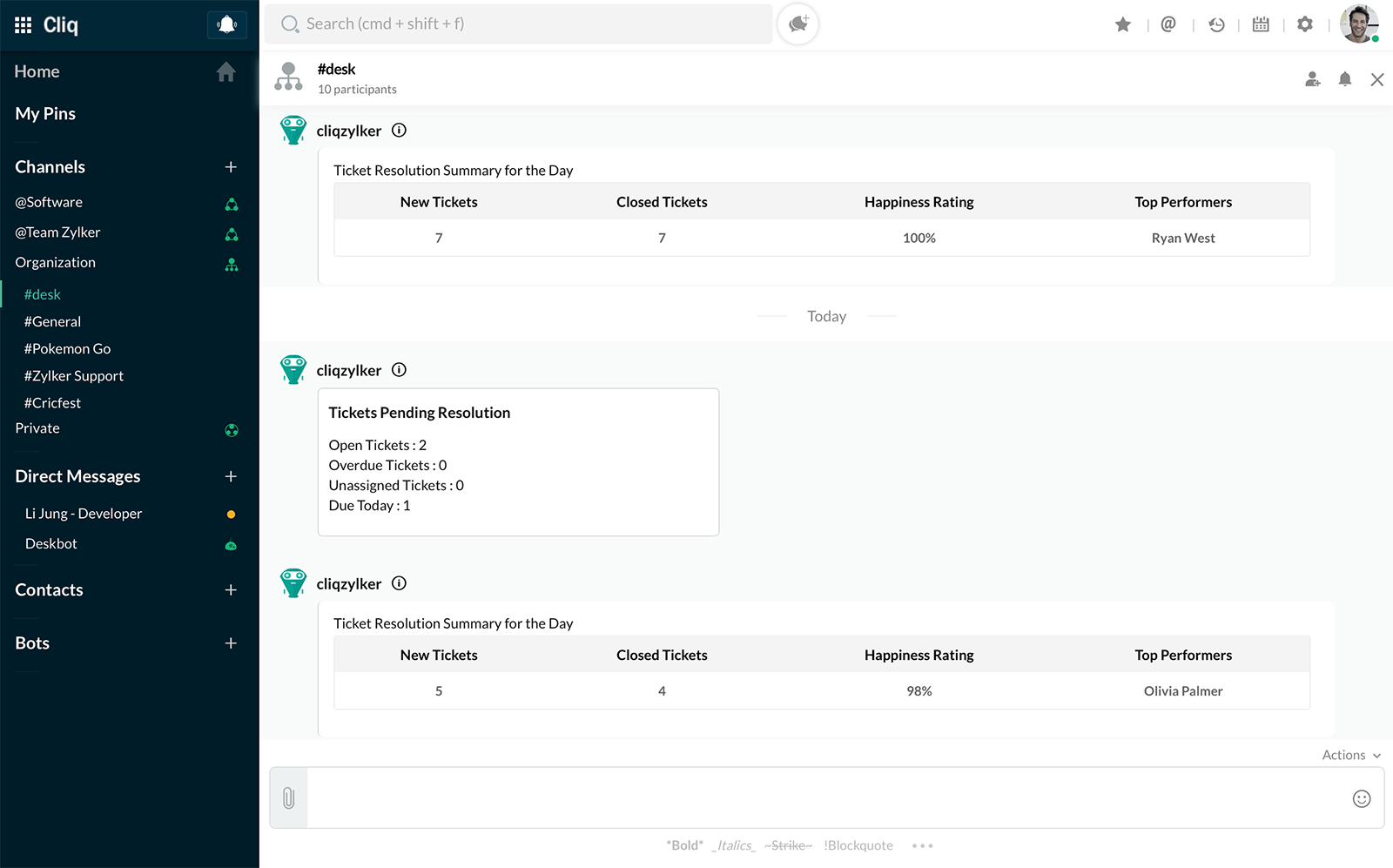 Installing Zoho Desk Extension:
Click on the button below to go Zoho Cliq Marketplace from where you will be able to install Zoho Desk for your organization. Do note that only org admins can install integrations for the entire organization, and members can install only for their team.
Now there are 2 possibilities once you click Install:
A Desk account already exists for your company
Your company does not have a Desk account
1. When your company has Zoho Desk account, then clicking on Install in Marketplace will take you Integrations in your Zoho Desk page and Cliq will be installed in your account.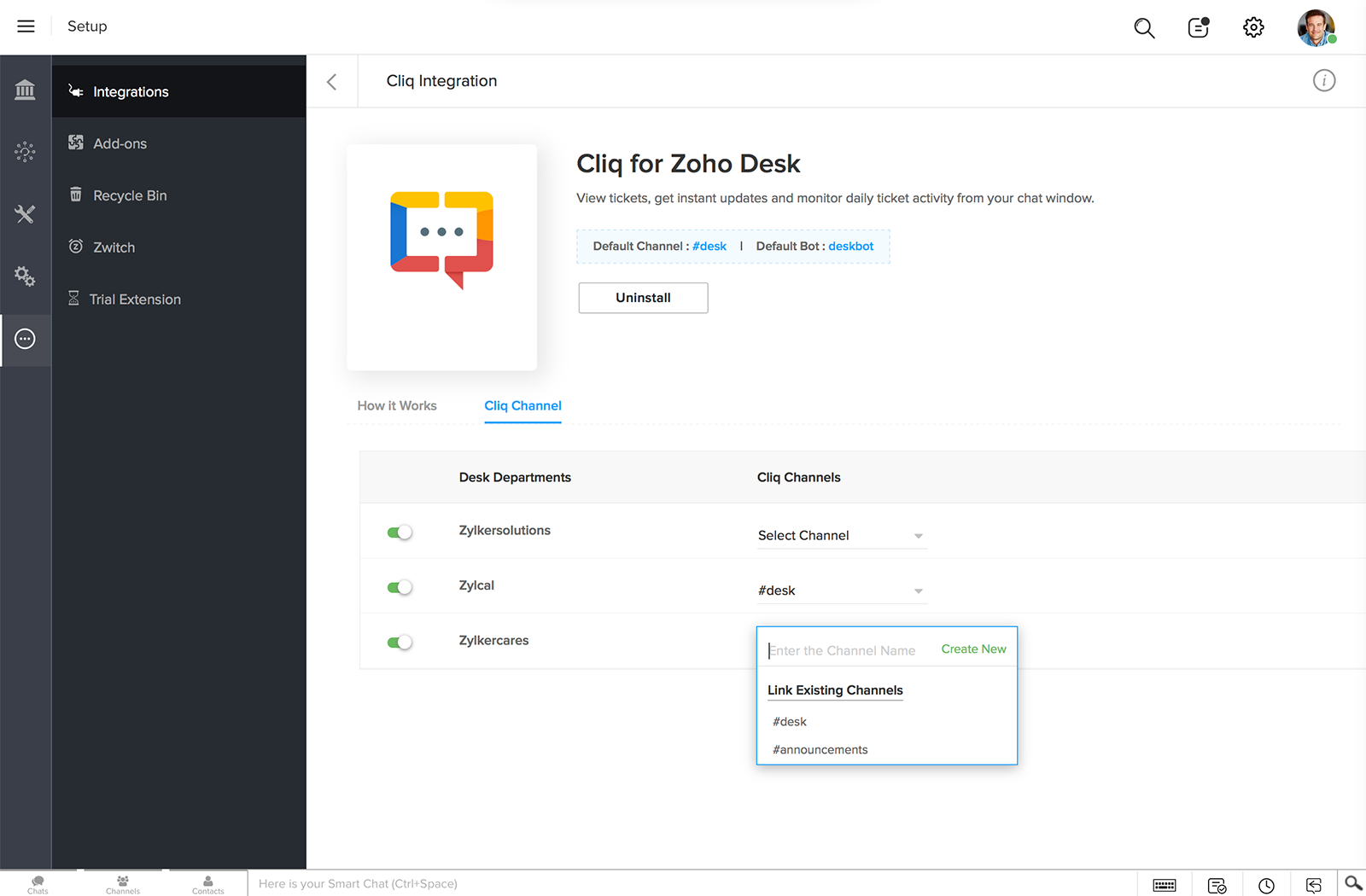 2. When you do not have a Zoho Desk account, clicking on Install in Marketplace will take you to Desk Sign-Up page. Here you should create an account and login to Desk. Once logged in, click on Gear icon (Setup) in top right corner and scroll down to Integrations. In Integrations, Cliq will be listed under Chat. Select and Install it.