How to use Google Postmaster Tool to boost your Email Deliverability

Google provides a free email deliverability tool named
Postmaster
to analyze email delivery failures faced by mass volume senders with Gmail recipients.
Getting your emails to land in the inboxes of your contacts who use Gmail is an arduous task. This is a worthwhile effort, though, if a major part of your mailing list is comprised of Gmail users. Gmail's algorithms to classify an email into inbox or spam depends on mailing list hygiene, contact engagement, domain reputation, and email sending practices.

Generally, Gmail doesn't explain in detail why an email lands in spam. With this tool, you can learn all the details about why your emails face delivery issues with Gmail recipients, and how to mitigate them.
What you can check

Spam complaint rate reported by Gmail users and feedback loop count
Sender domain/IP reputation (bad, low, medium, or high)
Authentication status for your sender domain (SPF, DKIM, and DMARC)
Email delivery issues (rejection due to suspicious content or temporary failures due to spam suspicion)
How to use the Gmail Postmaster tool
Log in to your Gmail account and go to Postmaster tool.


Click the "+" icon at the bottom to add your email sending domain.


Authenticate that you're the owner of your domain. This can be done in two ways:By adding TXT record in your DNS site (just like how you added for Zoho Campaigns).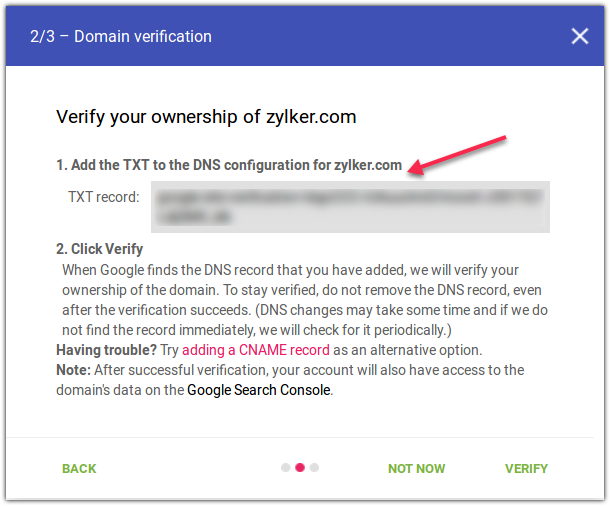 By adding CNAME in your DNS site.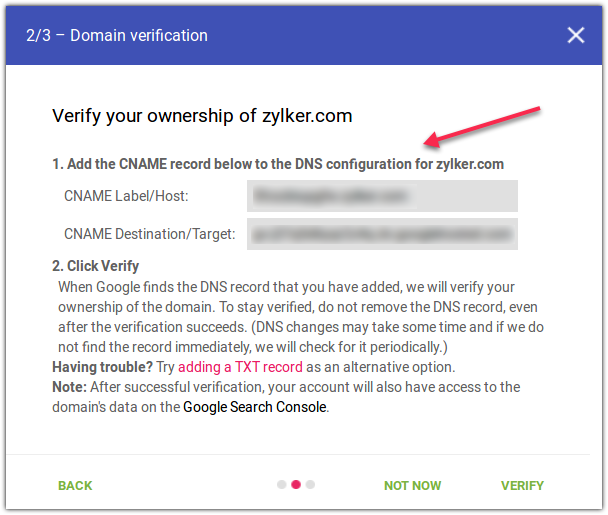 4. After adding the TXT or CNAME record in your DNS site, click Verify.


5. If it shows "No data to display", make sure you are sending email volume in the order of hundreds through the domain authenticated with Zoho Campaigns.

How to share it with us
If you face any email deliverability issue, we may need you to share your Google Postmaster tool data. To share it:
Click the ⋮ icon to the right of your verified domain in the Postmaster tool.


Click Manage users.


Click + icon at the bottom-right.


Contact us at support@zohocampaigns.com to get the email address that needs to be added.

Zoho DataPrep Personalized Demo

If you'd like a personalized walk-through of our data preparation tool, please request a demo and we'll be happy to show you how to get the best out of Zoho DataPrep.

Zoho CRM Training Programs

Learn how to use the best tools for sales force automation and better customer engagement from Zoho's implementation specialists.

Zoho TeamInbox Resources
Zoho DataPrep Resources
Related Articles

Getting started with email deliverability

Identifying the needs and interests of contacts and conceptualizing email campaigns around those are part and parcel of a marketer's daily routine. Sometimes marketers may assume that crafting a compelling campaign alone will help them hit their ...

Things to do when your email campaign hasn't performed well

Sometimes marketers put painstaking effort into conceptualizing an email campaign only to just move on to the next campaign after it is sent. However, does a marketer's role end right after sending the email campaign? The answer is an astounding ...

How email engagement magically boosts inbox placement

Mailbox providers such as Gmail, Yahoo!and others have been validating a lot of data points like spammy content, email engagement, and user interests to offer inbox placement —i.e. the number of emails that actually reach an inbox as opposed to ...

How do I monitor my sender domain's reputation? How can I improve the reputation?

If most of your contacts use Gmail, you can use the Google postmaster tool to check your sender domain's reputation. If your contacts use other mailbox providers, you can use services like BarracudaCentral, ReputationAuthority, Trustedsource, etc to ...

How a public domain sender address affects email deliverability

Whenever you send campaigns, they will be delivered to the receiving server of the respective mailbox provider. The receiving server will offer inbox placement after carefully scrutinizing the email. If the emails are from a source that the mailbox ...