Hello Community,

Hope you're all doing good and staying safe. The applications in Zoho Workplace had few enhancements and feature releases in the month of February.

Let's take a look at them!

Zoho Mail

Are you someone who recently switched to Zoho Mail and is having trouble getting used to the email composer in Zoho Mail? To make your transition easier while experiencing a secure email experience, the Composer presets of Google, Outlook, and Yahoo are now made available within Zoho Mail settings.
The emails in your shared mailboxes can now be assigned tags and categorized based on your preference. This will help you keep your emails in your shared mailboxes organized and easy to access.

To mark a ticket or more from a contact in Zoho Desk can now be done right within your mailbox. Yes! You heard it right. The Zoho Desk extension in Zoho Mail helps you to mark as spam a ticket with ease.

If you're an organization admin who's migrating to Zoho Mail from Microsoft 365, you need not worry about the user creation Zoho Mail. You can now import users from M365 into Zoho Mail and create users here without any hassles.

By continuously gathering high volumes of network and machine data, analyzing, and correlating them in readable form in real-time, the Splunk integration with Zoho Mail Admin Portal helps you handle your organizational threats effectively.

Zoho Cliq
Introducing Zoho Cliq 4.0

The key features in this release include:

Last seen

Last seen for users is now supported. If there is no activity for 15 minutes, your last seen status will be displayed so your colleagues can know when you went away before they contact you.

Upgraded calls and meetings

With the upgraded interface, you can now share slides in Cliq meetings and also the device audio while you're sharing your screen. The "speech detection" system notifies you with a pop up when you speak while you're muted (so you never have to hear "you're on mute" ten seconds into your speech). You can also transfer your active call to a different device seamlessly.

Editing images before you share

Add a fresh coat of paint and delight to your images shared in your Cliq mobile apps with the annotating option.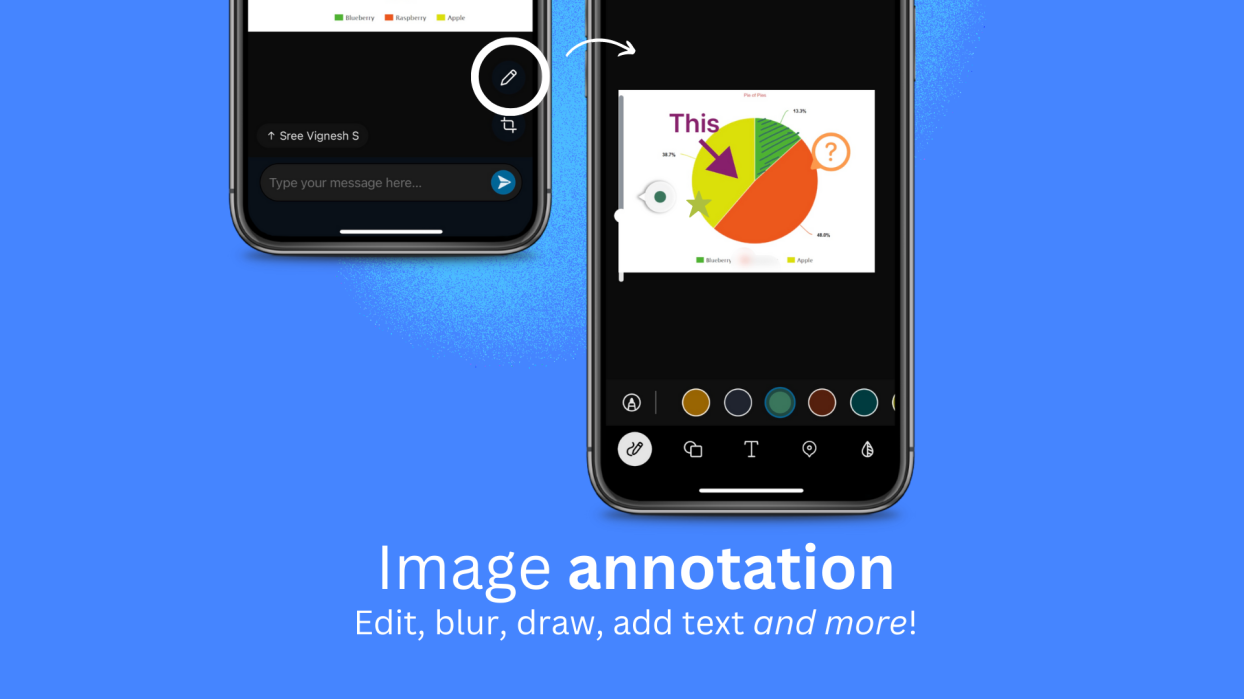 Upgraded search

The search bar has been upgraded so you now have the option to:

Filter by date

Filter by sender name

Jump to date

Zoho WorkDrive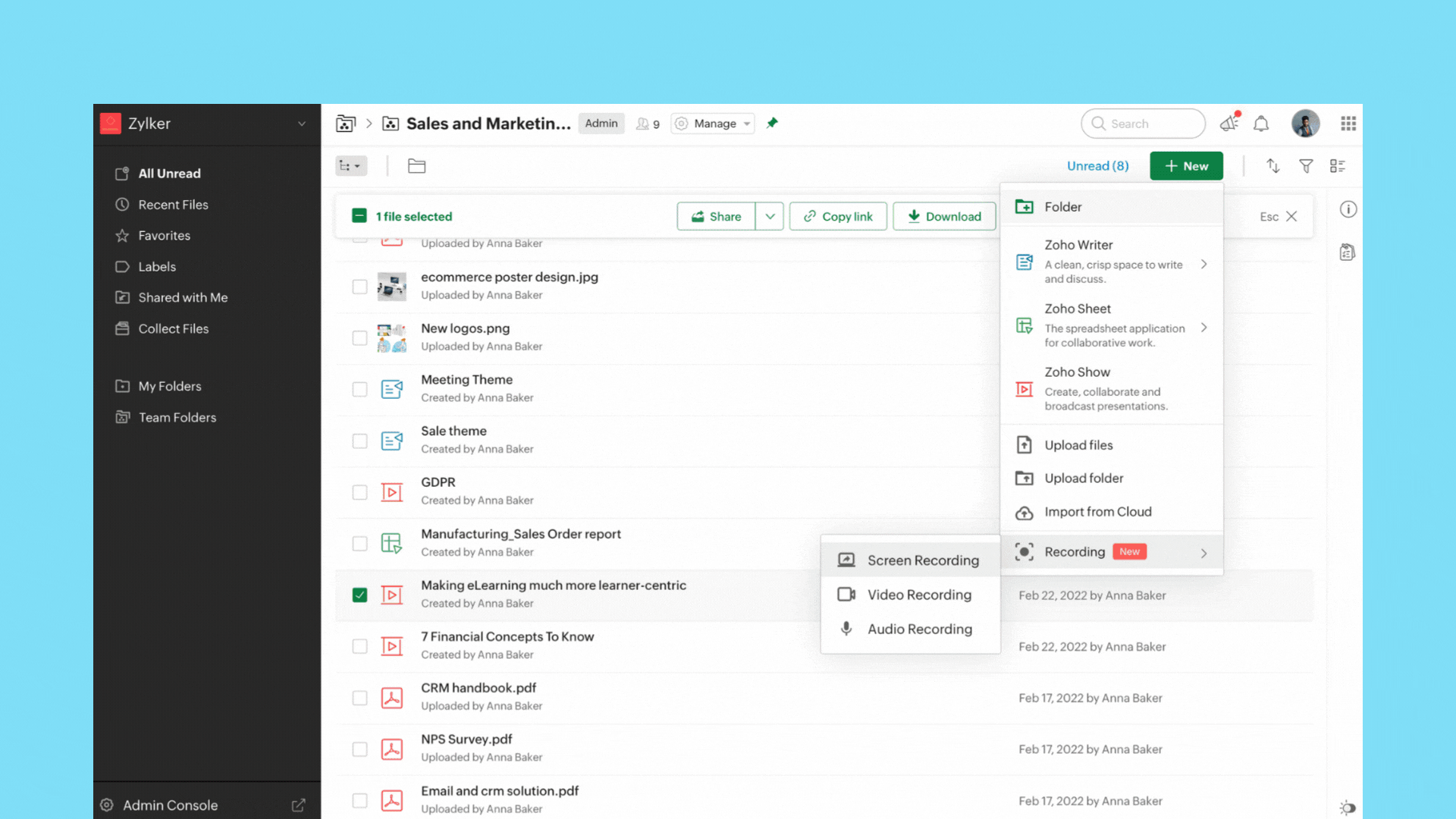 WorkDrive now offers Snap, a recording feature that helps you quickly record your screen, as well as video and audio, from within the WorkDrive app. Share your recordings with your collaborators instantly.

With this feature, you'll be able to:

Record your screen: Capture your screen along with video or audio to convey important points more easily. Share feedback on a document, create simple how-to guides, and more.

Record video clip: Instead of scheduling multiple meetings to share announcements, updates, or new policies, you can quickly record the required information as a video clip and share it with your collaborators instantly.

Record audio clip: Record important audio clips or keep a record of customer feedback and support calls to improve the quality of your business services.

Note:

You can also record offline; however, to upload the file to WorkDrive, you must be connected to the internet.
Cliq-WorkDrive integration: Share WorkDrive files within Cliq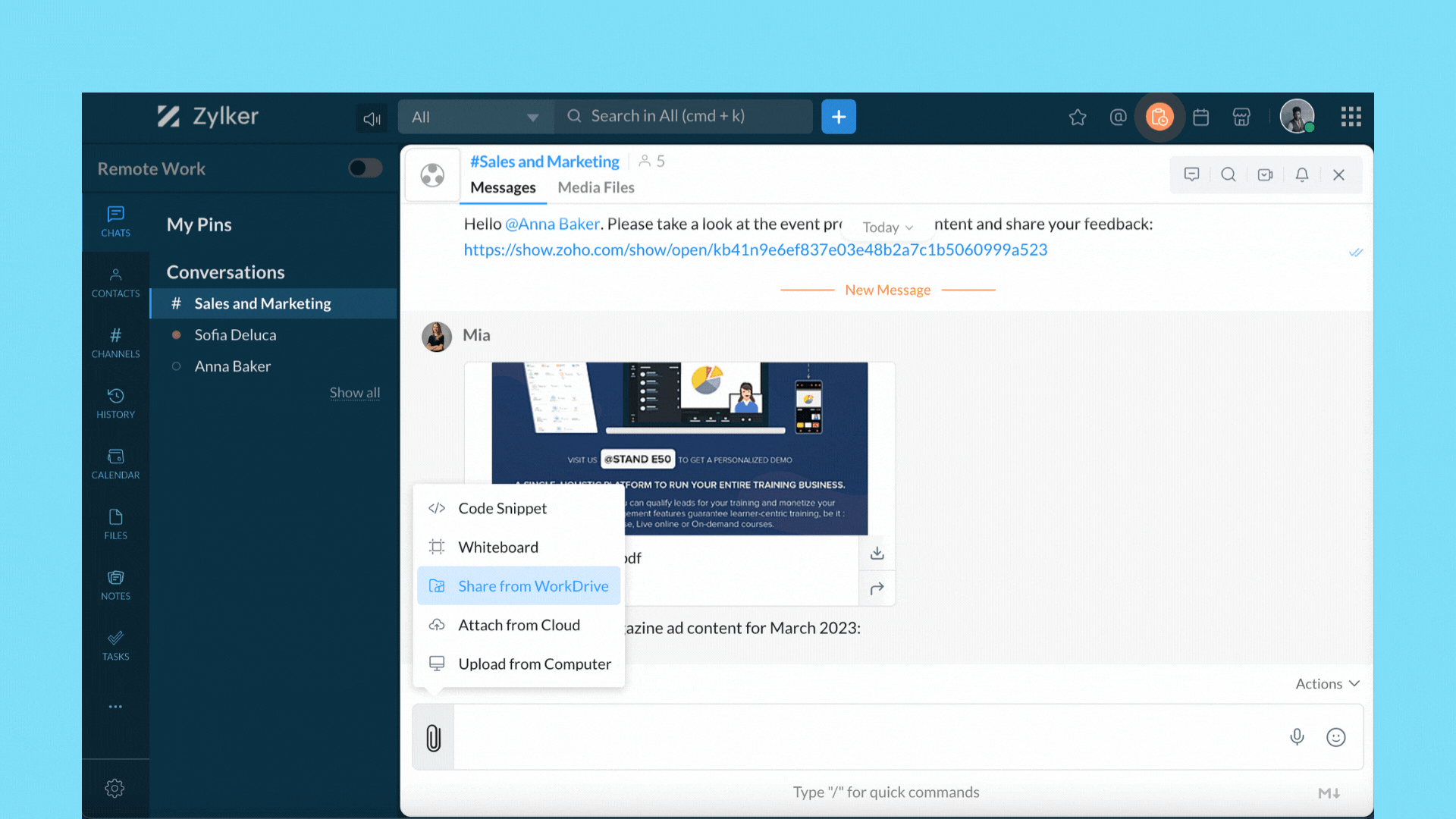 With this integration, you can share files from your WorkDrive account with users via Cliq chats and channels. You can also choose the share type and assign permissions.

In your channels, you will have the option to share selected file(s) with channel members, organization members, or external users with appropriate access permissions.

Zoho Meeting
Animation support in PPT sharing

To enhance the presentation quality and rendering, we now provide webinar presentation sharing with animation.

Zoho Writer
Writer extensions help you post blog posts, forum posts, and all kinds of articles from within Writer. Craft your article, blog post or forum post using Writer's editing capabilities and post them on platforms directly from Writer or save a draft with all your content and formatting style, saving a lot of time and effort.

Try out the features and provide your comments below.