Note


To obtain. your API key, go to your SendinBlue dashboard, and copy the V3 API.

If you skip this step, you can authorize it later from your Setup page. To do so, go to Setup, then under All, select Marketplace. Find the SendinBlue extension and click Configure.

Synchronize SendinBlue data with Zoho CRM

Data from SendinBlue can be synchronized with Zoho CRM and vice versa. Before you start synchronizing, you can configure the sync settings from the provided options. You can choose the direction of the sync, select whether to import everything or only specific contacts and campaigns, and ensure that the fields are mapped correctly to keep your records.

To configure your sync settings:

Go to the SendinBlue module.


In the Settings tab, select the required sync options


Choose Bulk/Selective option in Sync.
Bulk sync imports all of your Contacts/Leads and Campaigns, while selective sync allows you to choose specific contact list to import.

The Sync Type can be set to One Way or Both Ways.
One-way sync brings SendinBlue contacts into your Zoho CRM modules or vice versa, but not both as in Both-way sync.

In Sync Behavior, choose Sendinblue to Zoho CRM / Zoho CRM to Sendinblue.

Choose Yes/No to Enable Scheduled Sync.

In Select Sync Occurence choose Daily/Weekly.

Choose Contacts/Leads in CRM Module.

Click Save.





Review the sync settings in the Sync tab.





Click Start Sync button.

View synchronized data

Click the Campaigns module to view the Campaigns synced from SendinBlue to Zoho CRM.

The contacts synced from SendinBlue will be listed in the Contacts or Leads module as per your sync settings.
View the status of various campaigns sent

The SalesSignals feature notifies you of important events related to your SendinBlue campaigns.To view your SalesSignals notifications, click the Bell icon in the upper right corner of your dashboard.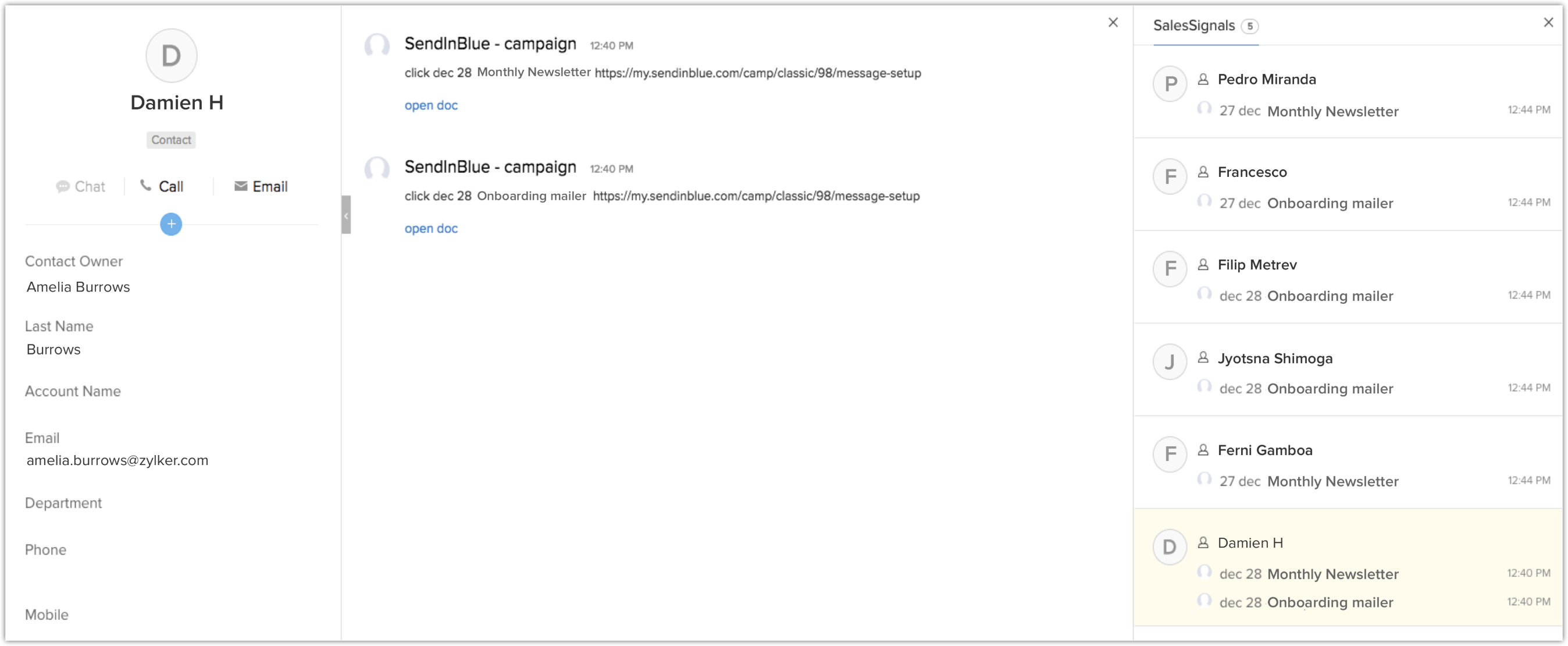 Uninstall the extension

To uninstall the extension:

Go to Setup> Marketplace > All. All the installed extensions will be listed.
Under All Extensions, you can view all the extensions supported in your CRM.

Browse for SendinBlue and click the corresponding Uninstall link.

Click Ok to confirm and uninstall the extension.