Email prioritization is a big challenge for sales people across the world. When you deal with a huge database of leads and contacts, it is very likely that you forget to respond to emails or forget to follow up with a customer after receiving an email. SalesInbox is designed to ensure that none of this happens. Following are ways for you to automate categorization of priority emails into folders, create email reminders and a host of other actions.
Folders, filters and labels
To make email prioritization easier, SalesInbox lets you categorize emails into custom folders and also apply labels to emails. This will help you ensure that you read and respond to emails that you consider important.The difference between regular email clients and SalesInbox is that, while other email clients lets you filter emails based on email parameters (such as Sender, To/CC), SalesInbox lets you filter emails based on email as well as sales parameters. For example, you can filter emails addressed "to you" from customers with "deals worth more than 30000 USD" and categorize them into a folder called "Top customers." This will go a long way in helping you manage your emails efficiently.

In addition to folders and labels, SalesInbox lets you create automated alerts so that you respond to customers' emails on time. This can also be done the other way round. When you send an email to a customer and he/she has not responded for a long time, you will automatically receive an alert so that you can follow up on the email.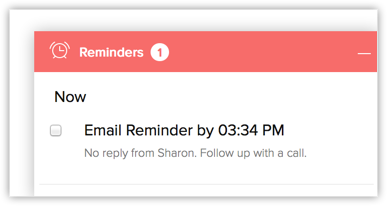 If there are some routine tasks to be executed after receiving an email from a specific kind of customers, you can automate the assignment of such follow-up tasks on receiving the email.

Zoho SalesInbox not only allows you to receive and send emails but also measure the effectiveness of the emails sent. As part of email insights you will be able to receive email analytics, track email template performance, track email response and a lot more. To know more about how to access email insights, refer to this guide>>
Email Insights.
Automate lead/contact creation
Zoho SalesInbox also lets you convert email recipients into leads and contacts automatically.
This can be achieved by using the workflow rules in Zoho CRM.