Available Regions:
US, IN, EU,
Available Plans:
All plans.
Available To:
| | | |
| --- | --- | --- |
| Roles | Entire organization | Team |
| Organizational Admins | ✔ | ✔ |
| Members | | ✔ |
How this integration helps:
Often when you're having a conversation, you find yourself looking for a file to give more context to the conversation or supply more data, in such scenarios integrations like Box make it easier to work and provides you access to everything from one place. Follow the below steps to experience a seamless workflow.
Install the Box extension for Cliq.
Use /Box command in the chat or
Navigate to All files in the widget to share a file.
Upload file to Box using "Upload to Box" action menu from Cliq.
Access your important files by staring them.
What this help page will cover:
Getting started with Box
Sharing Box files through /Box command
Sharing files through the Box widget
Upload your files from Cliq to Box
Box widget
Installation
Getting started with Box
Click

here

to go to Box extension page in Marketplace. (Or)
Go to Cliq marketplace (https://marketplace.zoho.com/cliq) --> In the Categories displayed in LHS, select Collaboration --> Box.
The Dropbox extension page will open. Here, an overview of the extension will be displayed along with screenshots and reviews.
Click on Install button.
After successful installation of Box extension, you'll see a connection dialog prompt requesting your permission to access your Box account.This consent box is to ensure privacy by letting you know how your data will be handled.
Sharing Box files through /Box command
You can share your files from Box in two ways, one via the /Box command and also through the Box widget.
Enter /Box command in the chat followed by your file name. This will show a list of files as suggestions. Selecting a file/folder from the list will share it in chat directly!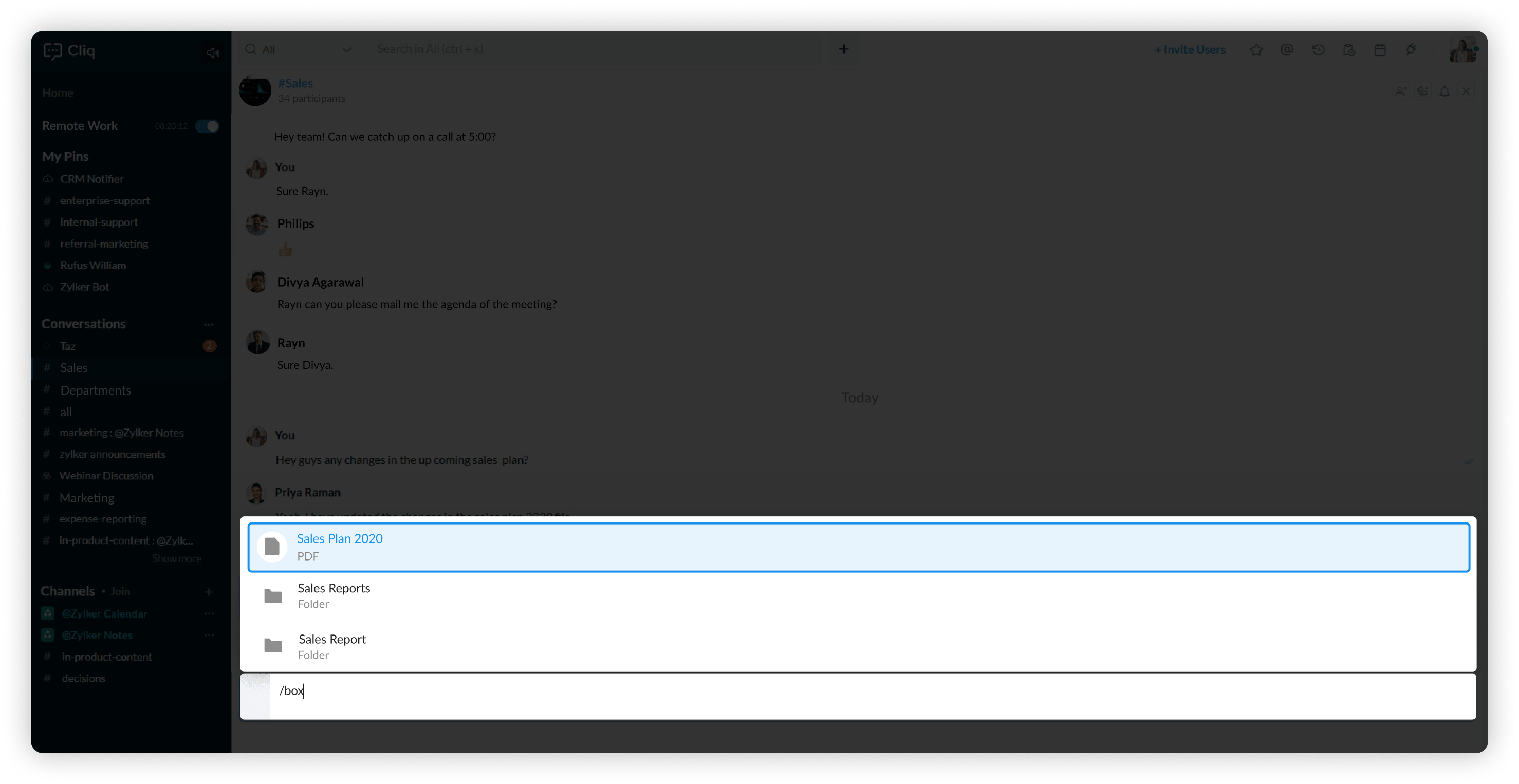 Clicking on "View" will directly take you to the file in Box.
Clicking on "Share" will share your file in the chat. When a folder is shared in the chat, the list of files present in the folder is listed, you can choose to view a files in the Box by clicking on "View" and share it in the chat by clicking on "Share".
The Box widget gives you a custom view of your Dropbox files and allows you to share a file from the widget
Click on the Box widget from the widget bar.
Go to the All Files tab.
Click on Shareto chat button present below the file you want to share.
Select the chats you'd like to share the file with, from the chats dropdown.
Click Share.
Upload your files from Cliq to Box
You can easily take action on files and documents shared in chat by uploading them to your Box folder. Here's how:

Head over to the file(s) shared on chat you want to upload to Box. Hover over the file(s) to view the message actions menu and click on Select. (You can also select upto 10 file attachments to upload simultaneously)

Click on the Box icon in the action bar, located at the bottom of the chat, to upload the file(s) to your linked Box account. For first time users Cliq and Box will request permission to access the files.

NOTE : Action can be taken on only file attachments and there is a file size limit of 5 MB for uploading to Box. Please make sure that none of the selected files exceeds this limit during upload or that specific file will be skipped.
The Dropbox widget consists of the following tabs to manage files with ease.
My Files
All Files tab contains all the files available in your Dropbox account to facilitate easy access. The files are listed along with their file name, size and date of uploading. You can star significant files by clicking on the Star button. All the files under the All files tab can be directly shared in any chat by clicking on Share to chat button. To share files inside a folder, click on the Open button then click on Share to chat button present under the file you want to share.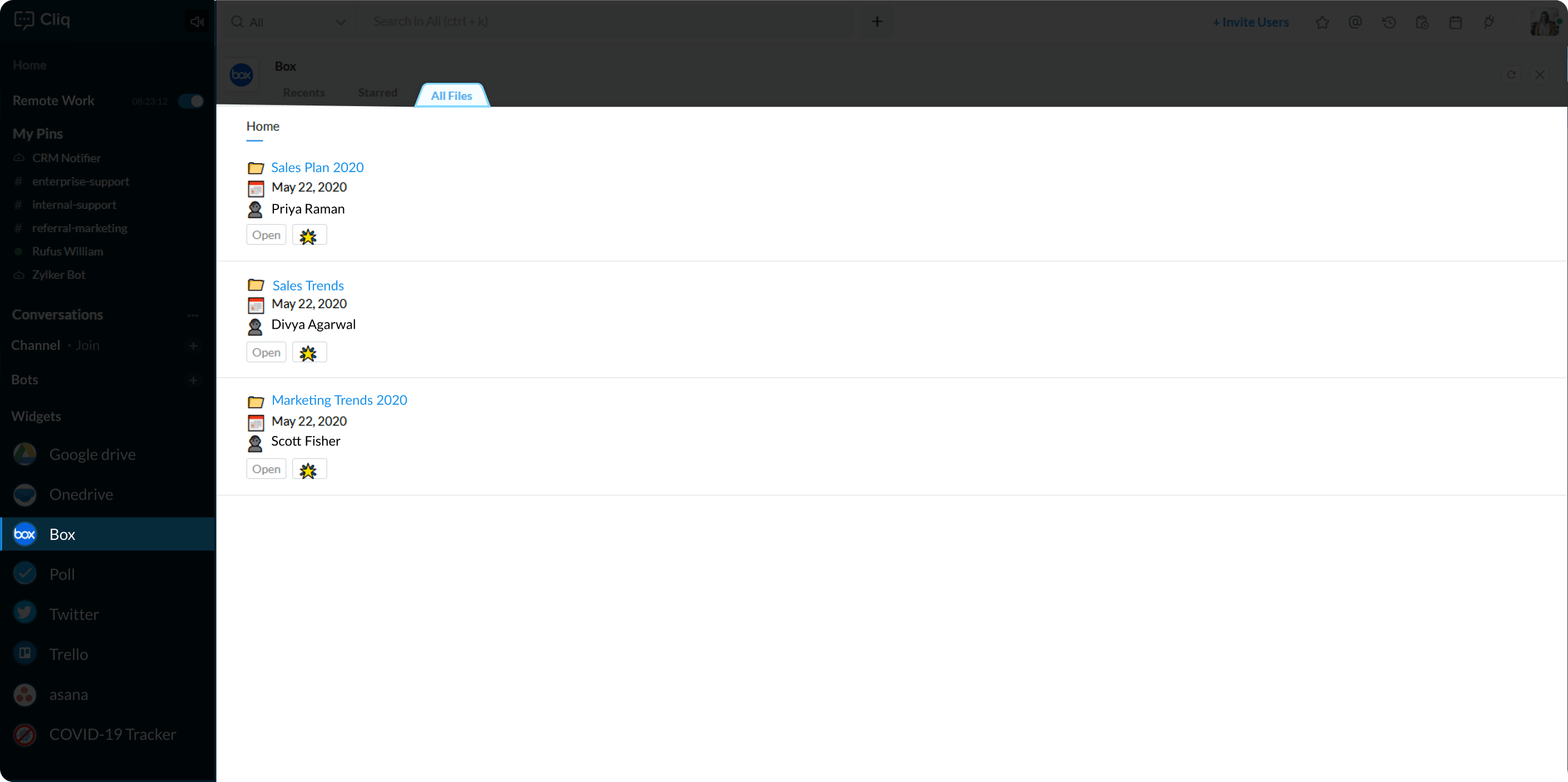 Starred
The Starred tab consists of all your favourited/starred files. These files are also listed along with their file name, size, date, time of uploading and the name of the user who sent it. You can share your files from the Starred tab using the Share to chat button. In case you'd like to unstar an existing file, just click on the Unstar button.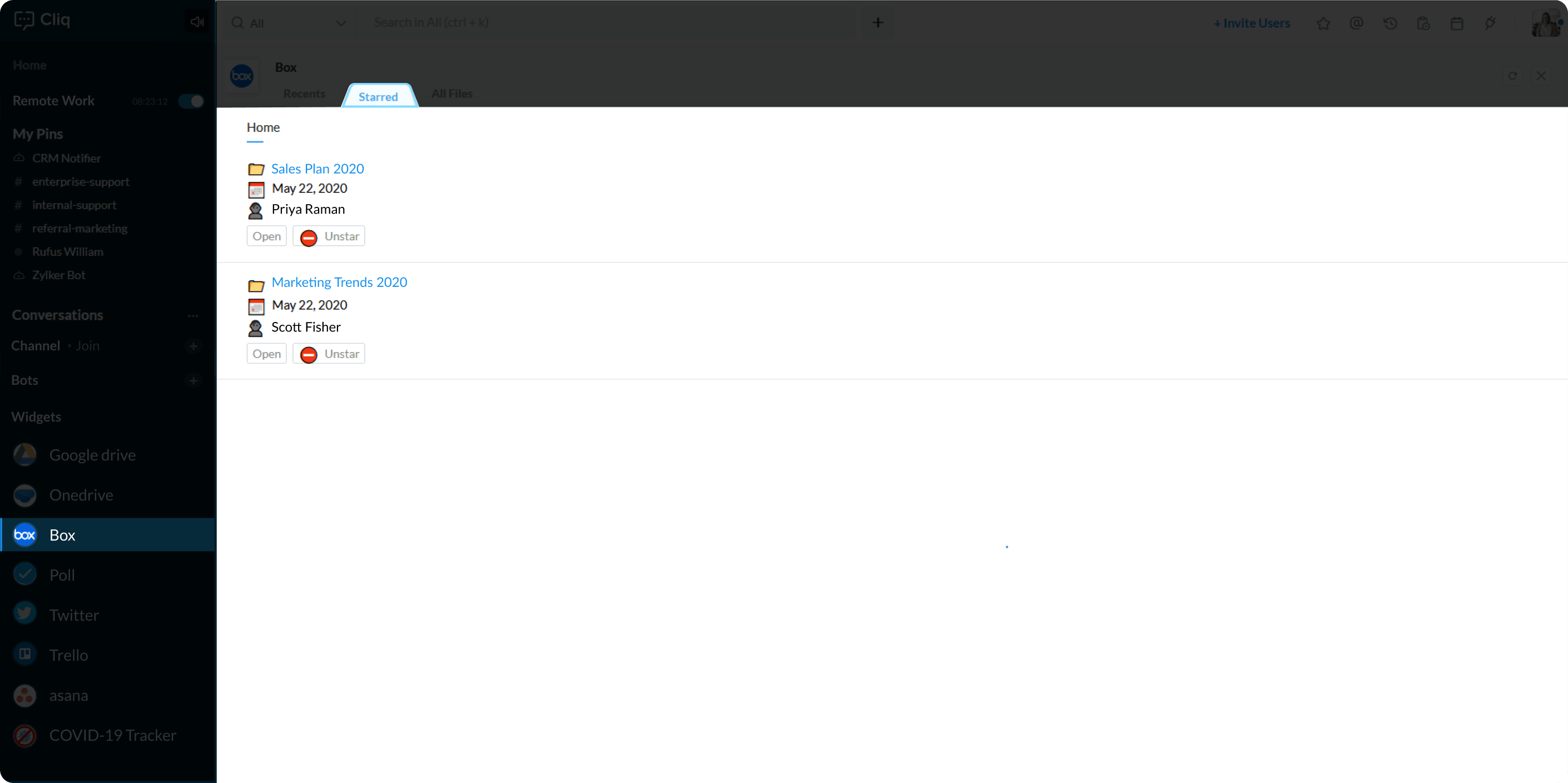 Recent
The Recent tab consists of all the files and folders that you have accessed recently. You can also choose to share or star the file and folders from this tab.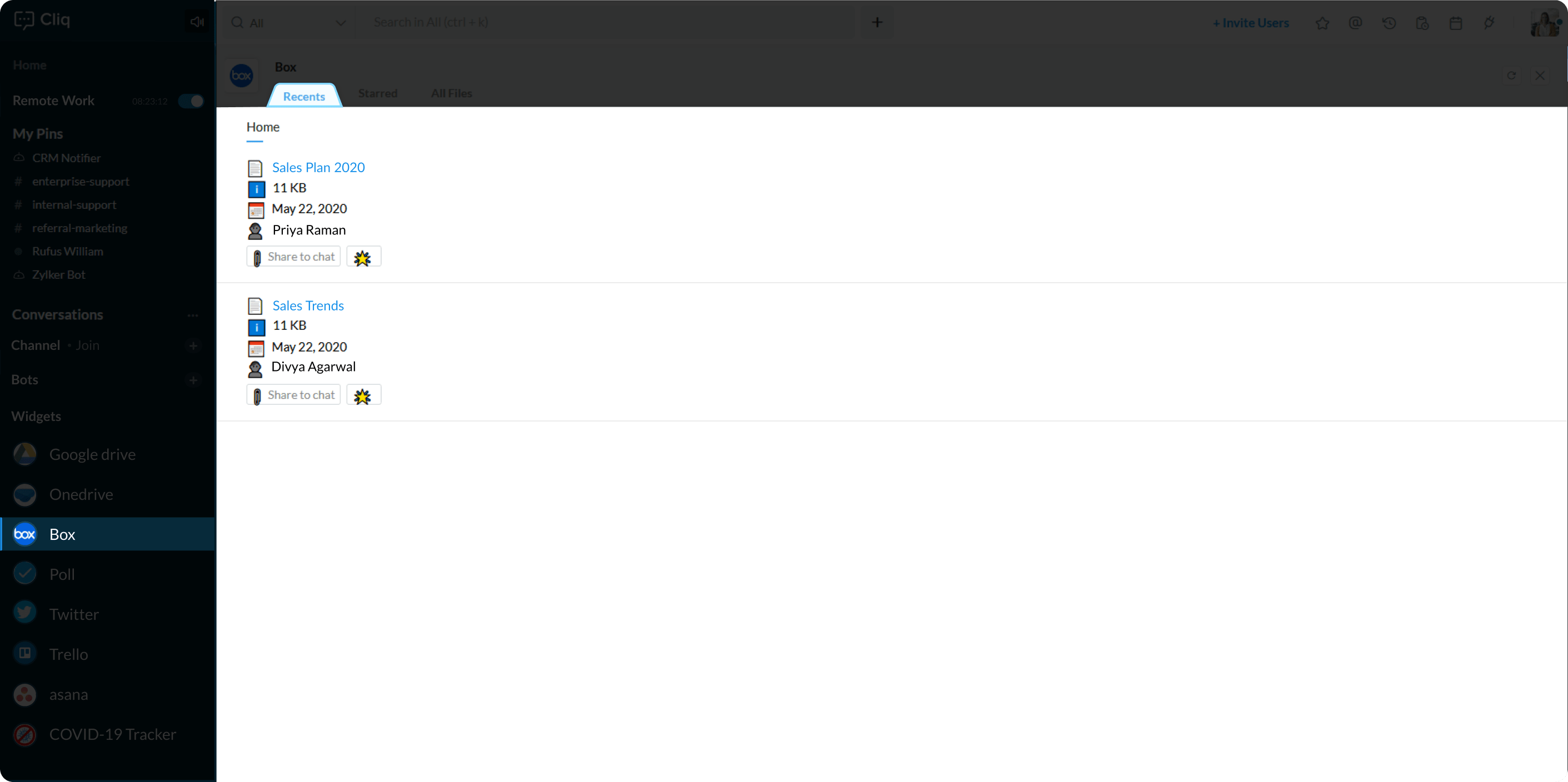 Installation
Install the Box extension for Cliq by clicking on the button below. Experience hassle-free collaboration and management of files from the comfort of your chat window.