Sometimes, when you encounter complex issues with Zoho Creator, such as troubles with SSO or performance related issues, we need some information to help you debug it. This article explains how to generate an HAR file, which contains a record of a browsing session. You will need the Chrome browser for this.
To open the inspector:
Chrome comes bundled with Developer Tools. Right click anywhere on your application page.
Select Inspect. The panel appears.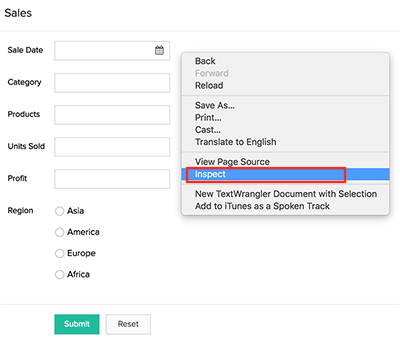 ​
Select the Network tab.

Recording your session
Once the Network panel is open, you need to start recording. At the bottom left of the panel, there is a little round button:

Click on it, and it should become red as shown in the screen-shot below.​


If any log details already exist, click on the clear icon placed next to the red round button, to clear the existing log messages. Also, select the

Preserve log

checkbox option in the same line, so that the browser will not clear any log messages on page reload or during navigation.



From now on, everything you do in your browser will be recorded.
Refresh the page
Refresh the page and perform the action in your creator application that you want to start recording, and navigate as you would normally: click links, fill forms, etc.
​
Saving the recording
Once you are done navigating, right click inside the panel:

Choose Save as HAR with Content and click on Save button.

You can now send this file for debugging.