Step 3: Set up Workflow Rule

Follow these steps in the Workflow Rule page:

Set up workflow criteria as:


Type is New Business.

Stage is Closed Won.

Choose Closing date.


Select the webhook as a time-based action.

Save workflow rule.

Workflow Rule Criteria

Associate Webhook to Workflow Rule

Step 4: Test your Integration

Add a test deal in CRM with Type and Payment Due Date fields as a Existing Business and Today respectively. While entering test data, ensure that Amount, Closing Data, Record Owner, Account Name and Deal Name are also entered.

In your mobile phone check for the SMS alert
If you've not received SMS, modify the webhook configuration and continue testing. After successful testing, remove test entries and roll-out this integration to your CRM users.
Refer Error Codes

Webhook execution may sometimes fail due to one of the following reasons:

Bad Request - A required parameter may be

missing



Unauthorized Request - An invalid

Auth Token is provided.



Request Failed -

Parameters were valid but request failed.



Page not Found - If t

he requested item doesn't exist.



Third-party error - Due to a glitch in the

third-party application.



Third-party server not available - Dis

connection at the

third-party

API server.



Internal process failure -

If there is an error in processing the webhook.



Day limit reached -

If the org had reached the maximum limit for the day.



Invalid URL -

If the URL is SSRF vulnerable or an invalid URL.



Socket timeout - If the webhook is invoked but response is not received until 1

0

seconds.
View Webhooks Usage Graph

Zoho CRM provides graphs that show the daily or weekly usage statistics of webhooks across various features. You can view the alert usage from Go to Setup > Automation > Actions > Webhooks.

The More Info link provides detailed information on the usage stats. Please note that the graph will cover the usage stats of the past 7 days.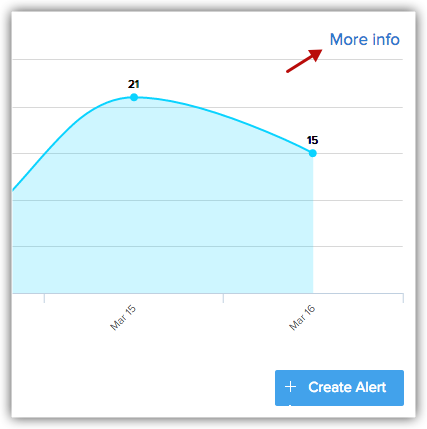 SEE ALSO