Embedding forms on a WordPress website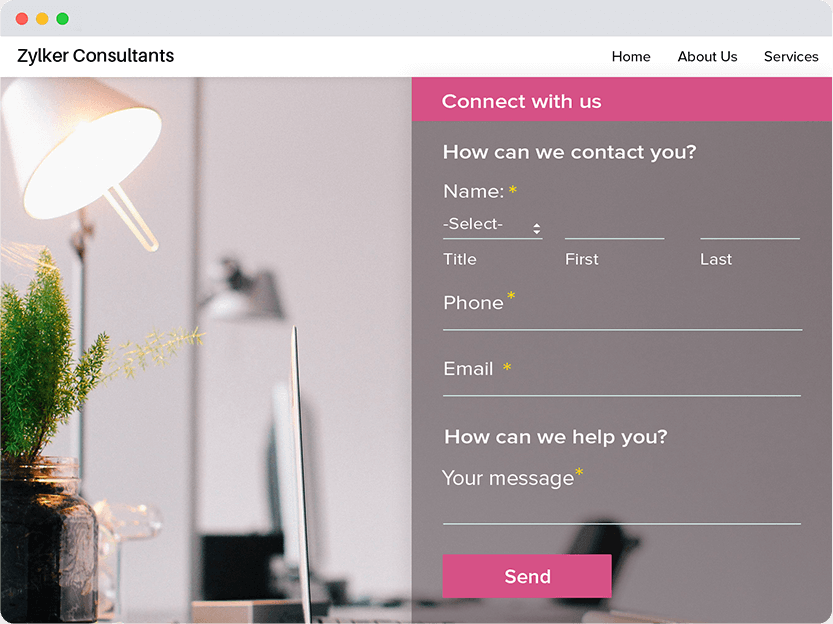 WordPress is a free website creation platform.
If you are using Wordpress to build your website, you can embed your Zoho Forms form as follows:
For WordPress 5.0 and above

In your Zoho Forms account, create a form for your WordPress site.
Install and activate the Zoho Forms plugin in WordPress.
In your WordPress editor, choose Zoho Forms under Embeds.


You can click Access Zoho Forms and pick a form that you have already created, or click Embed using permalink to enter the form's permalink without signing in.
Once you choose your form, you will find two options to embed your form. You can either choose to embed your form using an iFrame code or a JavaScript code.


If you choose the iFrame option, you can define the form container's width and the height according to your wish.

If you choose the JavaScript option, you will have the option to define the form container's width. The height will adjust automatically depending on the number of fields in your form.
You can also add parameters to your form's URL to track form submissions or prefill form fields.

Learn more

ab

out URL parameters in Zoho Forms.

For WordPress 4.9.9 and below

Log in to your Zoho Forms account and create a form for your WordPress site.
Install and activate the Zoho Forms plugin in WordPress.
In your WordPress editor, click the Zoho Forms icon.



You can either log in to your account and

Choose a form

or enter your form's

permalink URL

without logging in to Zoho Forms.



The form width and height can be defined in the editor.
Once done, click Embed to proceed.

Embed using Short Code

Short codes in WordPress are code shortcuts that help you add dynamic content. They are displayed inside square brackets. You can embed a Zoho Form on your website by creating a short code in the format shown below:
Zoho CRM Training Programs

Learn how to use the best tools for sales force automation and better customer engagement from Zoho's implementation specialists.

Zoho DataPrep Personalized Demo

If you'd like a personalized walk-through of our data preparation tool, please request a demo and we'll be happy to show you how to get the best out of Zoho DataPrep.

---
Zoho Sheet Resources
Zoho Forms Resources
Zoho Sign Resources
Zoho TeamInbox Resources
Zoho DataPrep Resources
Related Articles

Embedding forms on a Squarespace website

If you are using Squarespace to build your website, you can embed your Zoho Forms as follows: In your form builder, go to the Share tab, copy a code of your choice from the options provided under Embed. In your Squarespace website builder, hover your ...

Embed options in Zoho Forms - Which one to choose?

Embedding your form on your website or blog is another way of reaching out to people. Use the code we have provided to embed your forms anywhere on your webpage. You can embed your form using: iframe: This option allows you to embed the form as a ...

Embedding forms on a Wix website

If you are using Wix to build your website, you can embed your Zoho Forms form as follows: In your Wix website builder, click the Add (+) icon and select Embed a Site under Embed. Click Enter Website Address, then paste your forms Permalink URL in ...

Embed a form using JavaScript

A JavaScript code helps you to embed a form in your website as a part of your webpage. Unlike iframe, this option will embed the form as a page element and not as an external resource. You can choose to auto-resize or set custom height for your form ...

Embed form as a Hyperlink

This option lets you include the form as a hyperlink on your web page. When the website visitors click this link, the form will open in a popup window. To embed the form as a hyperlink: In your form builder, go to Share > Embed > Hyperlink. Copy ...