Configure bidirectional lookup field
To configure bidirectional lookup:
Navigate to the form builder.
Drag and drop the lookup field. The Lookup field window appears.
Select the Form from which you need to fetch data.
Select the Field .
Click the toggle button to Enable bidirectional data sync.

Select existing relations with the form.

Select the appropriate Display Format for the lookup field.

Click Done . The lookup field will be added.
The lookup field properties pane indicates that a bidirectional lookup is configured.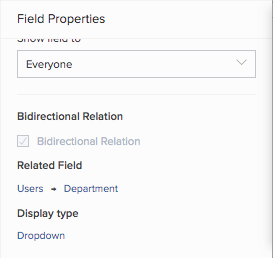 Note:

Use drop-down (single selection) and multi-select (multi selection) fields, when there are more options. This facilitates search and auto completion of search
Use the radio (single selection) and check box (multi selection) fields, when there are fewer options and there is no requirement for search and auto completion of search
User will be able to change Display Type: dropdown to radio button and multi select to checkbox

Related Topics

Zoho CRM Training Programs

Learn how to use the best tools for sales force automation and better customer engagement from Zoho's implementation specialists.

Zoho DataPrep Personalized Demo

If you'd like a personalized walk-through of our data preparation tool, please request a demo and we'll be happy to show you how to get the best out of Zoho DataPrep.

---
Zoho Sheet Resources
Zoho Forms Resources
Zoho Sign Resources
Zoho TeamInbox Resources
Zoho DataPrep Resources
Related Articles

Understand lookup field

Understand lookup field The lookup field enables you to create a relationship between forms. Using this relationship you will be able to lookup data from another form in the same application or from a form in a different application in your Zoho ...

Advanced search in a lookup field

When the Lookup field has large number of records then finding a particular record becomes cumbersome. Moreover, the basic search will display only 5000 results and manually scrolling down through these results to find the required record is tedious. ...

Set Lookup Field Properties

This page is applicable to all report types except pivot chart and pivot table. To set properties for lookup field: Edit your app. Navigate to the Design tab. Hover in the middle and click Configure Fields for Web. The Configure Fields window will ...

Unidirectional and bidirectional relationships

Unidirectional and Bidirectional relationships Relationships can be configured as one way and two way relationships. A unidirectional relationship means that the flow of data is just one way. For instance, you have an Employee Management app with ...

Auto populate a field based on the selection from a lookup dropdown

Requirement When a value is chosen from a lookup dropdown, related values are populated in the other fields of the same form. Use Case An order management app contains a form to store order details. When the admin chooses the customer name from ...