Zoho CRM aims to make the entire process of running a business easy for you, from sending a welcome email to each new customer to regular follow-ups with them, and even assigns scores to your leads to help you prioritize them better. With automation, you can easily tackle the inefficiencies of your team or business processes and still have enough time to focus on other priorities to enhance your company's productivity and growth.

Let's consider a scenario, the recruitment team at Zylker is overwhelmed by the number of tasks they have to perform manually during the hiring process. Right from receiving the applications, organizing the interviews to evaluating the test sheets and sending call letters, there are several teams involved and this may lead to chaos or inadvertent delays. Automating this entire process will help the HRs sift through the applications and select the applicants that are most suitable for the job rapidly, which can give them enough time to focus on other important tasks and also ensure the hiring process is completed faster with efficient results.

Using the right tools for the right purpose is the key to effectively automate daily business activities and enhance overall efficiency. Zoho CRM's automation comprises of the following features:

Assignment rules allow you to assign records to a user automatically. Let's say you have 2,500 leads to import and you want to assign them all to James, a user in your CRM account. You can do this easily using assignment rules.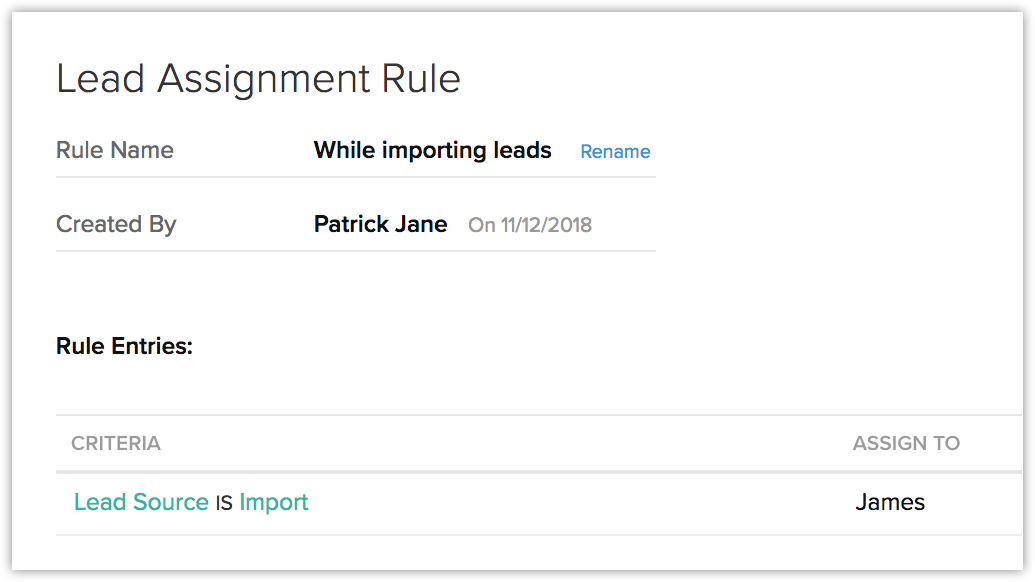 Some business processes require approval from superiors before the action can be carried out. Getting their approval manually can take a lot of time. Zoho CRM makes things easy for you by automating this process.
Let's take a simple example: Developers at Zylker have to get their manager's approval before upgrading a device or getting a new device. Sending this request via email can be risky as it is easy for the manager to miss it in their inbox. To avoid this situation, create approval process, which allows the manager to approve the request with a simple click.
In any business process, certain actions like following up with a customer, updating lead status after a lead is contacted, and adding tasks for a lead are performed on a regular basis and take up a lot of time. You can use workflow rules to automate these processes and minimize manual work.
Let's look at the following scenario:
When high priority leads are captured in Zoho CRM, the Lead Owner wants to carry out the following actions:
Send email notification to the relevant manager
Update the Lead Status field to Contacted
This process might not take too long for a small number of high priority leads, but the more leads there are, the more work is required.
Here's how Workflow rules can solve the problem.
Create a workflow rule in Zoho CRM so that when a lead is created and tagged as High Priority, the associated manager will be notified immediately and the status field is updated to Contacted. This will happen automatically every time a high priority lead is added to the account.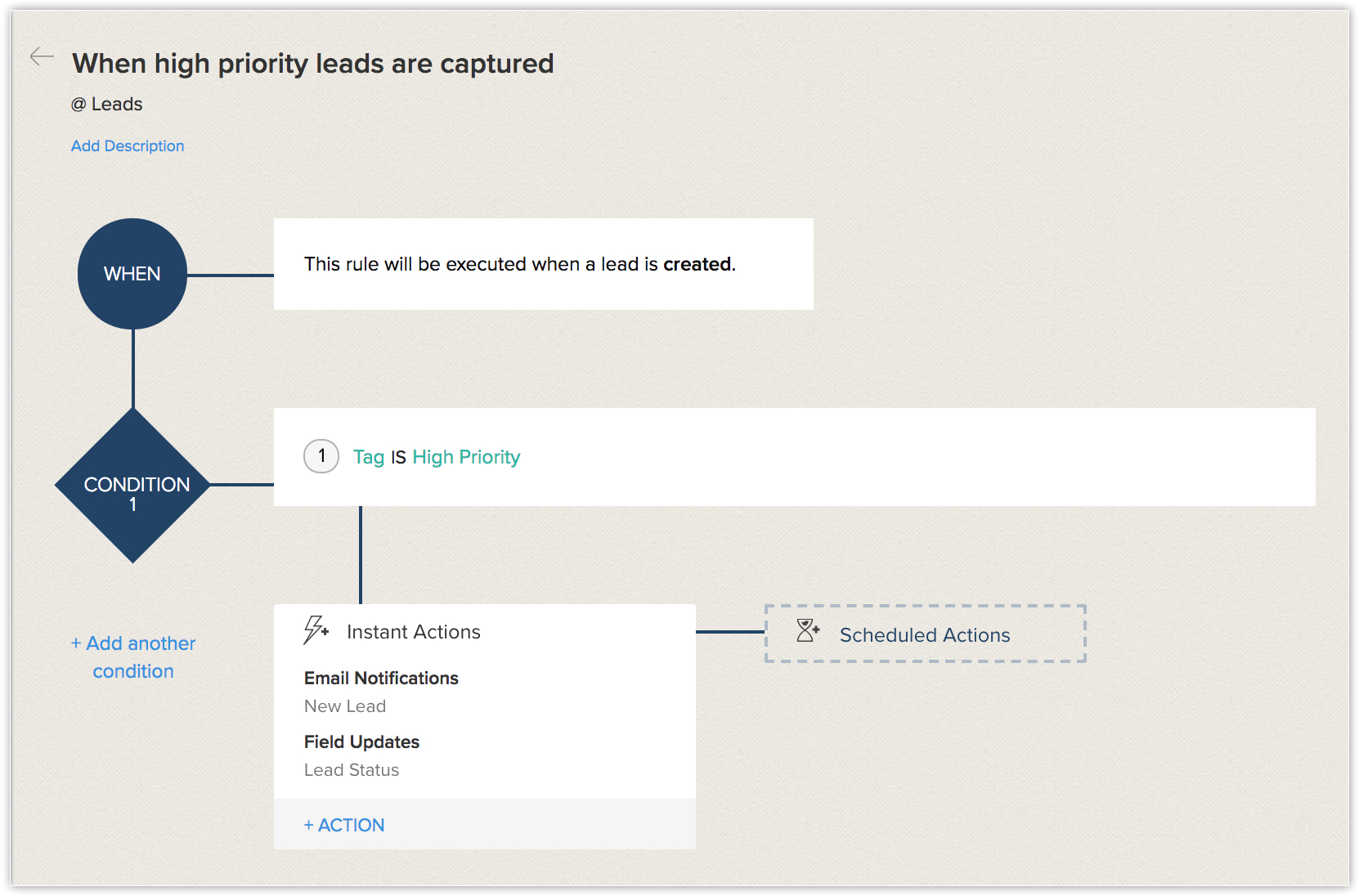 A blueprint is a functional, visual representation of all the elements that are crucial to a successful sales process. Designing a blueprint for your process is like planning the most efficient route before you begin a journey: it helps you stay on track to your goals.
Let's look at lead nurturing. You need to first gather details about a lead to add them to your account, then establish contact. When you try to establish contact your lead might not answer your call, in which case you would need to try again the next day. Once you have successfully established communication with your lead, the possible outcomes can be:
The lead is not interested
It is a junk lead
The lead is legitimate and you can start engaging
It's important to determine which of these applies to the lead so you can identify which leads are worth pursuing and how to follow up. Categorizing the lead in CRM ensures that the correct level of attention is given to the lead and that the sales rep understands the next steps to take.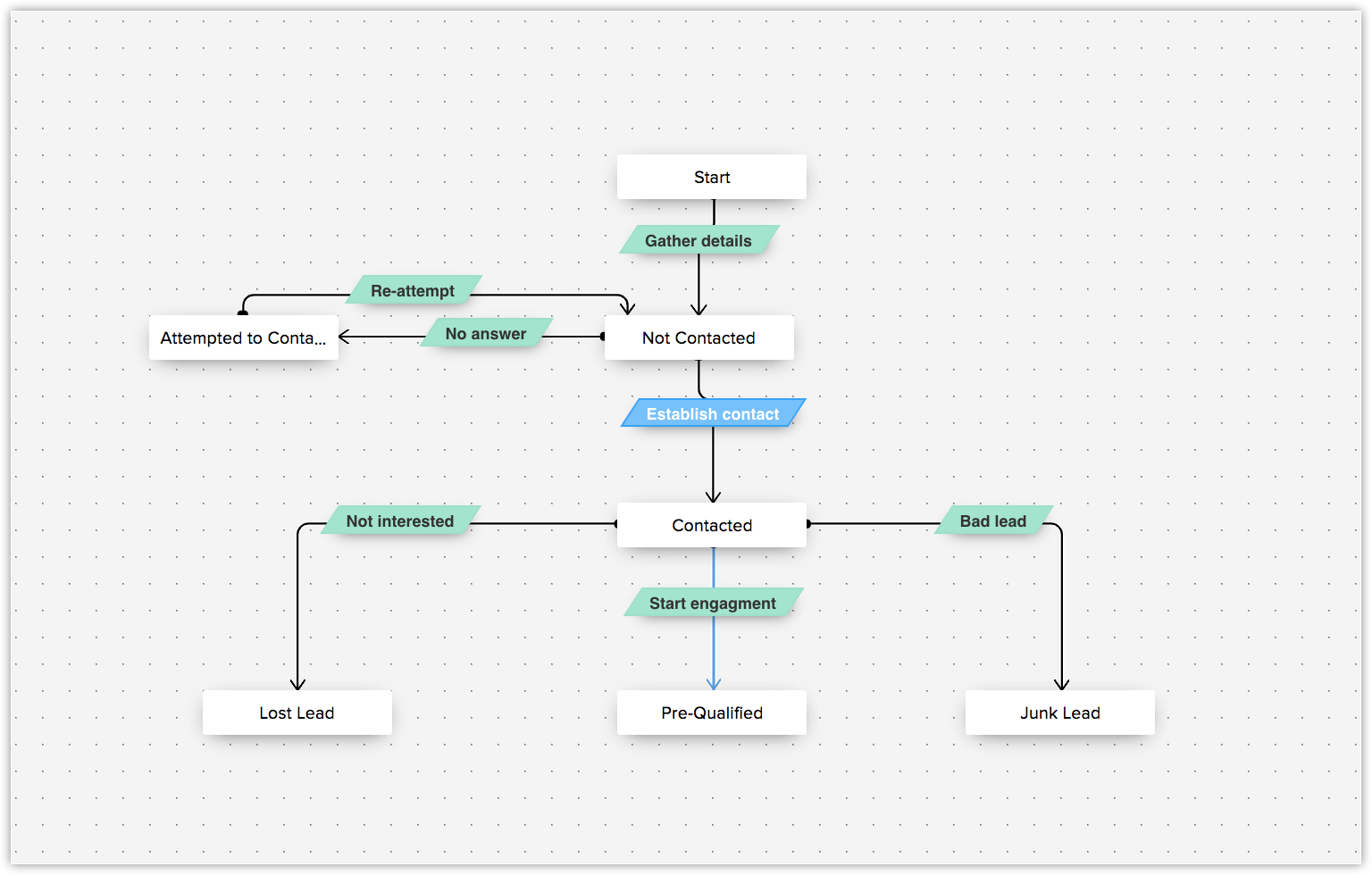 Schedules allow you to set up automated actions to be executed instantly or at a specified time. You can also choose to run these schedules daily, weekly, or monthly. Schedules also allow you to integrate with and sync data with third-party applications.
Various actions in your sales process can be automated with the help of actions. Zoho CRM allows you to perform five different actions. They are as follows:
Some tasks may not be carried out by the person they are assigned to, for various reasons. You can set up case escalation rules, which escalates the task to the next member in your organizational hierarchy, to ensure that the task is still completed on time.
Scoring rules help you identify the records which are worth spending your time on so that you can concentrate on the records which require your attention. You can also determine appropriate actions for records which aren't progressing through your sales pipeline.