Setup Zoho Webinar Integration

You should first enable Zoho Webinar from the Marketplace to create webinars. Once enabled, you can do the following:

Add Users
You can add CRM users to Zoho Webinar that allows them to create webinars from Zoho CRM.
Set Reminder
You can set the time when the host and the participants should receive a reminder about the webinar.
Push registered participants in Webinar
The registrants who are not part of the CRM account can be added as leads or contacts into the CRM.
Update Member Status
The member status of the participants can be synced with that of the webinar's service status. For example, if the service status is 'attended' then you can specify if the member status of the participants should automatically be changed to 'planned' or 'invited'. By syncing the statuses you will not have to update a participant's member status manually.

The service status can be selected as either invited, registered or attended. You can choose a corresponding member status as: planned, invited, sent, received, opened, responded, bounced or opted-out. You can also choose not to sync the member status with service status.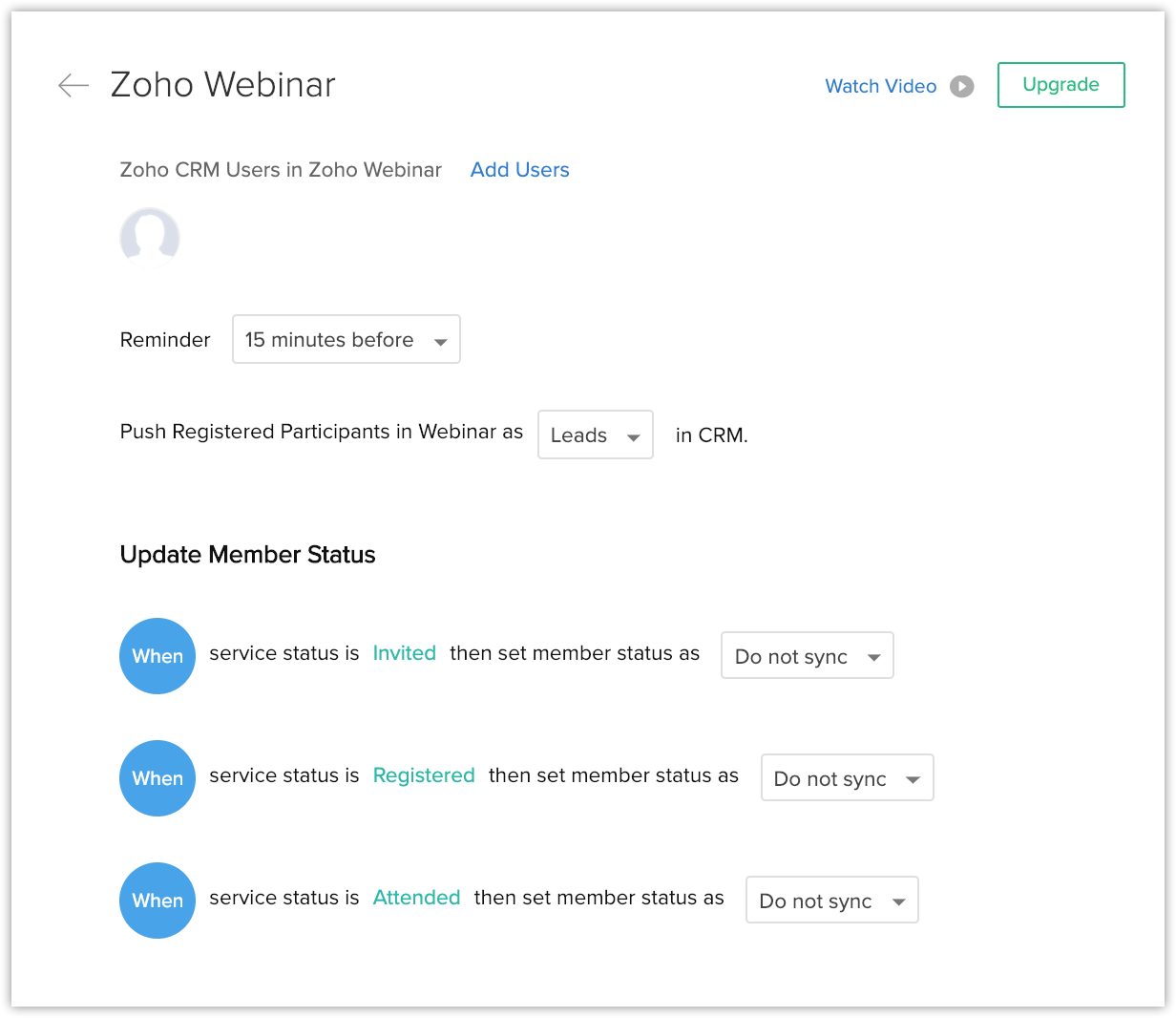 Add Webinar Registration URL in Email Templates

Every webinar that is created has a unique registration URL. You can embed the Webinar Registration URL as a merge field in your email templates. When you send email invitations to participants the Webinar URL will be automatically merged.

To add webinar registration URL in email template

Go to Setup > Customization > Templates.

In the Email tab, select the desired template.
You should choose a template only from the Leads/Contacts module.
Click the Create link icon.


In the Add Link popup do the following:


In Link Type, choose Zoho Webinar Registration URL from the drop-down list.

Enter the Title and click Save.

Once a webinar is created, you can invite the leads and contacts to the campaign by sending email invitations.

To invite leads and contacts

Go to the Campaigns module and select a record.

In the Record Details page, click Leads or Contacts from the related list.

Click + Invite.

Select the leads or contacts and click Next.

Choose the Campaign Member Status from the drop-down list and click Next.
You will be redirected to select an email template.

Select an email template and click Send.