Harvest for Zoho Projects
Harvest for Zoho Projects
is a time-tracking extension which logs the number of hours a user spends on a task. The user can start or stop the timer widget to record the time taken for every work item. A new record gets added to the user's Harvest account for every new time entry made through Zoho Projects.
Installing Harvest

Click

in the upper-right corner of the top navigation band.
Navigate to Marketplace > All.

Search for Harvest for Zoho Projects extension.

Click Install.

Agree to the Terms of Service and Privacy Policy.

Click Install.

In the General section, select the profiles and projects you want the extension to be shared with or given access to.


Agree to the terms of use.

Click Save & Proceed.

Add time logs for tasks

Click on a task to open the details page.

Click on Harvest icon from the right panel.


Enter time manually or click start timer.


Timer can be paused and resumed. Please note that every pause and resume will be added as a separate entry in Harvest. Zoho Projects will show the total time as a single entry.



Click on Stop Timer to add the time log entry to Harvest and Zoho Projects.

View time log entries in Harvest.

Click on task name to view task details in Zoho Projects.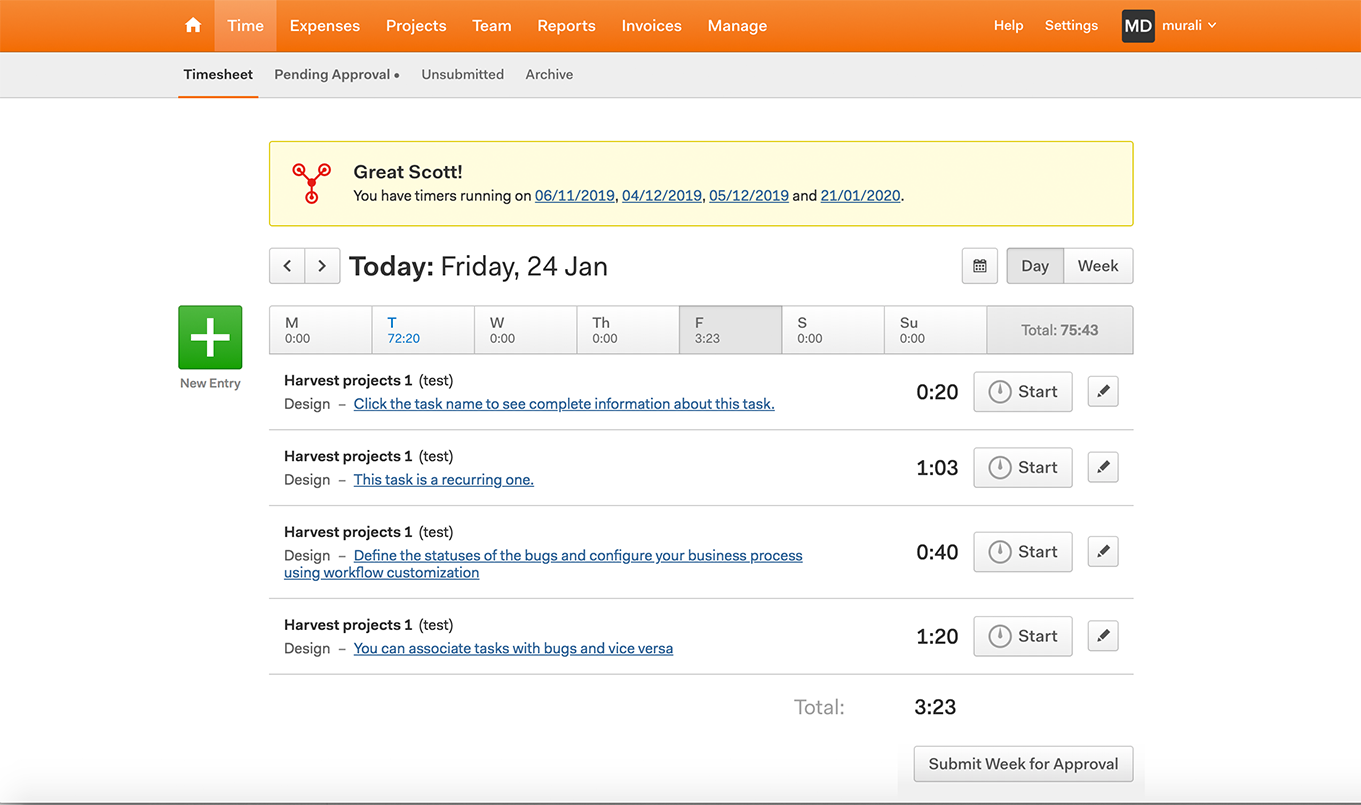 Uninstalling the extension
Click

in the upper-right corner of the top navigation band.
Navigate to Marketplace > All.

Click Installed.
Click Harvest for Zoho Projects.
Click Uninstall.
The extension will be uninstalled, and all the associated data will be lost.
Zoho CRM Training Programs

Learn how to use the best tools for sales force automation and better customer engagement from Zoho's implementation specialists.

Zoho DataPrep Personalized Demo

If you'd like a personalized walk-through of our data preparation tool, please request a demo and we'll be happy to show you how to get the best out of Zoho DataPrep.

---
Zoho Sheet Resources
Zoho Forms Resources
Zoho Sign Resources
Zoho TeamInbox Resources
Zoho DataPrep Resources
Related Articles

DocuSign for Zoho Projects

The DocuSign extension for Zoho Projects provides users with the e-signature functionality required to quickly complete approvals and agreements. With this extension, you can send documents, view their signing status, and even revoke the document ...

Checklist for Zoho Projects

The Checklist for Zoho Projects extension lets you create a set of instantaneous to-do lists for your tasks and issues in Zoho Projects. With this extension, you can create both checklists and templates that can be used for any of your tasks and ...

Zoho Projects: An Overview

Zoho Projects is an online project management software that helps you run your business with ease. It stands as a comprehensive solution to your day-to-day problems in project management and adds value to your business by leaps and bounds. What Does ...

Zoho Vault for Zoho Projects

Zoho Vault is an online password manager for teams. If you are struggling with remembering numerous passwords, Zoho Vault can keep them safe for you. It helps to store, share, and manage your passwords from anywhere. Zoho Vault is the best way to ...

Zoho Projects Mobile App

Zoho Projects is now completely mobile. Access and control your work from the palm of your hand. Create and work on projects with the Zoho Projects mobile app. Available for iPhone, iPad, and Android Phones. iPhone and Android requirements: iOS 9.0 ...