Zoho SalesInbox: The first email client exclusively for salespeople.
Salespeople use different channels like email, telephone calls, chat, face-to-face communication, and social media to reach out to their prospects today. Making telephone calls regularly can be expensive. Face-to-face communication can be both time consuming and costly. Social media, while being instant, can lead to time wasting and is distracting. Chat, while providing instant access to help, can lead to wait times if several prospects want to chat with you at the same time.

Email solves many of these problems. It is cost effective, instant and at the same time, gives prospects enough time to consider their next course of action.

Here's a first-of-its-kind inbox that lets you respond to the emails which matter the most to you, and not the latest emails. Introducing SalesInbox, the first email client exclusively for salespeople.
This is what you'll get with SalesInbox:

Emails, prioritized: An inbox that prioritizes your emails as those coming from open deals, leads, contacts and customers, and clearly reflects your sales priorities.






Filters that help you convert more deals: Filter your emails using different CRM criteria, such as deal size, closing date, lead source and more. Apply labels to your emails for more fine-grained searches.

Context that helps you go beyond the thread: Have a clear demarcation of how your contacts have progressed through the sales cycle, right in front of you. Get details of all previous conversations,support tickets raised, mentions of your brand made on social media, and more.

Email and CRM in sync: When interested customers reach out to you via email, add them to CRM straight from your inbox. Set up workflow rules that categorize new messages as leads if they meet important criteria. When you receive an email from a hot lead, drag and drop the emails into the leads or deals column. Set a price for the deal, a closing date and create followups.






ResponseWatch to help you act fast: With ResponseWatch, get to assign a time for when you need to hear back from a customer. If you don't hear back on time, ResponseWatch lets you know.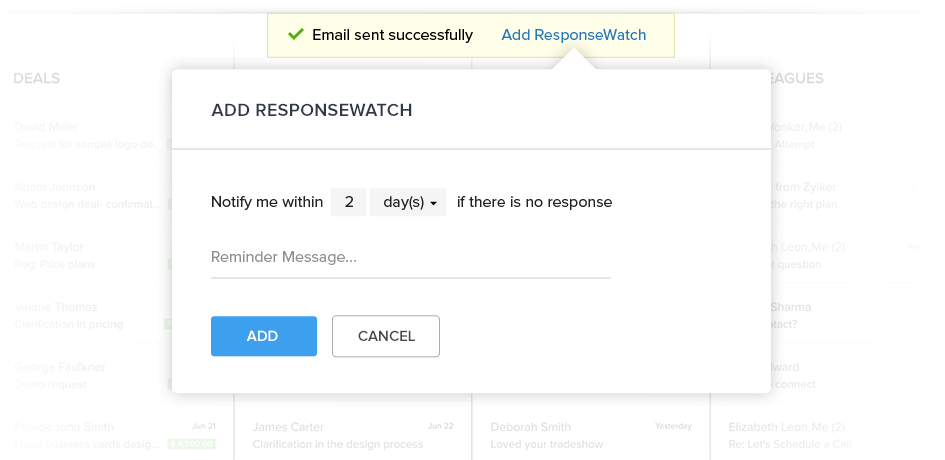 Better emails:
Use email insights, dashboard reports and analytics to know which of your emails and templates had the best open and click rates. Know who among your teammates sent the best emails and received the most responses.
Mail on the move:
Receive information on who is sending an email, their accounts and associated deals on your mobile. Get folders named Closing This Month, Customers and Open Deals by default.
Ready to be even more productive with email and sales? Just give SalesInbox a try, for a whole new email experience.
Further reading:
SalesInbox website
We would love to hear what you have to say about SalesInbox. Feel free to let us know what you think by commenting below.
Regards
Vaibhav Shastry
Zoho Pagesense Resources
Zoho SalesIQ Resources
Zoho TeamInbox Resources
Zoho DataPrep Resources
Zoho CRM Plus Resources
Zoho Books Resources
Zoho Subscriptions Resources
Zoho Desk Resources
Zoho Projects Resources
Zoho Sprints Resources
Qntrl Resources
Zoho Creator Resources
Zoho WorkDrive Resources
Zoho Campaigns Resources
Zoho CRM Resources
Zoho Show Resources
Writer
Get Started. Write Away!

Writer is a powerful online word processor, designed for collaborative work.