Zoho Creator URL Patterns
Overview
This document lists the urls of various Zoho Creator application components like forms, views, PDF report etc. The knowledge about the url of the applications will help in providing quick access to the application and its forms, views and report formats.
Terminologies
application link name - This is a unique name for each application in a user account. This name is unique among the applications in one user account. Applications in two different accounts can have same applink name but applications in one user account cannot have same app link name.
view link name - This is a unique name to identify view in an application. This name is unique per application.
form link name - This is a unique name to identify form in an application.This name is unique per application.
Conventions
Following conventions are used to display the url pattern used for Zoho Creator as shown in the image below.
The chart arrow reads from left to right.
The text wrapped inside < > are dynamic values like applinkname, formlinkname etc
The number displayed along the lines are explained in detail under the head "URL Structure".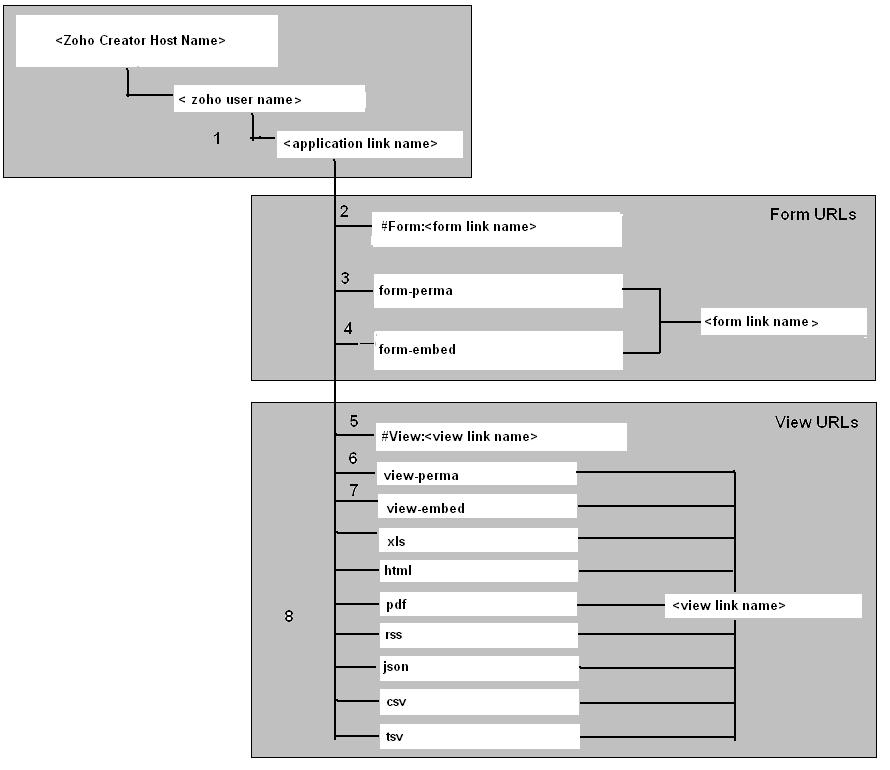 URL Structure

Note:

Currently ZOHO Creator supports PDF rendering for List views and HTML views only.
Refer Functionality based URLs to set default values for form fields, edit individual records by passing record ID in the URL, set criteria for views, print a view, convert HTML view to PDF.
Refer Navigational URLs to navigate or do certain actions in Zoho Creator.
Refer Style based URLs for parameters that can be applied to the Forms and Views embedded in your HTML views.

Zoho CRM Training Programs

Learn how to use the best tools for sales force automation and better customer engagement from Zoho's implementation specialists.

Zoho DataPrep Personalized Demo

If you'd like a personalized walk-through of our data preparation tool, please request a demo and we'll be happy to show you how to get the best out of Zoho DataPrep.

---
Zoho Sheet Resources
Zoho Forms Resources
Zoho Sign Resources
Zoho TeamInbox Resources
Zoho DataPrep Resources
Related Articles

Know your Creator account's base URL

Data privacy and protection laws today require that collected data must be stored in data centers that are physically located in the respective country or region. To facilitate compliance, Zoho has set up multiple data centers across different ...

Autopopulate Zoho Creator field with Zoho People data

Requirement Autopopulate Zoho Creator field with employee information stored in Zoho People. Use case Let's assume an organization named Zylker has a private library. The regular users must purchase a membership in order to access the library, ...

Manage Application Summary

The application summary page is a cumulative view of the application in Zoho Creator. This page serves as a common navigation point to branch out into various modules and perform actions relevant to those modules from here, and view the details ...

Manage Connections

This help page is for users in Creator 6. If you are in the older version (Creator 5), click here. Know your Creator version. What Does This Page Cover? Learn to manage the connections you have created for integrating other Zoho or third-party ...

Zoho Creator Home Page

This document provides a brief understanding of how the new home page is different from the Creator 5 home page. Current: Login to Zoho Creator and you will be taken to the dashboard listing the applications and workspaces that are created by you and ...