How to generate invoices for payment forms?
An invoice is a vital document in business transactions that includes data about a particular sale, such as the customer details, quantity, value, tax, total payable amount, any discounts applied and the payment terms. Invoicing is essential, regardless of the nature of your business to ensure that you receive accurate payments.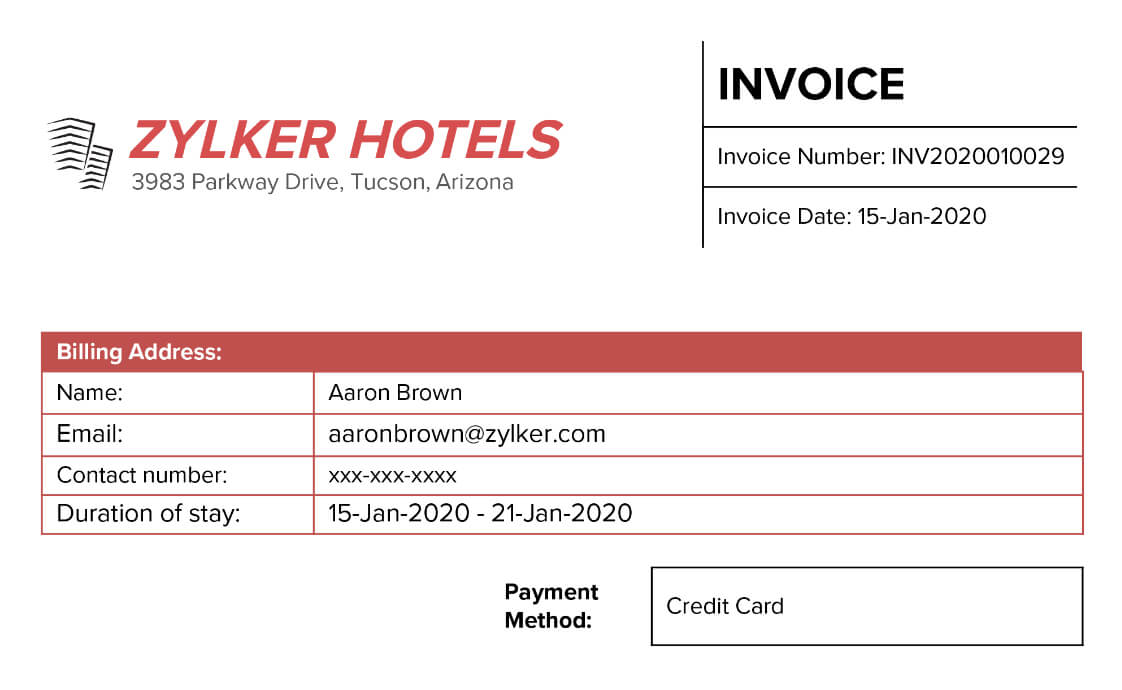 Once you are done building your form with the
Payment
field,
Go to the Settings tab > Document Merge in your form builder.




You can choose to configure your invoice template in Zoho Writer or WebMerge and merge form responses with the template to create customized invoices. Let's see how we can do it with Zoho Writer. Click Configure next to Zoho Writer.

Choose the Document Service (Zoho Docs / WorkDrive) where you want to create the merged invoice template.




Select an invoice template from the existing templates by clicking Use This or create one from scratch.
Ensure that you include your brand logo and your company's contact details at the top of your invoice template.
Include payment deadlines as well as details regarding any penalties that customers will encounter if the due dates are missed.
You can also create unique invoice numbers with each form submission using the Unique ID field in the form and merging it in the template.




Click Create.





Include the field responses as shown into your invoice to merge them with the template and create unique invoices for each form submission.





The correct transaction ID and payment status will be reflected only when you enable the Workflow option.

Click Done in the top-right corner.

The template will be created and you can edit it at any point of time.




You can attach the invoice merged with form responses in the confirmation email triggered to your customer on the orders.



Zoho CRM Training Programs

Learn how to use the best tools for sales force automation and better customer engagement from Zoho's implementation specialists.

Zoho DataPrep Personalized Demo

If you'd like a personalized walk-through of our data preparation tool, please request a demo and we'll be happy to show you how to get the best out of Zoho DataPrep.

---
Zoho Sheet Resources
Zoho Forms Resources
Zoho Sign Resources
Zoho TeamInbox Resources
Zoho DataPrep Resources
Related Articles

Welcome to Zoho Forms!

Every business, big or small, needs to scoop up data at some point. Data helps businesses understand their customers, and figure out what's working and what's not. It's like having a map to guide you through the business journey. Transform the ...

How to set up a Payment field

To configure a payment field, Add a Payment field from the Advanced Fields to your form. In the pop-up, select the Payment Gateway from the following list to receive payments: PayPal Standard PayPal Checkout Stripe Stripe Checkout 2Checkout Razorpay ...

Sharing Translated Forms

Table of Contents Sharing a translated form URL Sharing translated forms as QR code Embedding translated forms on website UTM Tracking in translated forms Sharing a translated form URL Once you have translated your form into the required languages, ...

How to use the Formula field and auto-populate the calculated value in the Payment field?

Money is a tricky thing. It has the potential to alter the course of any alliance, particularly one involving payments. Seller- buyer relationships can quickly become a hassle if the money flow is not error-free. And like always, Zoho Forms is here ...

Overview

An online payment form is a digital document that you can use to collect payment information from customers over the internet. Online payment forms offer a fast, convenient, and secure way for businesses to collect payments from customers. With Zoho ...