DomainKeys Identified Mail (DKIM)
DKIM is a security mechanism that validates an email, checking if emails were sent from a valid source and not tampered with during transit. DKIM ensures that emails will be delivered to the inbox of its intended recipient since the validity of the email has already been verified.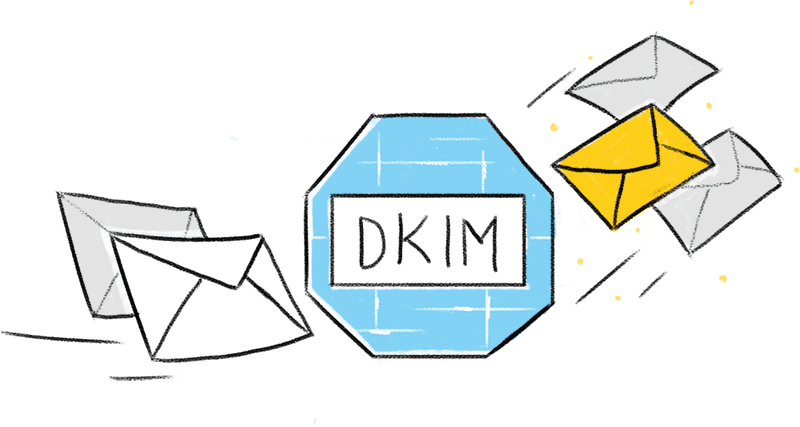 Configuring DKIM
Before you send emails using an authenticated domain from Zoho Forms, you mus
t
add your domain
a
nd get it verified under Control Panel.
To configure DKIM,
Log in to Zoho Forms and in the top-right corner, click the

icon to access the

Control Panel

.

Click DKIM Configuration under Notification Settings.



To add a new domain, click Add New Domain.
Enter your domain details (for example, zylker.com) in the popup, then click Add Domain.

The domain status will be listed as Pending.
Hover over the added domain and click View details.

Copy the Hostname and Host value generated.
Go to your DNS settings and add the Hostname and the Host value as TXT record and click Publish.

Once done, in the DKIM configuration tab in Zoho Forms, hover over the domain again, and click Verify.
The status will be changed to Verified.


Sending Emails via Verified Domains
Once you complete the DKIM configuration and get your domain verified, you can use it to send emails from Zoho Forms.
After creating a form, in your form builder, navigate to Settings > General Settings > Advanced Settings.
Choose a DKIM authenticated domain from the Send email via dropdown.
Henceforth, all emails for this form will be sent from the selected domain.



Note: Only if your email address contains an authenticated domain name, emails will be sent using that domain. If not, emails will be sent using the default domain from Zoho Forms.
Zoho CRM Training Programs

Learn how to use the best tools for sales force automation and better customer engagement from Zoho's implementation specialists.

Zoho DataPrep Personalized Demo

If you'd like a personalized walk-through of our data preparation tool, please request a demo and we'll be happy to show you how to get the best out of Zoho DataPrep.

---
Zoho Sheet Resources
Zoho Forms Resources
Zoho Sign Resources
Zoho SalesIQ Resources
Zoho TeamInbox Resources
Zoho DataPrep Resources
Related Articles

Custom Domain

Custom Domains are used to promote your organization's brand in the form URLs to all your form respondents. If you do not want any reference to Zoho Forms in your form URL, you can use your own custom domain. By default, your form URL will be in ...

Setting up OTP Verification via Email

When you configure Email OTP verification, respondents who access your form via public links will be required to enter their email address to receive a One-Time Password and verify it before they can access the form. To configure Email OTP ...

Advanced Settings

To configure your form's identity attributes, navigate to Settings > General. Under Advanced Settings, you can modify the following form attributes: Form Tab Title: The name entered will be displayed in the title of the browser tab when accessed. ...

Sharing a form via email campaigns

You can share your form via email to a large number of people. To do so, use one of the following email campaign products: Zoho Campaigns MailChimp Zoho Campaigns You can send your form to multiple email groups on your Zoho Campaigns account. Know ...

Why are emails not getting triggered on form submissions?

If the From address contains your domain (For example: zylker.com) and the email was generated from Zoho (public.zohoforms.com), the notification emails might be blocked by the recipient domain's anti-spam policy. You can configure DKIM settings for ...