How can I push the UTM details captured via Zoho Forms to the Leads module in Zoho CRM?
UTM parameters are used to

identify the source from which your respondents visited your website and submitted an entry through an embedded Zoho Form.

Learn more on how to set up the UTM parameters in Zoho Forms.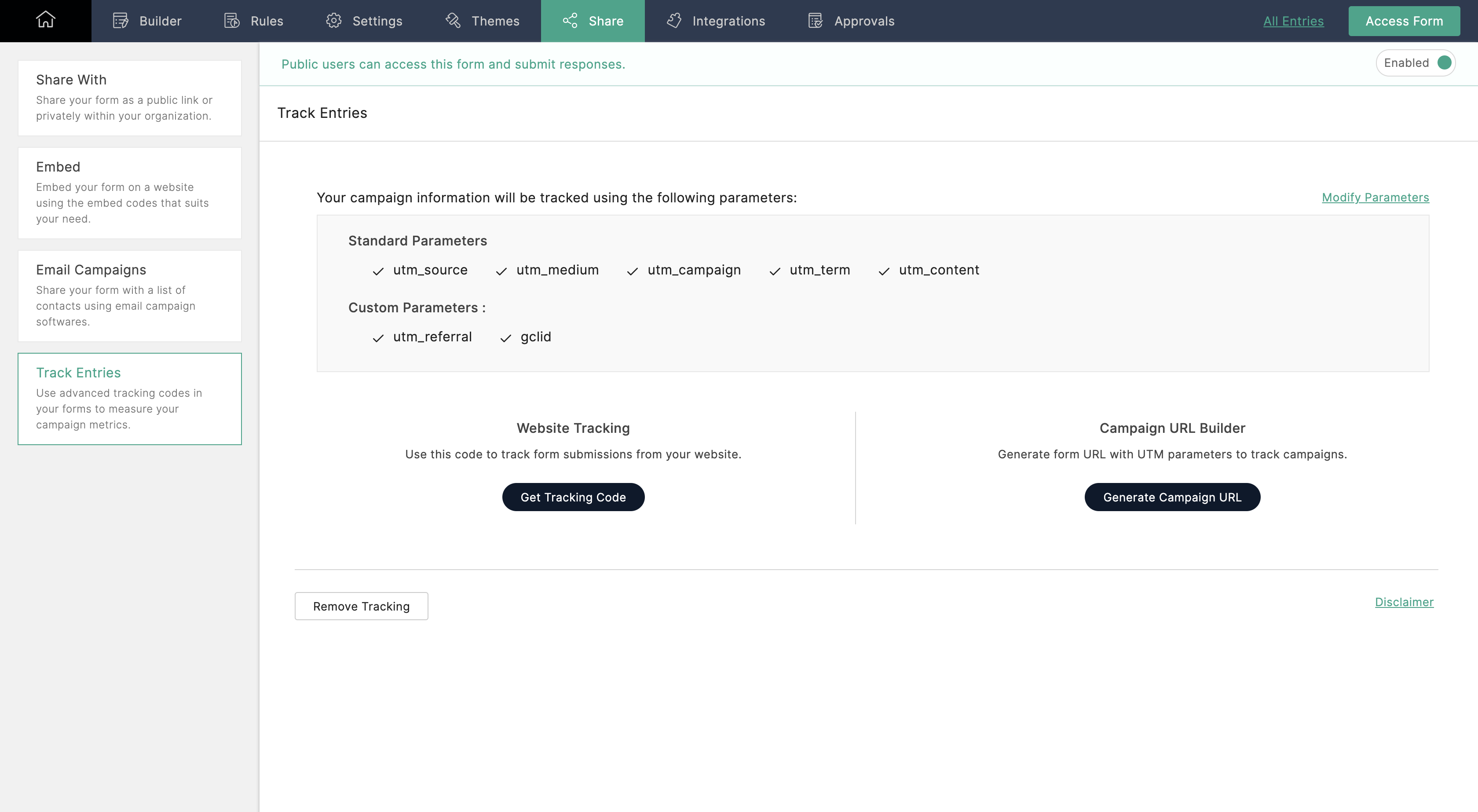 Now, when the form entries are submitted, the UTM parameters are captured. The captured UTM data can be pushed to the Leads module (or any other module) in Zoho CRM. But before that, you will have to add custom fields in the Leads module of Zoho CRM to map the UTM parameters from Zoho Forms to Zoho CRM. To do this,
Log in to your Zoho CRM account with Administrative privileges.

Go to Setup > Customization > Modules and Fields.

Click the desired module (Leads, for example) to open the layout editor.

From the New Fields on the left, drag and drop the required field type (Single Line field) into the module section on the right.


Name the fields as per the UTM parameter names (utm_source, utm_medium, etc.,) as shown in the above image and save the layout.

Now, integrate your form with the Leads module of Zoho CRM. To do this,
Navigate to the Integrations tab and click Zoho CRM from the left menu.


Click Integrate.


Select the required Zoho CRM Module (Leads) where you have added the custom fields and the Layout to which you want to push your form data.


Map all the mandatory Zoho CRM fields to the corresponding Zoho Forms fields.


Click + Add fields and map the custom fields that you have added for the UTM parameters to the UTM fields in Zoho Forms as shown.





Click Integrate to save your settings.
Now, the UTM parameters captured in your form will be pushed to Zoho CRM.

Zoho CRM Training Programs

Learn how to use the best tools for sales force automation and better customer engagement from Zoho's implementation specialists.

Zoho DataPrep Personalized Demo

If you'd like a personalized walk-through of our data preparation tool, please request a demo and we'll be happy to show you how to get the best out of Zoho DataPrep.

---
Zoho Sheet Resources
Zoho Forms Resources
Zoho Sign Resources
Zoho TeamInbox Resources
Zoho DataPrep Resources
Related Articles

Welcome to Zoho Forms!

Transform the time-consuming " collect, stack, and enter " paper form workflow into " capture, store, and process " paperless approach with Zoho Forms and simplify data collection. Why Switch to online forms? Here are some disadvantages of using ...

Adding a new record to a Zoho CRM module

Table of Contents Integration Setup Supported Modules, Attachment Fields, Field Types Trigger Actions in Zoho CRM while adding a new record Set Alert on Integration Failure Using the Zoho Forms - Zoho CRM integration, you can automatically push your ...

Zoho CRM Field

The Zoho CRM field is a lookup field that helps you fetch data from a Zoho CRM module and prefill your form fields. Prefilling forms with data simplifies the form filling experience for your respondents and saves time. You can also push form entries ...

Overview

Urchin Tracking Module (UTM) is a small segment of code you can attach to a URL to track campaign parameters such as source, medium, campaign, term, content, and more to determine where most traffic originates from and where the major sections of ...

Push Notifications

Table of Contents Overview Setting up Push Notifications Setting up conditional Push Notifications Overview If you would like to be notified instantly upon receiving form entries, so that you do not miss out on important updates such as leads ...